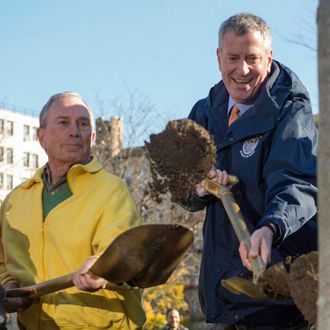 Gang's all here!
Photo: Demetrius Freeman/Mayoral Photography Office
A buddy comedy grew in the Bronx Friday when two mayors — one current, one former — planted a tree in a neighborhood park to commemorate New York City's millionth tree under MillionTreesNYC, a Bloomberg initiative.
Apparently nothing brings two rivals together like a bit of light gardening: Both ex-mayor Bloomberg and current-mayor de Blasio spoke warmly of each other and engaged in some good-humored ribbing to let everyone know they're cool already, got it?
Bloomberg and de Blasio technically planted the 1,017,634th tree, but de Blasio praised Bloomberg's program — which continued under the current administration — saying "the visionary was Michael Bloomberg and we're here to give him a lot of credit." He also gave Bloomberg a nod for doing "a lot of great things for the city as mayor," and thanked him for making the city "greener" and "more resilient."
De Blasio has apparently been trying to repair his relationship with Bloomberg of late, especially in light of his bad-and-getting-worse sparring with Andrew Cuomo. Bloomberg had his own spats with Cuomo and might be a good friend for de Blasio to have in his corner as he battles it out with Albany.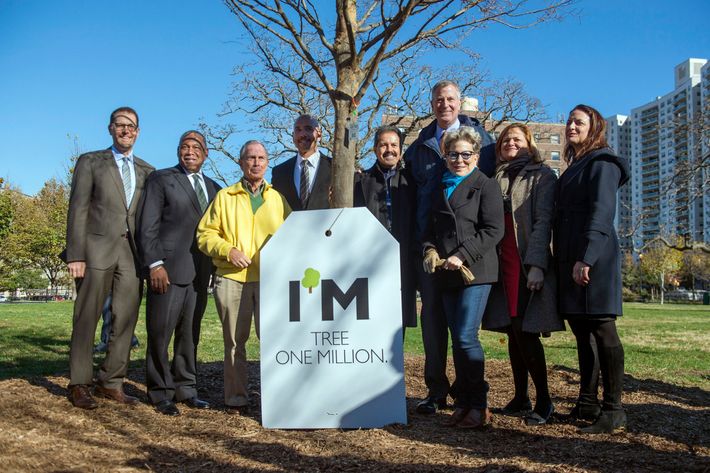 Bloomberg was also caught saying some nice things about the current mayor, too. He thanked him for "all the hard work that you and your administration has done to get us to the millionth tree and counting." 
But when it came time for Bloomberg to address the frosty relationship between the two, he told reporters: "I don't know where you guys get this stuff. He's actually quite a nice guy." Good question!