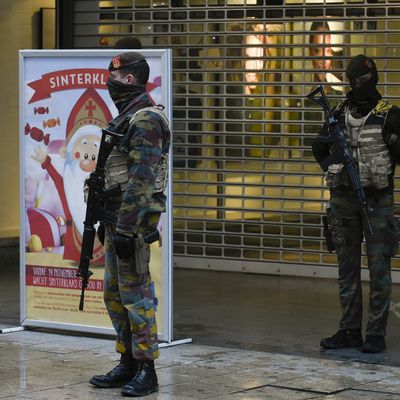 Belgian soldiers patrolling the Rue Neuve pedestrian shopping street in Brussels.
Photo: John Thys/AFP/Getty Images
An object that "may resemble an explosive belt" was reportedly found by a street cleaner in a southern Paris suburb on Monday, according to AFP. The belt, found in a trash can in Montrouge, per Reuters, had no detonator.
Authorities are trying to figure out if the belt may have been used during the attacks on Paris — Salah Abdeslam, currently on the run, was in that neighborhood on the night of the shootings and suicide bombings, according to phone data.
Meanwhile, the Belgian capital of Brussels remains in a state of lockdown after officials raised the city's terror alert to the highest level possible on Saturday following their detection of a "serious and imminent threat" to the city. Belgian prime minister Charles Michel announced on Monday that Brussels will remain on the highest terror alert until next Monday. 
At least 21 people have been arrested since Sunday in raids conducted by a joint police and military operation. In Molenbeek, the Brussels suburb where investigators believe the Paris terrorists planned the attack, police fired several shots during a raid when one of the suspects attempted to ram police with his car. He was wounded during his attempted escape. At least 17 of the detained suspects have since been released, and one person was charged in connection with the Paris attacks. Four people have been charged in Belgium for taking part in the terror attacks since the raids began in Belgium more than a week ago. 
The uncovered plot reportedly involves multiple targets and multiple attackers, similar to the attack launched in Paris on November 13 that killed 130 people. "It is very clear that there is a cell. There are two terrorists on the Brussels soil, who might be in the process of conducting acts that are very dangerous," according to Bernard Clerfayt, mayor of Brussels's Schaerbeek district.
Abdeslam, the 26-year-old Belgian-born French national believed to be one of the Paris gunmen, was the primary target of the raids. He has not yet been found and was last seen heading for the Belgian border immediately following the November 13 attacks. ABC News reported on Friday that some of Abdelsam's friends had spoken with him and found out he was still in Brussels trying to figure out how to escape to Syria.
Belgian interior minister Jan Jambon has said that the threat is not solely tied to Abdelsam. 
In addition, Turkish authorities arrested three men on Friday, including a Belgian citizen of Moroccan descent named Ahmad Dahmani, who officials believe was a "scout" for the Paris attackers. The other two arrested men are believed to be ISIS operatives who had been sent to escort Dahmani across the border into Syria.
Belgian authorities are continuing to search for the would-be attackers, who they suspect were targeting Brussels's shopping centers and public transportation. Soldiers and law-enforcement personnel are patrolling the streets, and the city's metro system, shopping centers, arenas, and other public venues remain mostly closed; city residents have been asked to stay home and avoid crowds and public gathering places. Officials announced Sunday night that as a result of recent additional information about the threat, schools and subways will remain closed until Wednesday morning. Headquarters for NATO and the European Union are both based in Brussels, and many staffers for each organization have either been kept away from the office or are under massive protection. 
Most residents seem to be obeying orders to stay inside if possible, although one resident wrote for Time that the shutdown of public services is "making normal life impossible." On Monday, many of the city's streets were mostly empty. One ITV reporter said it felt "a bit like walking around a city on Christmas Day."
Locals have also followed instructions to not post anything on social media that might interfere with police operations. Instead, as internet users are wont to do, people began writing cat-inspired police-raid fanfic stamped with the hashtag #BrusselsLockdown. (Security level 4 — "quatre" — is pronounced "cat.")
So far, no evidence for the threat has been disclosed by authorities, but the lockdown follows the discovery of a cache of weapons on Friday night while law-enforcement officers searched a terrorism suspect's home in Molenbeek. According to the Washington Post, a Belgian citizen was subsequently charged on Friday night as an accomplice in the Paris attacks, though he was not named.
As CNN terrorism analyst Paul Cruickshank has pointed out, the lockdown suggests that Belgian authorities are aware of a potential attack but "don't have a handle on it, [and] that they don't know where these plotters are or where they're coming from." Interior Minister Jambon has, however, insisted "the situation is serious but under control" as government agencies are "literally working day and night" to deal with the threat. However, as the head of the Terrorism Research Initiative told Bloomberg, this lockdown could backfire if it continues for too long. "You are going to have to let normal life reemerge … The longer you take this martial law approach, the more you potentially risk alienating certain parts of the community." 
Meanwhile, British prime minister David Cameron met with French president François Hollande in Paris. Hollande said France "will intensify our strikes, choosing targets that will do the most damage possible to this army of terrorists." Cameron said France could use a British airbase in Cyprus, and signaled his intent to ask Parliament to allow the U.K. to increase its presence in Syria so the country could help its allies defeat "this evil death cult."
The French police released a photo on Sunday of the man they believe is the third, as yet unidentified, Stade du France suicide bomber. Authorities hope the public will be able to help figure out who he is.