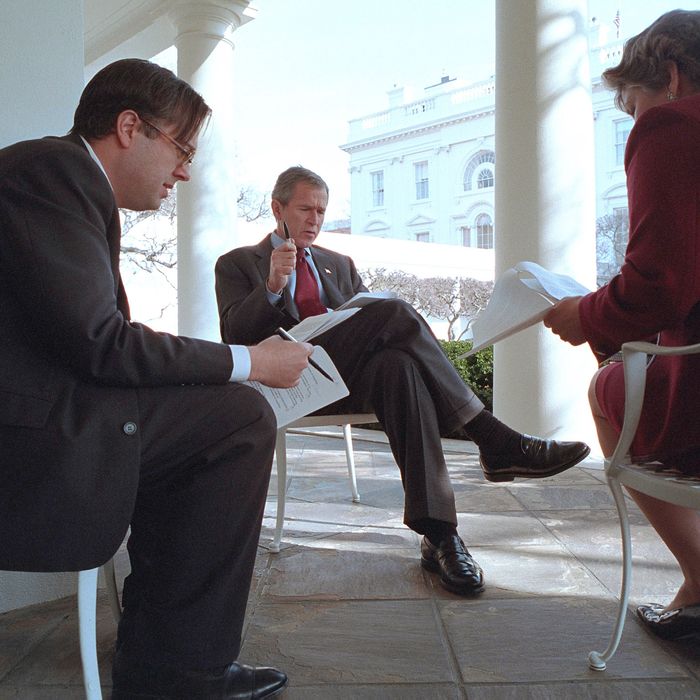 Michael Gerson would never write a speech suggesting an opponent's policies would allow a bad thing to happen.
Photo: Eric Draper/The White House/Getty Images
Last week, at a press conference in Turkey, a reporter asked President Obama to respond to the charge that "your reluctance to enter another Middle East war, and your preference of diplomacy over using the military makes the United States weaker and emboldens our enemies." Obama began with a specific defense of his policies, and eventually added a general defense of his reluctance to send in large numbers of ground troops. "But what we do not do, what I do not do is to take actions either because it is going to work politically or it is going to somehow, in the abstract, make America look tough, or make me look tough," insisted Obama, "And maybe part of the reason is because every few months I go to Walter Reed, and I see a 25-year-old kid who's paralyzed or has lost his limbs, and some of those are people I've ordered into battle. And so I can't afford to play some of the political games that others may."
Washington Post columnist and former Bush administration speechwriter Michael Gerson is scandalized at the president's rhetoric. "It is almost beyond belief: A commander in chief, in a time of national testing, deploying limbless soldiers as a rhetorical trump card against his political opponents … " he complained. "The United States has a president whose wartime leadership is apparently inspired not by Winston Churchill or Franklin Roosevelt but by Rachel Maddow. His military strategy in Iraq and Syria may be questionable, but Obama is the Eisenhower of political polarization, the Napoleon of the partisan low blow."
For the sake of argument, let us grant Gerson's implicit premise that the president's rhetoric, rather than his policies, is the primary subject — a premise that no doubt appeals to the wordsmith who wrote eloquent justification on behalf of the most disastrous foreign-policy regime in American history. Focus on Gerson's premise that there is something especially — indeed, world-historically — gross about Obama citing injured soldiers as an argument against committing soldiers to battle. What are we to make of arguments like this one, by George W. Bush, in favor of war with Iraq?
Some worry that a change of leadership in Iraq could create instability and make the situation worse. The situation could hardly get worse, for world security, and for the people of Iraq. …

On Saddam Hussein's orders, opponents have been decapitated, wives and mothers of political opponents have been systematically raped as a method of intimidation, and political prisoners have been forced to watch their own children being tortured.
Again, set aside the fact that Bush was utterly wrong in his case that neither human rights nor regional security could possibly get worse in the case of an invasion. What he believed (no doubt in earnest) was that his opponent's policies would allow the continuation of the genuine horrors of Saddam-era Iraq. It's beyond the pale to invoke the specter of a wheelchair-bound soldier to make the case against a ground invasion, but completely fair to saddle your opponents with decapitation, mass rape, and child torture?