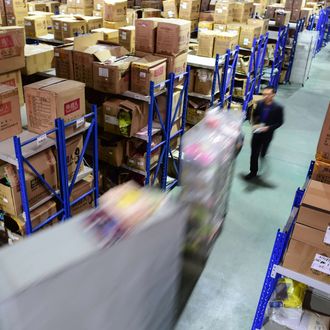 Look upon Chinese consumption, ye mighty, and despair.
Photo: Xinhua/Du Yu/Corbis
In 2009, Chinese e-commerce giant Alibaba turned a little-known holiday on November 11 — "Singles Day" — into a kind of "anti–Valentine's Day and Black Friday" mash-up coaxing China's singles into therapeutic online-shopping binges. According to Bloomberg, "when written numerically, the Nov. 11 date is reminiscent of 'bare branches,' the Chinese expression for bachelors and spinsters."
In the years since, many of China's major online retailers have embraced the occasion, offering discounts that routinely inspire more online purchases than our annual post–Thanksgiving shopping spree or Cyber Monday. And this year, China's Singles' Day shopaholics are spending at a record-setting pace.
Consumers spent more than $9 billion in their first 12 hours of shopping, nearly matching last year's total just halfway through the holiday, according to The Guardian. "The whole world will witness the power of Chinese consumption," Alibaba's chief executive Daniel Zhang promised before the holiday.
If that seems like a grandiose way of describing online shopping, it's worth remembering that the future of the Chinese economy likely hinges on its ability to transition from a growth model based on industrial development to a more sustainable model driven by consumption. Alibaba's success at teaching Chinese consumers to fight loneliness with consumer goods has endeared it to the nation's government, which congratulated Alibaba chairman Jack Ma Wednesday morning for "creation and achievement of the 11.11 event," per The Guardian.
Whether Wednesday's shopping spree is indicative of a sustained increase in China's consumer demand remains to be seen. But one social-media post flagged by the The Times of India offers some cause for skepticism.
"I can only afford to eat dirt for the next half year," wrote one user of the Twitter-like Sina Weibo app, the text published beside a screenshot showing 42 confirmed online purchases.