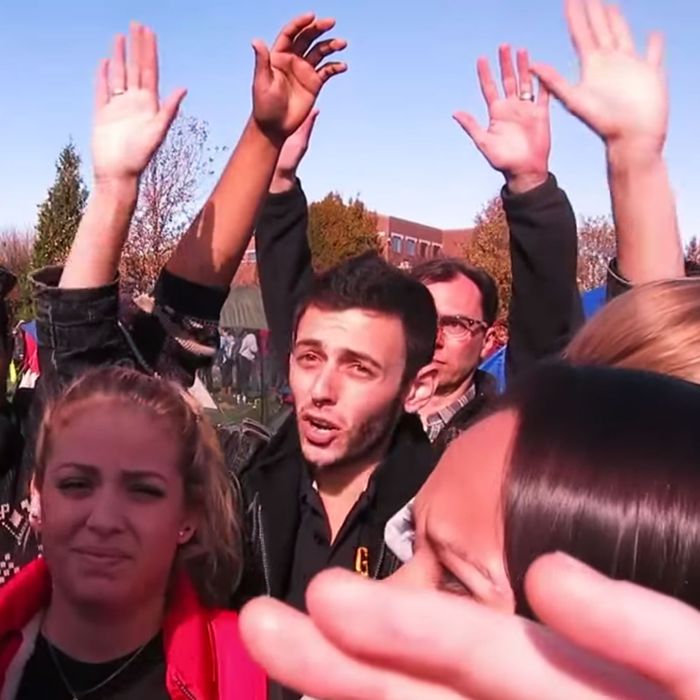 Missouri student protesters block a student photographer from a campus quad.
The student protest at the University of Missouri began as a response to a serious problem — outbursts of vile racism on campus — and quickly devolved into an expression of a renewed left-wing hostility to freedom of expression. At the protest on Missouri's campus yesterday, on a space that is expressly open to free expression, protesters barred journalists from covering the demonstrations. In one scene, protesters surrounded and harassed Tim Tai, a photographer with the student newspaper, chanting, "Hey, hey, ho, ho, journalists have got to go." The scene is captured on a video here, which rewards close watching until the end, where Melissa Click, a professor of mass media working with the protest movement, calls out, "Help me get this reporter out of here. I need some muscle over here."
It is possible — and, for many sympathizers on the left, convenient — to dismiss these sorts of incidents as just so much college high jinks. "College students have been saying stupid things since the invention of college students," argues Daniel Drezner, in a passage that attracted widespread support on the left. It is probably true that a strange and sudden new hypersensitivity among young people has produced a widespread expectation of a right to be protected from offense. It is also undeniably true that outbursts of political correctness disproportionately take place in campus settings. In recent weeks, UCLA, Wesleyan, and Yale have seen left-wing student activism aimed at shutting down the expression of contrary viewpoints.
Even if it were the case that political correctness was totally confined to campuses, it would not make the phenomenon unimportant. Colleges have disproportionate influence over intellectual life, and political movements centered on campuses can spread well beyond them (anti-Vietnam began as a bunch of wacky kids, too). But to imagine p.c. as simply a thing college kids do relieves us of taking it seriously as a coherent set of beliefs, which it very much is. Political correctness is a system of thought that denies the legitimacy of political pluralism on issues of race and gender. It manifests itself most prominently in campus settings not because it's a passing phase, like acne, but because the academy is one of the few bastions of American life where the p.c. left can muster the strength to impose its political hegemony upon others. The phenomenon also exists in other nonacademic left-wing communities, many of them virtual ones centered on social media, and its defenders include professional left-wing intellectuals.
The upsurge of political correctness is not just greasy-kid stuff, and it's not just a bunch of weird, unfortunate events that somehow keep happening over and over. It's the expression of a political culture with consistent norms, and philosophical premises that happen to be incompatible with liberalism. The reason every Marxist government in the history of the world turned massively repressive is not because they all had the misfortune of being hijacked by murderous thugs. It's that the ideology itself prioritizes class justice over individual rights and makes no allowance for legitimate disagreement. (For those inclined to defend p.c. on the grounds that racism and sexism are important, bear in mind that the forms of repression Marxist government set out to eradicate were hardly imaginary.)
American political correctness has obviously never perpetrated the brutality of a communist government, but it has also never acquired the powers that come with full control of the machinery of the state. The continuous stream of small-scale outrages it generates is a testament to an illiberalism that runs deep down to its core (a character I tried to explain in my January essay).
The scene in Columbia and the recent scene in New Haven share a similar structure: jeering student mobs expressing incredulity at the idea of political democracy. As far as the students are concerned, they represent the cause of anti-racism, a fact that renders the need for debate irrelevant. Defenses of p.c. tactics simply sweep aside objections to the tactics as self-interested whining. "It's not about creating an intellectual space," shouts one Yalie. Notably, the events at Yale have redounded in New Haven to the benefit of the protesters, who have renewed their demands, and Nicholas Christakis, the Yale administrator seen pleading futilely for reason, issuing apologies for his behavior. Likewise, at Wesleyan, the student newspaper that sparked outrage by publishing the op-ed of a student (cautiously) questioning elements of the Black Lives Matter movement has been harshly sanctioned.
That these activists have been able to prevail, even in the face of frequently harsh national publicity highlighting the blunt illiberalism of their methods, confirms that these incidents reflect something deeper than a series of one-off episodes. They are carrying out the ideals of a movement that regards the delegitimization of dissent as a first-order goal. People on the left need to stop evading the question of political correctness — by laughing it off as college goofs, or interrogating the motives of p.c. critics, or ignoring it — and make a decision on whether they agree with it.