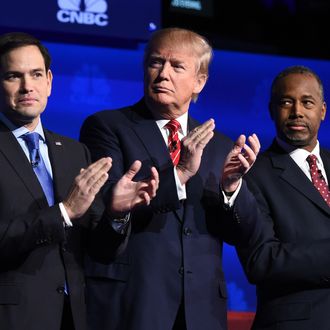 Marco Rubio, Donald Trump and Ben Carson at the CNBC presidential debate.
Photo: Robyn Beck/AFP/Getty Images
It seemed a bit hard to believe that the Sunday night meeting of GOP presidential campaigns went so smoothly, and sure enough, by Monday night it was already coming apart. Despite reports that the campaigns agreed on several major issues, particularly that control of the debates must be wrested from the Republican National Committee, on Monday, Donald Trump's team said he's decided to negotiate with the networks on his own, rather than banding together with his rivals.
Then he was joined by three more candidates — Chris Christie, John Kasich, and Carly Fiorina — who announced they won't sign a letter of debate demands for the networks. Though most of the candidates are still on board, it sounds like the truce is unraveling. One adviser told Politico, "Things are sinking fast," and another said, "Things sound wobbly."
Some advisers argued that the escapade wasn't a total bust, since it got the RNC's attention. On the other hand, it also gave the Democrats plenty of fodder. At a fundraiser in New York on Monday night, President Obama said the candidates "talk tough about Putin," but "it turns out they can't handle a bunch of CNBC moderators." He added, "If you can't handle those guys, I don't think the Chinese and the Russians are going to be too worried about you."