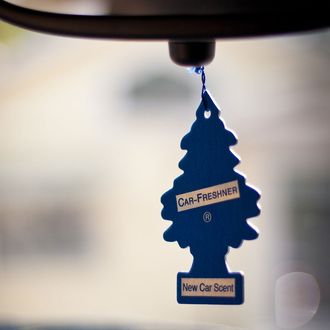 Runners-up include "Roadside flowers stuck in the car vents" and "That's incense, I swear."
Photo: Robert S. Donovan/Flickr
Little Trees, makers of the ubiquitous pine-tree-shaped air fresheners often seen hanging from rear-view mirrors (especially in taxis!), won a legal battle on Thursday against a competitor the company claims was stinking up its brand identity.
The company claims that rival car perfumer Exotica inched too close to the look and feel of Little Trees' packaging — known in the industry as "trade dress" — by changing its logo so the two looked nearly identical. The court case led the two companies to air years' worth of grievances against one another including smaller disputes over Exotica's use of similar colors and fragrances (for example, Little Pines' "Black Ice" vs. Exotica's "Exotica Ice"). Lawyers for Little Trees claimed Exotica has been "free riding" on the client's "goodwill and reputation" for too long and demanded they change their packaging.

A jury decided that Exotica's packing was, indeed, too similar and needed to be changed. Exotica is relatively small and reportedly only does $100,000-worth of business in the U.S., while Car-Freshener, the parent company behind Little Trees, is no stranger to the smell of success. The company claims to clear $100 million a year in sales. 
(As a side note, you can be pulled over in New Jersey for hanging things on your rear-view mirror if the police think it impedes your view.)