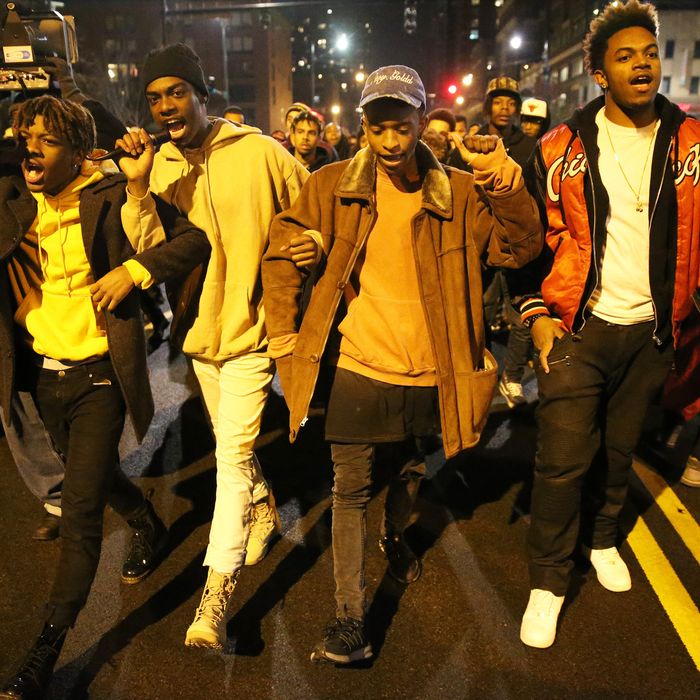 Protesters march in Chicago on November 24.
Photo: Nuccio DiNuzzo/2015 MCT
Chicago police officer Jason Van Dyke was charged with first-degree murder on Tuesday for the fatal shooting of 17-year-old Laquan McDonald in October 2014. The charges came hours before the city released the dashboard-camera footage of the shooting; a journalist sued the city, saying the video had to be released because of open-records laws.
Cook County state's attorney Anita Alvarez told reporters on Tuesday that she "certainly moved up" her decision to announce charges against Van Dyke after a judge ordered that the video be released. "I felt compelled in the interest of public safety to announce these state charges today," she said, adding that she thought the video "no doubt will tear at the hearts of all Chicagoans."
The dash-cam video below, via the New York Times, shows McDonald being shot 16 times by police.
Chicago police superintendent Garry McCarthy said there was no audio available. In the video, McDonald is seen running down the middle of the street, then walking away as officers approach. He spins as the first bullets hit him, then falls to the ground. He moves for a moment, and is then hit with several more shots. An officer is seen kicking an object away from McDonald's body, but no one checks on him.
Van Dyke's lawyer has said his client was afraid for his life. Van Dyke, who has been on paid-administrative leave and reportedly received at least 18 complaints during his career, turned himself in at the Cook County courthouse on Tuesday morning and will be held on no bail until next week. He is no longer being paid by the police department.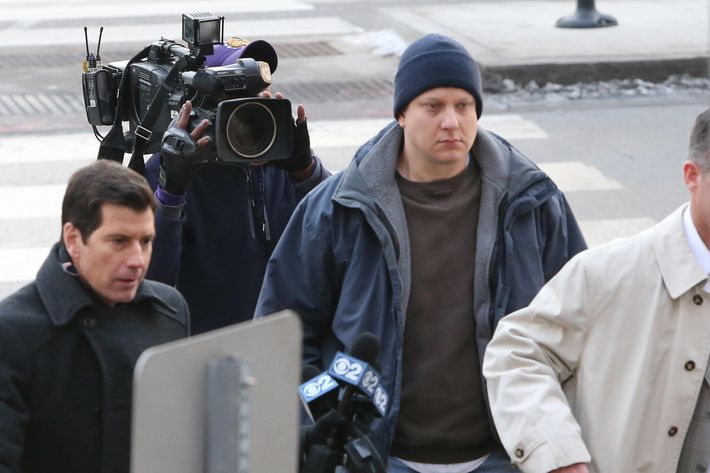 Mayor Rahm Emanuel said at a press conference, "I understand people will be upset and want to protest when they see this video." The police department warned officers to get ready for potentially long hours. "We are prepared for demonstrations, let's put it that way," McCarthy told the Chicago Tribune. "We're going to facilitate and protect people's First Amendment right to free speech and we're going to be intolerant of criminal behavior."
Sure enough, several hundred people took to the streets of Chicago on Tuesday night. Protesters chanted "We got to fight back" and "Don't shoot me," as they marched through downtown Chicago.
Several streets were shut down around the city.
The protest was mostly peaceful, but there was a scuffle as police stopped demonstrators from crossing the Balbo Avenue bridge. Five people were arrested, and one officer was taken away in an ambulance.
Around 8:30 p.m. local time, hundreds of demonstrators gathered outside the Chicago Police Department's District 1 headquarters in the South Loop.
McDonald's family, which received a $5 million settlement from the city earlier this year, sent out a statement before the video was released on Tuesday. "No one understands the anger more than us but if you choose to speak out, we urge you to be peaceful," they said. "Don't resort to violence in Laquan's name, let his legacy be better than that."
It has been decades since a Chicago police officer has been indicted for fatally shooting someone in the line of duty, Reuters reports. Emanuel, who said he had not seen the video yet, spoke with ministers on a conference call this week. "What happened here is wrong," he said, according to the Tribune. "There is no justification and it's profoundly hideous, in my view." He also defended the city's decision to keep the dash-cam video private, citing the pending investigation.
The Times notes that the Chicago police department has "its own sometimes painful history, which by some estimates includes more than $500 million in settlements and other costs over the last decade tied to police misconduct as well as reparations for black residents who said a group of officers abused and tortured them in the 1970s and 1980s."