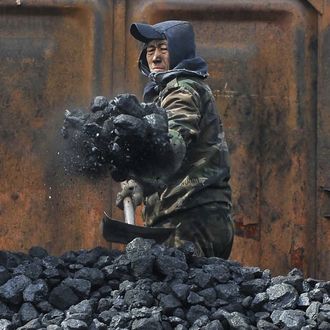 China: now with 17 percent more coal.
Photo: Sheng Li/Corbis
China has been releasing tons more carbon dioxide every year than previously thought — 1 billion more tons, to be precise. The revised emissions estimates are due entirely to the nation's coal consumption. Since 2000, the country has been burning up to 17 percent more coal per year than previously reported, according to revised government data obtained by the the New York Times. The revelation threatens to cast a smoggy shadow over next month's U.N. climate-change summit in Paris.
Any global agreement to limit carbon emissions will require rival governments to trust each others' information. The fact that China went 13 years under-reporting its emissions by roughly 13 billion tons — more than Germany's total carbon output over that same period — may make such trust harder to come by.
The good news is that China's revised numbers won't alter scientists' estimates of the total amount of carbon dioxide in the atmosphere, which is measured directly, not through government data.
For further analysis, we turn to eminent sinologist Donald J. Trump.