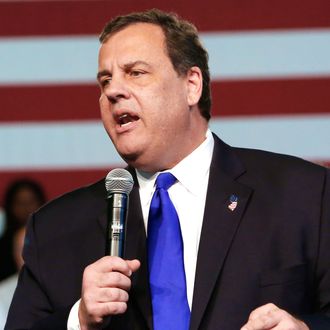 Who's Rand Paul going to shout at now?
Photo: Kena Betancur/Getty Images
For an event that involves way too many people standing on stage and talking about public policy, the GOP debates have been unusually exciting. Tonight, Fox Business Network and The Wall Street Journal unveiled the lineup for the debate they're hosting on November 10, and there was another interesting development. Chris Christie did not qualify for the main debate at 8 p.m., as expected, and Mike Huckabee failed to make the cut as well. Instead, they'll appear in the 6 p.m. undercard debate along with Rick Santorum and Bobby Jindal. Lindsey Graham and George Pataki are out completely, as is Jim Gilmore (he didn't make it into the last two debates, so that's no surprise).
To qualify for the main debate, candidates had to average 2.5 percent in four recent national polls, and the cutoff for the JV debate was one percent. The hosts used the most recent polls by "major, nationally recognized organizations that use standard methodological techniques," but what that means is subjective. Earlier in the week, several sites predicted that Jindal wouldn't qualify for either debate, assuming a CBS/New York Times poll would be included. Instead, the hosts went with a more obscure Investor's Business Daily poll. They also used a poll from NBC/Wall Street Journal that did not include the names of any of the candidates from the undercard debates, so they were only included if a respondent mentioned their name. 
Chris Christie and Mike Huckabee are taking the news well (or at least pretending to):
The Washington Post noted that some of the JV debaters are actually polling better than the main stage candidates in Iowa.
Pataki said he isn't dropping out of the race, and called the debate selection process "a disservice to voters everywhere — especially those in Iowa, New Hampshire and South Carolina — and a clear boost to the worship of celebrity over accomplishment and ideas."
Graham said he's staying in as well, and got some support from Jeb Bush:
"It is ironic that the only veteran in the race is going to be denied a voice the day before Veterans Day," said Graham campaign manager Christian Ferry. "In the end, the biggest loser tonight is the American people and the Republican Presidential primary process that has been hijacked by news outlets."