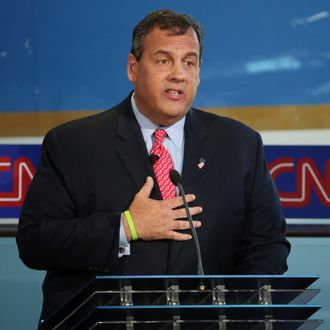 The stage isn't big enough for 14 of them (literally).
Photo: Justin Sullivan/Getty Images
Chris Christie refused to sign the letter from GOP candidates complaining about the format of the debates, but maybe he should have. Christie scored just 2 percent in a Fox News poll released Wednesday night, making it unlikely that he'll qualify for the Fox Business Network/Wall Street Journal debate on November 10. Candidates must average at least 2.5 percent in the four most recent national polls to qualify for the main event at 8 p.m., and average one percent for the 6 p.m. undercard debate. According to CNN Money, in three previous polls from Quinnipiac, NBC News/Wall Street Journal, and CBS/New York Times, Christie earned 3 percent, 3 percent, and one percent respectively, for an average of 2.25 percent.
Fox Business Network has not specified which polls it will include, which could determine the fate of several other candidates (though CNN Money ran the numbers, and it looks like Christie is out, any way you slice it). Bobby Jindal and George Pataki came in below one percent in the Fox News poll, and if the network goes with the three aforementioned polls, they won't even qualify for the "JV" debate. There's still some hope for Jindal; Politico reports there are a few combinations that could let him squeak by.
The debate lineup will be revealed Thursday at 7 p.m. ET during Lou Dobbs Tonight, so tune in later that night for the next round of behind-the-scenes debate drama.