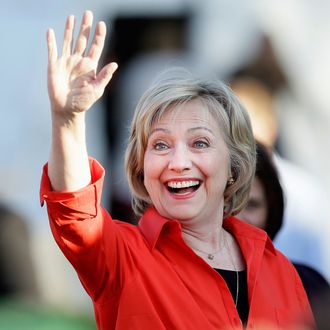 In the clear?
Photo: Charlie Neibergall/AP/Corbis
The American people may finally be done hearing about Hillary Clinton's "damn emails."
The U.S. intelligence community no longer believes that Clinton sent messages containing top-secret information from her private email account during her time as Secretary of State, Politico reports. Concerns that Clinton may have jeopardized the security of intelligence by sending classified information over a private server prompted the ongoing FBI inquiry into Clinton's email setup. 
General I. Charles McCullough III had claimed that two emails sent from Clinton's private account contained top-secret information, but the State Department disagreed, and asked Director of National Intelligence James Clapper's office to adjudicate the dispute. Now, Clapper's office has reportedly ruled in the State Department's favor.
"The initial determination was based on a flawed process," the source told Politico. "There was an intelligence product people thought [one of the emails] was based on, but that actually postdated the email in question."
The notion that Clinton had willfully jeopardized national security for the sake of convenience inspired months of bad headlines for the Democratic front-runner. If this exoneration holds up, the political press may be forced to retire this once-promising story line. Oh, well, at least it would make this old man happy.