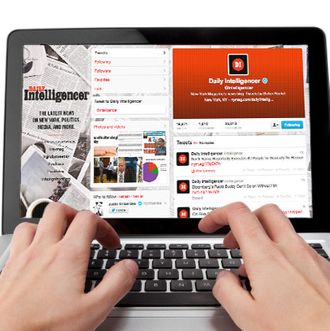 Welcome back to the New York Magazine Competition. On alternate Mondays (or, this week, Tuesday), we lay out a challenge and offer sample responses. Enter in the comments section or on Twitter with the hashtag we've provided, and the editors will select a winner. Criteria are highly subjective, but heavily retweeted and favorited posts will have an advantage. The prize is a year's subscription to New York in print or a two-year subscription to the iPad edition (winner's choice). Full rules are here.
COMPETITION NO. 61: "THANKSGIVING CONVERSATION STOPPERS." Please invent a sentence or phrase that'll bring dinner to a screeching halt. For example:
"Grandma, what did you do when your neighborhood started to change?"

"Poppy, we need to talk about Iraq."

"Can you help me with my Google? It won't go on."

"I actually think I'm warming up to Donald Trump."
Enter on Twitter with the hashtag #thanksgivingconversationstoppers, or in the comments thread below, by December 3.
RESULTS OF COMPETITION No. 60, "SIDELINES OF THE FAMOUS," in which you were asked to invent a fictional business that a famous person might operate.
HONORABLE MENTION TO:
MOHAMMED'S VANS:  We Move Mountains
—SABRA14
W. A. MOZART, STATIONER: Because you can never have too many notes!
—BENLINUS99
ELIZABETH BENNET MATCHMAKING SERVICE:  Do exactly the opposite of what I first tell you.
—rmtmiller
MOE HOWARD REHABILITATION CENTER: "Get back to work, you numbskulls!"
—MalcolmMerriweather
ALBERT EINSTEIN GENEALOGY SERVICES
—TrixieinDixie
LADY MACBETH ORGANIC DRY CLEANERS
—@SurrealTimePres
JANE JACOBS DETECTIVE AGENCY: Eyes on the Street
—‏@HeyNell
BOB DYLAN, DEFENSE ATTORNEY:  Because it ain't you, babe.
—HudsonRiver
HILLARY CLINTON BARBECUES: Good for 11 hours of continuous grilling.
—Lexxman
STEINEM WINDOW GLAZING: For all your glass-ceiling needs.
—BambooLounge
PARIS HILTON CHILI: That's hot.
—ursusmajeur55
CARLY SIMON VEIN CLINICS
—MiddleCoastDan
ROBERT DURST HEADHUNTERS
—haunt_fox
EVERYTHING IS ILLUMINATED LIGHT FIXTURES: J.S. Foer, Prop.
—‏@dgalef
AND THE WINNER IS:
ROBERT DeNIRO, CLINICAL THERAPIST: You, talking to me.
—3North