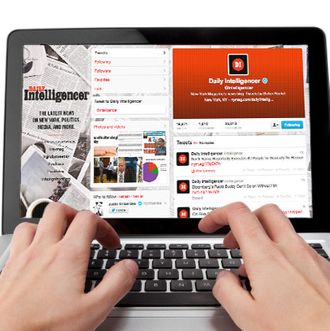 Welcome back to the New York Magazine Competition. On alternate Mondays, we lay out a challenge and offer sample responses. Enter in the comments section or on Twitter with the hashtag we've provided, and the editors will select a winner. Criteria are highly subjective, but heavily retweeted and favorited posts will have an advantage. The prize is a year's subscription to New York in print or a two-year subscription to the iPad edition (winner's choice). Full rules are here.
COMPETITION NO. 60: "SIDELINES OF THE FAMOUS." Please invent a fictional business, with tagline, that a well-known person might run. For example:
WALT WHITMAN LAWN CARE: I can tame multitudes of weeds.

RICHARD NIXON STUDIOS: We record, you decide.

DE BLASIO CLOCK REPAIR

VIRGINIA WOOLF INTERIOR DESIGN: Rooms of one's own.

CARRY NATION GLASS RECYCLING
Enter on Twitter with the hashtag #sidelinesofthefamous, or in the comments thread below, by November 18.
RESULTS OF COMPETITION NO. 59, "SWAP A LETTER, RUIN A SONG," in which you were asked for a nicely mangled song title.
HONORABLE MENTION TO:
Scones From an Italian Restaurant
—MalcolmMerriweather
Coal Miner's Laughter
—Kevin McDonnell
Beet the Mets
—Lexxman
The First Time Ever I Saw Your Mace
—rmtmiller
When You're Smiting
—BobKopac
I Can Pee for Miles
—portable
Hit Me With Your Best Snot
—24thand9
Shave it Off
—‏@nycbozo
Killing Me Softly (With His Dong)
—BENLINUS99
Heart Shaped Lox
—YAK52
Bed Blood
—‏@jessie_mai
You Don't Mess Around with Rim
—BambooLounge
Bennie And The Jews
—RustyShackelford
Blame it on the Loogie
—chungsotheby
Kelp!
—MiddleCoastDan
Comfortably Dumb
—eviliguana
Shame It Off
—FlirtySanchez
Brandy (You're a Nine Girl)
—rgqueen
Born in The C.S.A.
—‏@DannyGroner
Both Sides, Cow
—nycityofmind  
Moon Liver
—FlirtySanchez
Why Let The Dogs Out?
—3North
AND THE WINNER IS:
F Canada
—AlienIncognito