Can you copyright a lifestyle spread over the internet? That's the question at the heart of a new lawsuit against Airbnb filed by a French couple who claim that the startup copied their apartment's interior decorating for its headquarters in San Francisco after renting the apartment for a Paris launch party.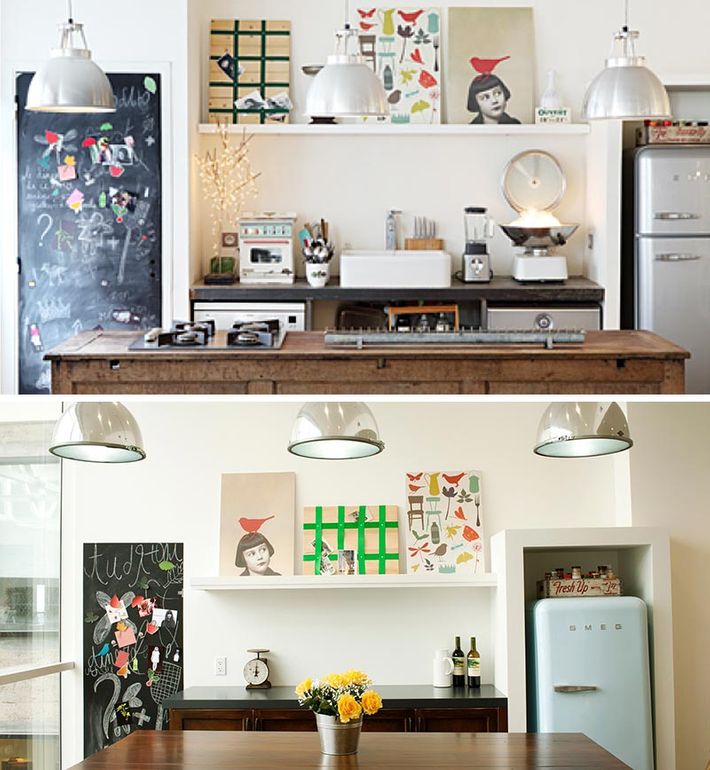 Well, "claim" isn't exactly right. Airbnb literally replicated the couple's aesthetic, as BuzzFeed reports. Overlaid photos show the eerie similarity: There are the same pendant lamps, a copycat cabinet, art by the same artists, and even an equally retro fridge. Benjamin Dewé and Zoé de Las Cases run a small interior-design firm, so the appropriation was quite a shock. 
The couple's lawsuit argues that Airbnb's theft hurts their business and infringes on their ownership of their unique style. "They are branding their company with our life," Dewé told BuzzFeed. But Airbnb makes no bones about copying popular apartments for its office — other destinations have been replicated as well. Under U.S. copyright law, a style, or a certain collection of objects placed together, isn't protected by copyright, but the couple is hoping that France's stricter culture laws will at least force Airbnb into a settlement.
The French couple is arguing that the way they curated (the internet's favorite word) the objects in their apartment constitutes a product that they own, and that Airbnb can't infringe on it without some kind of arrangement. Could the same be said of a certain aesthetic of GIFs or found images collected on a Tumblr or Pinterest? The internet is a great way to communicate your sense of style, but it also makes it much easier for that style to be copied down to the last detail, and there's not much you can do about it — in the U.S., at least.
Creative reuse — appropriating an aesthetic or image and transforming it until it's something new — is perfectly legal. This case is more akin to knockoff luxury bags: pretty much the same, except for a few details. For Dewé and de Las Cases, it's a little too late. Airbnb already got everything, down to their particolored wallpaper and small gray bench lined with cushions.