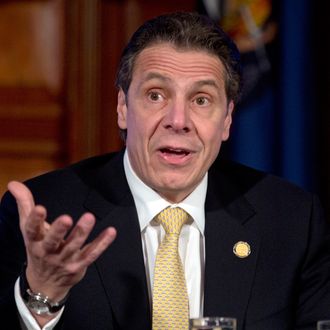 "You get a raise!"
Photo: Mike Groll/AP/Corbis
On Thursday, Governor Andrew Cuomo is expected to announce a sweeping pay increase for public-sector employees, with a new minimum wage of $15 an hour for entry-level state employees. The increase from the present rate of $8.75 will start with New York City workers in 2018 and radiate outward to the rest of the state by 2021. Ultimately, some 10,000 workers will be affected by the back-pocket pay hike.
Cuomo's move will come on the heels of a city-wide protest staged by low-wage employees — who include home-health-care, child-care, and delivery workers — demanding a $15 minimum wage. At the governor's behest, the state's board of labor recently approved incremental rate hikes for fast-food employees, also expected to reach $15 an hour by 2018, again, first in the city, and gradually spreading to the rest of the state by 2021.
Mayor Bill de Blasio has been a vocal proponent of the effort, joining supporters at a rally in Brooklyn this Tuesday. Speaking to NY1 on Tuesday afternoon, de Blasio told reporters he "commends" Cuomo's action.
In a statement released ahead of the announcement Cuomo said, "I believe that if you work hard and work full-time, you should not be condemned to live in poverty," adding that "families nationwide continue to be left behind by an insufficient minimum wage. And it's time that changed."
Opponents of the minimum-wage increase, like the Empire Center for Public Policy, claim it will cost the state close to 200,000 jobs, while increasing the costs of goods and labor.
Republican leaders in Albany have repeatedly hedged on the issue, promising comprehensive review, intoning the need for the legislative process, but there has been scant movement on the issue. Republican Majority Leader John J. Flanagan expressed this hesitancy in late September, shortly after Cuomo announced his support for the wage increase. "It's not as simple as just saying 'raise the minimum wage,'" Flanagan said. "There are many other effects that go with it, some of it federal, some of it state, and all of it worth discussion." 
This is the second executive action by the governor in recent weeks, following a decision to expand anti-discrimination protections to transgender individuals, drawing the ire of Flanagan and other Republicans for circumventing the legislature. 
"When New York acts, the rest of the states follow," said Cuomo, citing the state's passage of the law making same-sex marriage legal. "We've always been different, always been first, always been the most progressive."