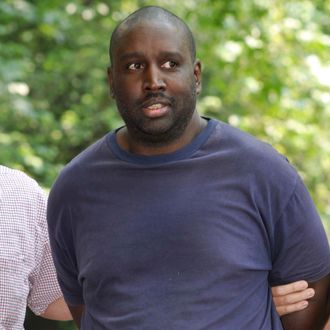 The only man in the city who unabashedly loves the MTA.
Photo: Craig Warga/NY Daily News via Getty Images
A Greyhound bus was scheduled to leave for a trip to Richmond from Port Authority at 2:15 p.m. on Wednesday. When authorities couldn't find the bus and later learned it was cruising around Gowanus after tracking its GPS signal, they probably had a good idea of who would be behind the steering wheel when it was recovered.
In 1981, when Darius McCollum was only 15 — seven years after he memorized the New York City subway system — he was arrested for driving an E train six stops. According to the New York Times' report, "Transit officials said subway employees got an inkling that something was amiss when a passenger at the 14th Street stop told the station's tower man that 'a very young person' was operating the train." According to a profile of McCollum in Harper's, "By the time of his first arrest, he had driven trains dozens of times." A friend who drove the F train taught him how the train worked.
He dreamed of working for the MTA one day, but his criminal record put a damper on that plan. He found other ways to stay involved in his favorite part of New York. In 1990, he told the transit police that he was a "bus buff" — and that he was the person who stole 13 buses from them that year. He added that he took the buses "for the fun of it and usually parked them near depots, so they could be recovered."
In 2001, when a judge sentenced McCollum, who has Asperger's syndrome, to two and a half to five years in prison after he impersonated a transit worker, she said she was prepared to be called "the Wicked Witch of the West" — McCollum was notorious at this point. A few years later, he was arrested for impersonating an MTA officer again. While exploring the subway system, he has taken time to put out fires and clean up garbage in the tracks, free of charge. He was last arrested for driving around an empty Trailways bus in 2010. 
He has been arrested at least 29 times for transit-related thefts and spent nearly a third of his life behind bars because of his hobbies. He has spent time in Clinton Correctional Facility — the maximum-security prison two convicts broke out of in June — because authorities thought he was an escape risk. 
When the police caught up with McCollum on Wednesday, he showed them a fake badge; he later told a detective, "I'm stealing a plane next." This has been on his bucket list for a while. His mom told the Daily News in 2010, "He loves trains more than anything else — buses are his second choice. He loves planes, too, but he hasn't been able to get on one of those yet."
McCollum has some competition on the famous–New York City–plane-thieves front. Thomas Fitzpatrick drunkenly stole a plane and landed it in a narrow Washington Heights street outside a tavern — where the person who bet him to do the crazy stunt was waiting. The New York Times' headline read, "Aircraft Mechanic Lands 'Borrowed' Plane in Street." He did it again two years later after a fellow drinker at his tavern of choice called him a liar after he told his crazy story — which, it seems safe to imagine, Fitzpatrick had tipsily recalled so many times since his last caper that everyone at the bar was sick of it. 
In 2013, a Wall Street Journal reporter paid McCollum a visit at Rikers. He explained why he still loved public transportation with all his heart — even though the passion appeared to be somewhat unrequited. "I just love everything about it," he said. "I love the atmosphere, I love the lights, I love the signals. I love the fact that it's moving all the time, 24 hours a day, seven days a week. There's nothing negative I can say about the transit system."