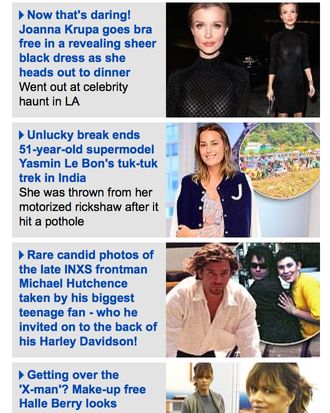 It should go without saying that The Daily Mail is the best website on the internet, not just for its unapologetically heinous design but for flamboyant tabloid writing that goes from zero to a hundred in under fifty words. "Revealed: Babysitter, 21, charged with abducting two-year-old girl from her bed in the middle of the night was a private-school educated college-dropout who got engaged just weeks ago" is an entirely different story from the beginning of its headline to its end, and when these bad boys get blown up in blue typeface dead-center of The Daily Mail's homepage, each story becomes the web's purest siren song. Resisting clicking on a Daily Mail link is harder than pretending you don't google yourself.
Most would assume that the Daily Mail's feature stories are the hearty main course, and its often incomprehensible sidebar content is the pillowy meringue on a disgusting Baked Alaska. But the sidebar of The Daily Mail is full of hits, hits that are only made more enjoyable by the subheads that appear beneath their verbose headlines. "They could be sisters! Meryl Streep, 66, and lookalike daughter Mamie, 32, coordinate in warming coats at charity luncheon in NYC" is followed up with "Hasn't fallen far from tree." Taken out of context, "hasn't fallen far from tree" is delightful poetic chum. "Rihanna shows some leg in tiny denim hot pants teamed with a fluffy pink coat as she arrives at Travis Scott's hotel" is preposterously punctuated by "Diamonds singer."
A subhead on a news story is intended to fill in the blanks that its headline can't cover. But when has anything the Daily Mail done made sense? When presented without context, a day's worth of subheads featured on Daily Mail sidebar stories makes for very gratifying poetry indeed. Story about tabloid website.
Triple Threat
Diamonds singer
Artpop artist
Redhead star is 26
She's truly a triple threat!
Hot, Hot, Hot
Wrapped up warm for winter
Romance heating up
Eye-catching jacket
Julian Fellowes' book Snobs is about a working-class girl falling in love with an earl
Warm and chic
He surprised her during dessert…
Locomotion
44-year-old singer
Shares baby with Justin Timberlake
She was thrown from her motorized rickshaw after it hit a pothole
Went out at celebrity haunt in LA
Not his usual look
Spent day off this week test-driving a new GMC truck in Los Angeles
Dressed down
Flaunted her figure
Flashed the flesh
Tables have turned
The Look
Pair looked relaxed
Looked glam
Looked great
Looked content
Looked ultra-glamorous
Looked loved-up
She's had a tough month
Christian Bale
Perceived as one of Hollywood's grumpiest
Just about to board a private jet
Posted images of party
Returned to NYC
So much to do…
Frequent Flier
In Manhattan
In north London
In Australia
She was spotted in the East Village
Flashed some cleavage
Just about to board a private jet
Life of luxury
Gets horse farm too