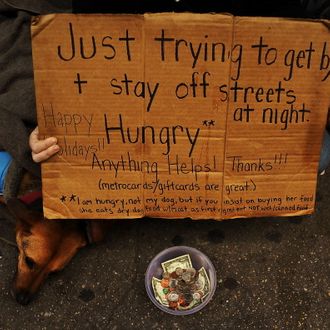 Photo: Spencer Platt/Getty
Mayor Bill de Blasio has gotten a lot of push-back over his handling of a spiraling homeless population so far during his tenure, but now his administration is preparing to introduce his most comprehensive homeless-services plan to date: Nearly $3 billion in funding for about 15,000 units of supportive housing and accompanying social and health services for all participants. According to The Wall Street Journal, the plan includes the construction of approximately 7,500 new units. The remaining apartments will be gradually converted from existing housing. Politico New York reports that the initiative will be funded through a mixture of low-income-housing tax credits, private sources, and city money, some of which had already been budgeted as part of de Blasio's housing plan announced last May. 
Approximately 59,000 people bedded down in shelters in September — including nearly 24,000 kids. Though the shelter population began to reach historic peaks before de Blasio took office — fueled, in part, by the end of the Advantage rental-subsidy program that stranded people trying to transition, or remain out of, the shelter system — the mayor got hounded (by some, more than others) for his apparent stumbling with the issue. Coupled with some very visible setbacks, including the resignation of his deputy mayor for Health and Human Services, de Blasio responded in August by pledging $6 billion toward tackling homelessness. He also proposed a $10 million plan to give rental assistance to people facing eviction.
This multi-billion-dollar plan is the largest-scale initiative so far, but it's unlikely to change the number of people who are homeless in the near term. According to the Journal, it will take at least 18 months to get the first units up and running, and it will take more than a decade to fulfill the goals of the plan. Still, many advocates feel that this is an important first step — and that supportive housing, along with the counseling, substance abuse, and other safety nets, is one of the most effective tools in interrupting the revolving door into the shelter system.
At the same time, the plan may not go far enough to fully help New York's homeless people. A study by the Corporation for Supportive Housing estimated that the city needed more than 24,000 supportive housing units to really roll back the number of homeless individuals and families, plus additional units statewide.
New York City has implemented supportive housing in phases before to assist homeless people, but previously it's been a combination of city and state funds. This time, the city is forging out on its own. Cuomo and de Blasio, who haven't agreed on much lately, also were at odds over state funding for the number of units to be built city- and statewide. A spokesperson for the Cuomo administration told CBS 880 that the state is ready to help the city address homelessness — but, as of now, that doesn't including money for this particular initiative.