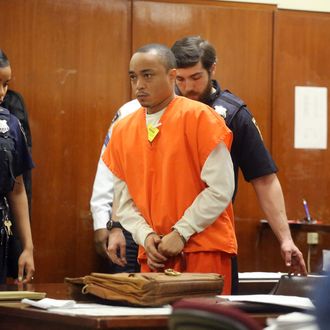 Tyrone Howard at his crack-dealing sentencing on Thursday.
Photo: Jefferson Siegel/NY Daily News via Getty Images
Last month, Mayor de Blasio criticized Manhattan supreme court justices for putting Tyrone Howard — the son of crackheads, who had become an addict in his teens — into drug rehab instead of prison. The mayor put in his two cents in after Howard was charged in the killing of NYPD officer Randolph Holder last month.
The mayor, who has not been terribly popular with the rank and file of the NYPD, declared Justice Patricia Nuñez soft on crime because she, along with Justice Edward McLaughlin, were the ones to let Howard walk in 2014, a year prior to allegedly shooting a plainclothes Holder.
And now one of them, Justice Nuñez, has responded from the bench.
The mayor took the two justices to task for diverting Howard into a drug rehabilitation program, a component of a greater criminal justice reform plan de Blasio is moderating in certain ways. He sure-footed condemnation of what he called the "sweetheart deal" for Howard, saying Howard was beyond the saving graces of rehab or alternative-justice policies like drug diversion programs.
"Tyrone Howard simply should not have been on the streets," the mayor said in late October. "He was a hardened violent criminal. It's quite clear from the facts … Some people are irredeemable. I'm a progressive person, I'm a humanitarian, but I can also tell you some people are irredeemable and unless they are treated very very differently they pose a danger to our society."
Police Commissioner William Bratton was just as unequivocal about Howard's corrigibility. "He would have been the last person in New York City I would have wanted to see in the diversion program," said Bratton, who, as the Huffington Post pointed out, was supposed to be in D.C. at the time of Holder's shooting to explore policies reducing mass incarceration diversion programs.
These programs, amid the growing calls to reform drug-sentencing policy, informed Justice McLaughlin's decision to co-sign the diversion order with Nuñez. (It's worth noting that McLaughlin has been painted as a "hardass" and even fumed over bail-reform efforts, calling them an "insult to the judiciary.") Howard had no history of violence, he was a perfect candidate for diversion. "If there's a way to recapture a guy's life, isn't that an appropriate thing to try?" McLaughlin said in a Reuters interview.
Howard was recently sentenced by Justice Nuñez to 12 years in prison for crack-cocaine distribution. Justice Nuñez took that opportunity to respond to the Mayor's characterization during Howard's hearing. "Shame on those politicians who now point fingers and blame the judges for policies they themselves wanted," Nuñez said, referring also to Commissioner Bratton. She closed with this dare to greater provocation: "I would suggest that the mayor look into a mirror and ask himself whether it's his own policies … that make someone think he can go out and shoot a cop."
"When you get a robe, you don't get a crystal ball," Justice McLaughlin told the New York
Times
. "Diversion is a good thing. It has a lot of support."