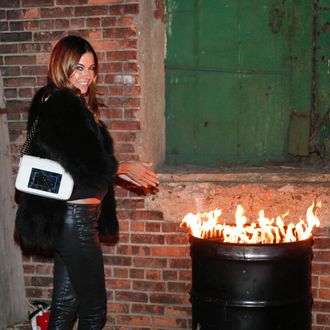 A real-estate firm developing new apartments in the slowly gentrifying South Bronx threw a lavish Halloween party last week at which revelers were encouraged to hashtag their experiences #bronxisburning. Many longtime residents of the long-suffering borough found that a bit insulting, as if the serious problems the Bronx has had with crime and poverty were merely a witty context for a dystopic commercial rave.
The party, officially titled "Macabre Suite," seemed to take New York's bad old days as its theme. It featured trash-can fires and burnt-out bullet-riddled cars.
According to Gothamist, Adrien Brody, Baz Luhrmann, Carmelo Anthony, Kendall Jenner, Gigi Hadid, Naomi Campbell, and Bronx borough president Ruben Diaz Jr. were in attendance; Travis Scott and Kool Herc (who some argue invented hip-hop in the Bronx) performed.
Space and funding for the event was provided by Keith Rubenstein, head of the development firm Somerset Partners, who had recently inked a deal to buy two pieces of property in Port Morris worth $58 million with the intention of building two luxury residential towers where one-bedrooms could rent for $3,000 or more a month. With crime down and property values up, the South Bronx, with its many subways and location near a resurgent East Harlem, has become the next area to be targeted for gentrification.
Somerset had hired the artist Lucien Smith to "curate" the party.
City Council speaker Melissa Mark-Viverito took to Twitter yesterday to voice her thoughts about the event, saying, "Trivializing legit community concerns not welcome. Neither are attempts to erase neighborhood's culture & history." Mark-Viverito, herself a longtime resident, went on to say that the party was "beyond bad taste. Our community, my constituents, deserves [sic] respect, not that."
The party comes just after Somerset Partners unveiled a billboard attempting to rebrand Port Morris as the Piano District, a nod to the area's past life as a hub for piano factories. Residents have responded with a social media campaign #WhatPianoDistrict to voice their fears that the history of their neighborhood will be edited to make it safe for gentrification.     
The hashtag is a reference to the bleakly famous offhand remark made during the 1977 World Series by Howard Cosell, looking out over the then-ravaged neighborhood: "There it is, ladies and gentlemen, the Bronx is burning."