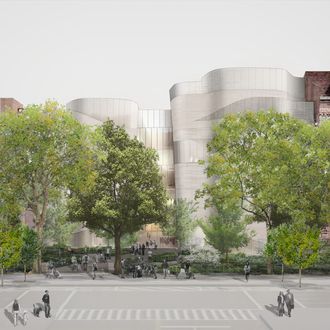 The proposed wing.
Photo: Studio Gang Architects
If you've never gotten lost in the American Museum of Natural History, you've never really been there at all. One moment you're marching past dioramas of arctic foxes or industrious Neanderthals, and the next you're wandering among hunks of dusty rock. Experienced visitors orient themselves by the elephants, but even habitués who go hunting for a half-remembered restroom are likely to encounter a scouting party of fourth-graders signaling their whereabouts with reverberant shouts. There's a certain antiquated charm to that confusion, but it comes at the cost of serious frustration. Points A and B may be as few feet apart as the termite tunnels, but getting from one to the other often means hitting a wall, doubling back, and giving up. The effort to smooth the flow of people and minimize the need for rescue teams is just part of what led to the proposal for a new $325 million wing facing Columbus Avenue, designed by Studio Gang Architects.
In the pursuit of predictable pathways, Jeanne Gang's gang has given the museum the kernel of a great architectural intervention, an exciting mixture of rationalism and whimsy. The Richard Gilder Center for Science, Education, and Innovation is still at the conceptual stage, and much can be refined or corrupted on the way to reality. But for now it looks as though Gang has tackled half a dozen problems, reconciled the complex's tortured history, honored its protected status as a landmark, and minimized offense to the neighborhood. Area residents were worried that the new wing would gobble up too much of Theodore Roosevelt Park; the design turns mostly inward. It will still take over 11,600 square feet of parkland and doom nine trees, but the bulk of the project would replace two undistinguished storage structures, a glass pavilion, and an open emergency staircase. In the future, visitors will enter through fanciful concrete caverns suggested by eroded canyons and modeled by carving holes in blocks of melting ice. If Gang's design lives up to its promise, the new hall will look both abiding and fluid, a spectacular representation of the knowledge it contains.
When Gang walked me through the museum's innards, we ran into Mark Norell, the chair of the paleontology division, who had just returned from an excavation in China. He showed us boulders carved out of the Mongolian desert, armored in plaster, and shipped in custom crates; jumbled bones of a dinosaur family buried alive by a collapsing dune; a delicate lizardlike skeleton slowly emerging from its casing of red earth; and a fossilized tooth getting its first cleaning in millions of years. That sense of unfathomable antiquity yielding up everyday news is what powers the museum. We visit it to confront immensities and time and space, before exiting back into a world divided into minutes, weeks, and blocks. Such grandiloquent thoughts can easily produce architecture rife with kitsch, but Gang is a serious student of natural forces. At her Aqua Tower in Chicago, undulating concrete balconies against glass panes capture the effect of ripples stirred by a breeze on a flat lake. The shape of the "Solar Carve" tower destined for a site along the High Line is sculpted by the path of the sun to minimize shadows. The Gilder Center's wavy façade and woozy arches suggest a negative architecture whittled by water and wind, voids slowly chipped like fossils out of solid stone.
The virtues of Gang's design run deeper than spectacle or metaphor. In 2000, the museum's last updating, Ennead Architects* (then called Polshek Partnership) completed the Rose Center for Earth and Space, a representation of basic Euclidean geometry in the form of a steel sphere in a glass cube. (I'm told that the shape of the universe is, in fact, a good deal weirder than that.) Last year, the same firm opened the Natural History Museum of Utah, a lovely evocation of geological sediments, rock whorls, and copper sunsets. Gang evokes both the classicism of the first project and the tactile nature of the second. Her design will evolve. The interior pathways, the façade's stone, the archways' engineering — all of these elements are still in flux. But already you can see a flexible imagination at work, a desire to honor the context without submitting to it.
Today's Museum of Natural History is an object lesson in the way elegant, farsighted plans succumb to a jumble of immediate needs. In 1877, five years before Charles Darwin's death, Calvert Vaux and Jacob Wrey Mould completed the first sliver of a huge planned complex organized around four matching courtyards. The partnership dissolved, and their plan was replaced by an even grander concept: a perfectly symmetrical four-sided chateau revolving around a tall stone bell tower. You can see in these plans the desire to enshrine the radical ideas that scientists were turning out on a weekly basis in the most august principles of architecture. But buildings evolve, too. Eventually, Vaux and Mould's freestanding embryo was enfolded in a messy accretion: 25 buildings in all, in nearly as many architectural styles, all packed into a portion of the original site and haphazardly welded together. The tower never got built.
The Gilder Center flows from the neo-medieval Building 8 to the brick modern Building 17, linking styles as well as structures. Behind that façade, the hall will plunge back into the heart of the complex to the IMAX Theater, which sits at its geographic center — exactly where the original campanile would have been. Today you hit a wall and must retrace your steps; Gang would lead visitors around it and let them continue along the central axis, out toward the Roosevelt Memorial on Central Park West.
Traffic control sounds like a prosaic rationale for a new wing, but here it's crucial. The new wing is all about connections: the ones that scientists forge between shards of knowledge, the ones that administrators broker among experts in different fields, the ones that teachers help their students make, and the ones that link disparate buildings hammered together over decades. Designing connections is a fierce architectural challenge, but it's the essence of this ever-denser city. One of the great Steven Holl's best* New York buildings is a sensitive juncture between two older structures at Pratt. Renzo Piano's most successful New York project is the interstitial tissue at the Morgan Library & Museum.
Gang's design still has a lot of gauntlets to run: contentious community meetings, approval by the Landmarks Preservation Commission and the City Council — and, perhaps most important, the museum's own internal debates. For now, the project suffers from big but vague ambitions. The name says it's devoted to science, education, and innovation, which is a lot of things. Museum president Ellen Futter wants it to include a hall of bugs, an "immersive theater," and a lot of open storage to display astounding collections now hidden away in drawers.
That all sounds great, but it does prompt the question: What, exactly, is this new wing not for? More specifically, how will the new building relate to the treasured, pleasantly fusty halls beyond? Behind those monumental façades lies an enormously complex organization, part storehouse of the past, part shaper of the future, a university, a local landmark, and a research institution with a global reach. Building a new wing does not require a full-blown identity crisis, but a vague mission and conflicting priorities can doom a complex architectural project. For example, Gang loves the idea of letting visitors observe where scientists work, the way some restaurants do with their kitchens. Norell, the paleontologist, is not so thrilled about turning labs into dioramas. Architects need to know what's behind each door before they design it, and they need to know who's opening it and why. Otherwise we'll wind up with a very expensive foyer.
Gang's design, too, is still rough enough to justify some skepticism. The museum envisions fitting out the exterior of the IMAX Theater with big screens, live feeds, and data visualization displays, a technological approach that could wind up looking already dated on day one. The interior's concrete canyons and national-park-like arches will need a lot more refining before they look more like a serious cultural institution and less like a fiberglass Paleo-Park. But Gang and her team have the right idea: to show that even though Manhattan is half full of glass, there's still a way for architecture to be inspired by rain, wind, rock, and evolution.
*References in this post to Ennead Architects and the work of Stephen Holl have been corrected.