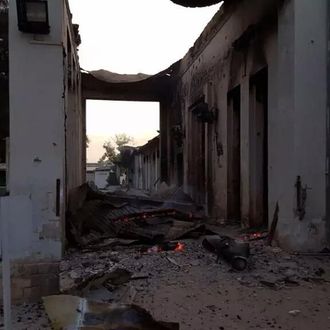 The Doctors Without Borders hospital in Kunduz, Afghanistan after being hit by airstrikes.
Photo: Médecins Sans Frontières/Twitter
Doctors Without Borders released its findings from an internal investigation into a U.S. air strike that left 30 people dead at an Afghanistan hospital on October 3. The report makes the incident, which led President Obama to offer a personal apology to the international medical organization, look even more horrifying. 
"Patients burned in their beds, medical staff were decapitated and lost limbs, and others were shot by the circling AC- 130 gunship while fleeing the burning building," Doctors Without Borders president Joanne Liu writes. The report offers many grisly details of what the staff endured: "An MSF [Médecins Sans Frontières] nurse arrived at the administrative building covered from head to toe in debris and blood with his left arm hanging from a small piece of tissue after having suffered a traumatic amputation in the blast. The MSF nurse was bleeding from his left eye and oropharynx."
The night was a quiet one: "No fighting was taking place around the hospital, no planes were heard overhead, no gunshots were reported, nor explosions in the vicinity of the hospital." Doctors Without Borders says that it was in contact with the Pentagon before the attack — the week before the Taliban had taken over Kunduz, where the hospital was located; it was the first time that that insurgents had been able to capture a large Afghan city in 14 years. Of the 130 patients at the hospital in the days before the attack, about 65 were injured Taliban combatants — two that staffers thought might be high-ranking ones, according to the report. According to the Washington Post, one Doctors Without Borders official told reporters, "'There was no following' dialogue from the U.S. military 'saying, We have different information. We are going to bomb you.'"
Staffers made more than a dozen distress calls during the attacks, which lasted about an hour. 
"This is the view from inside the hospital," the report notes. "What we lack is the view from outside the hospital — what happened within the military chains of command … The question remains as to whether our hospital lost its protected status in the eyes of the military forces engaged in this attack — and if so, why. The answer does not lie within the MSF hospital. Those responsible for requesting, ordering and approving the airstrikes hold these answers."
The Defense Department and the U.S. military are both conducting investigations into the attack, which one military official has already called a mistake. When NBC News asked an official to comment on Doctors Without Borders' report, they replied, "While the incident remains under investigation we are unable to publicly release any findings."