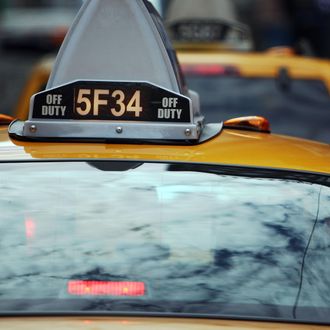 Maybe trying to mute the Taxi TV drove her over the edge?
Photo: Spencer Platt/Getty Images
Competing impulses of thievery and sanitary behavior collided last Friday near Union Square when a drunk real estate broker visiting from Los Angeles slid into the driver's seat of a yellow taxi she'd been a passenger in, and sped off. According to the New York Post, her cabbie stopped at the 13th Precinct station house in Manhattan in after she allegedly refused to pay.
Kinga Tabares, 27, might have been home free, having already zoomed several blocks north on 3rd avenue — if not for an act of voluntary consideration — when she stopped to blow chunks outside of the taxi she stole, instead of soiling the cab's interior. It was then that police caught up with Tabares, who noted that she "smelled strongly of alcohol and had watery, bloodshot eyes."
After taking Tabares to Bellevue Hospital, where she refused a breathalyzer test, she was charged with driving under the influence, grand theft auto, and grand larceny.
When reached by the Post, she claimed that "there's more to this story."
According what appears to be her Instagram account, her motto is: "If a woman is sufficiently ambitious, determined and gifted, there is practically nothing she can't do 💋 #GodIsGood."