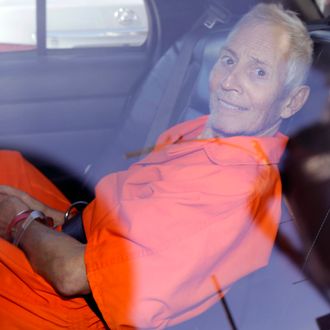 Robert Durst has been sitting in a Louisiana prison since March 14 — the day before the world watched him whisper, "Killed them all, of course," on the finale of HBO documentary The Jinx. Los Angeles County quickly charged him with the 2000 murder of his friend Susan Berman; however, Durst had disappeared from his place in Houston, and they were unable to find him. The FBI arrested him on federal weapons charges after searching his hotel room in New Orleans and finding fake documents and a gun. 
Durst pleaded not guilty to the gun charges, and his murder trial has been forced to wait until this matter is resolved. However, Durst's legal team asked for a re-arraignment on December 17, according to the New Orleans Advocate, which means it is very likely that Durst is about to plead guilty — and could be extradited to California sooner than originally thought.
His lawyer — who defended Durst on an earlier murder charge in Texas, in which the jury decided not to convict the real-estate heir after hearing about how he chopped his neighbor into pieces and threw him into Galveston Bay — told a few news outlets that he was antsy to get on to the next case. "Bob Durst did not kill Susan Berman and doesn't know who did," Dick DeGuerin said, according to the New York Daily News. "From the time of his arrest in New Orleans in March, Bob and his legal team have been eager to get to California so he will finally have the opportunity to prove his innocence. We hope to resolve all other charges right away so that Bob can be transferred to California for trial."
Durst faces up to ten years in prison for the federal gun charge.