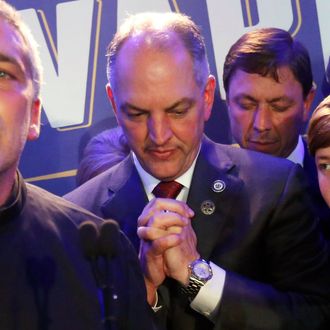 John Bel Edwards, center, prays after defeating Republican David Vitter.
Photo: Gerald Herbert/AP/Corbis
In what has become an upset in the Louisiana governor's race, Democratic State Representative John Bel Edwards defeated Republican Senator David Vitter in a runoff election on Saturday. Edwards, a socially conservative red-state Democrat, won 56 percent of the vote over the once prohibitive-favorite Vitter, who seems to have been finally dragged down by a number of scandals, as well as his antagonistic relationships with fellow Louisiana Republicans like current governor Bobby Jindal. Following his loss, Vitter also announced that he would not be running for reelection to the Senate next year.