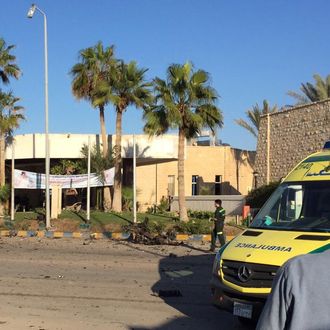 The Sinai Province, the ferociously effective local Egyptian branch of the Islamic State, has more blood on its hands: It claimed, via Twitter, responsibility for an attack early Tuesday morning on a heavily guarded hotel that was housing several judges overseeing the region's parliamentary elections, which concluded Monday evening. One of those judges was killed in the attack, while another was severely wounded.
Sinai Province has also claimed responsibility for placing a soda-can bomb on a Russian Metrojet on October 31, killing all of the plane's 226 passengers. This month, they also bombed a police club in El Arish. In July, Egypt's chief prosecutor was gunned down by the group on the streets of Cairo.
This is how the hotel attack went down today: First, a truck blew up at the gate of the compound, killing two policemen. Then a militant detonated a suicide belt inside the hotel's kitchen. Finally, a third militant opened fire into various hotel rooms, killing Judge Omar Hammad, 38. Seventeen others were injured.
The parliamentary elections were a symbolic event for President Abdel Fattah el-Sisi, who had ordered thousands of national police and military forces to protect voting areas.
Sinai Province took its present form during the Egyptian crisis of 2011. In 2014, it pledged allegiance to the Islamic State. Recently, the group's leader and alleged mastermind of the Metrojet bombing, Ashraf Ali al-Gharably, was killed in a gunfight with Egyptian security forces in Cairo. The group is behind the "Sinai Insurgency," a relentless conflict that began at the height of the Egyptian governmental crisis. Civilian targets are increasingly coming under fire from the group. Militants are seeking to merge part of the Sinai into Islamic State's caliphate.