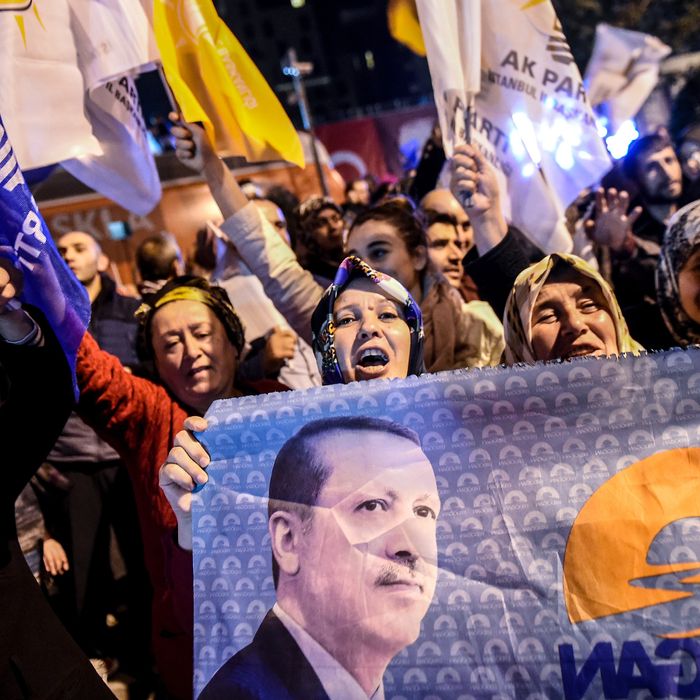 Supporters of Turkey's A.K.P. political party wave flags and display a portrait of Turkish President Erdogan as they celebrate the party's victory in country's general election.
Photo: Ozan Kose/AFP/Getty Images
Turkey's ruling party won a surprise victory in parliamentary elections Sunday, retaking single-party rule after having lost its parliamentary majority in the last general election, and despite the fact that the country is in the midst of multiple national crises. According to The Guardian, President Recep Tayyip Erdoğan's center-right Justice and Development Party, which is also known as the A.K.P., now has 316 seats in parliament, enough to return to single-party rule.
Erdoğan will thus remain in power as he has for the last 13 years, and will also likely continue to pursue constitutional changes, which most analysts agree are designed to solidify and expand that power, potentially toward a much less democratic, Putin-style model of governing. In the previous general election, held in June, the A.K.P. shockingly lost its majority for the first time in more than a decade, and was subsequently never able to form a coalition government with any of the opposition parties. With the A.K.P.'s new majority, Turkey will once again have a fully functional, though mostly one-sided government. The Islamist party's only remaining limit is that they are still 14 seats shy of the parliamentary supermajority they would need to place changes to the country's constitution, up for referendum, without the involvement of other political parties.
But while the A.K.P. may have recaptured the main levers of power, Turkey remains a troubled and profoundly divided country, and the election has likely exacerbated that dynamic. The nation's sense of unity has hardly benefited from Erdoğan's polarizing campaign tactics and rhetoric, his government's crackdowns on journalists and freedom of speech, or the newly resumed conflict between the Turkish government and P.K.K. Kurdish militant group — a conflict which many of Erdoğan's critics believe is more about scaring up support for the A.K.P. than it is about law and order. Indeed, the main theme pushed by Erdoğan and the A.K.P. in the election was that the country needed a return to stability, and critics accuse them of deliberately destabilizing the country to generate that demand.
Turnout on Sunday was excellent, with 85 percent of eligible voters casting ballots, but regardless of who won the most seats, the A.K.P. still took no more than 50 percent of the vote, indicating that half of Turkey would still prefer that another party be in power. What kind of new stability President Erdoğan and the A.K.P. can now provide, and how quickly, remains to be seen.
Then again if Turkish voters are anxious, that's understandable. The country has become a vast way-station for some 2 million Syrian refugees — who either live in Turkey or are using the country as a launch-off point to migrate to Europe, as do other migrants from the Middle East. And in addition to the renewed conflict with the P.K.K., militant Islamic fundamentalism is on the rise in the country, and Turkey is also now directly fighting ISIS, as well as allowing countries like the U.S. to use Turkish soil to launch strikes against the group. In response, an ISIS cell in Turkey has claimed responsibility for horrifying acts of terrorism in the country, including the deadliest terrorist attack in modern Turkish history last month, a suicide bombing which killed more than 130 people at a peaceful anti-war protest in the nation's capital city. Rather than bring the country together, the attack just made divisions worse as many ended up accusing the government of not doing enough to prevent the bombing, as well as then using it for political gain.
The protest that was attacked had been organized by members and supporters of the H.D.P., the political party that represents Turkey's long oppressed Kurdish population. On Sunday, the H.D.P. performed worse at the polls than it did in June, but still maintained just over 10 percent of the vote, and thus enough to remain a part of parliament. Other opposition parties suffered much worse losses.