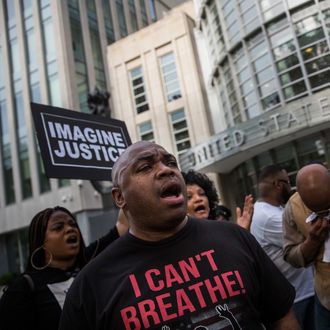 The grand jury decision sparked protests across the city.
Photo: Andrew Burton/Getty Images
Nearly a year after a Staten Island grand jury decided not to indict the police officers involved in Eric Garner's death, sparking massive protests, New York's highest court has declined to hear an appeal requesting the release of the grand-jury transcripts. Such documents usually aren't made public, but the city's public advocate, the Legal Aid Society, the New York Civil Liberties Union, and the NAACP have been fighting to have them released. "No one has been held accountable for the death of Eric Garner, and New Yorkers still don't know why," said Donna Lieberman, executive director of the NYCLU.
In July, a lower appellate court ruled, "public interest in preserving grand jury secrecy outweighed the public interest in disclosure," and on Monday the New York Court of Appeals said in a three-sentence ruling that it will not take up the case, without offering any explanation. Letitia James, the public advocate, called the decision "disappointing," saying "we took on this case to pursue transparency, accountability and to restore the public's faith in justice." She added that she's "eagerly" awaiting the results of the federal investigation into Garner's death.