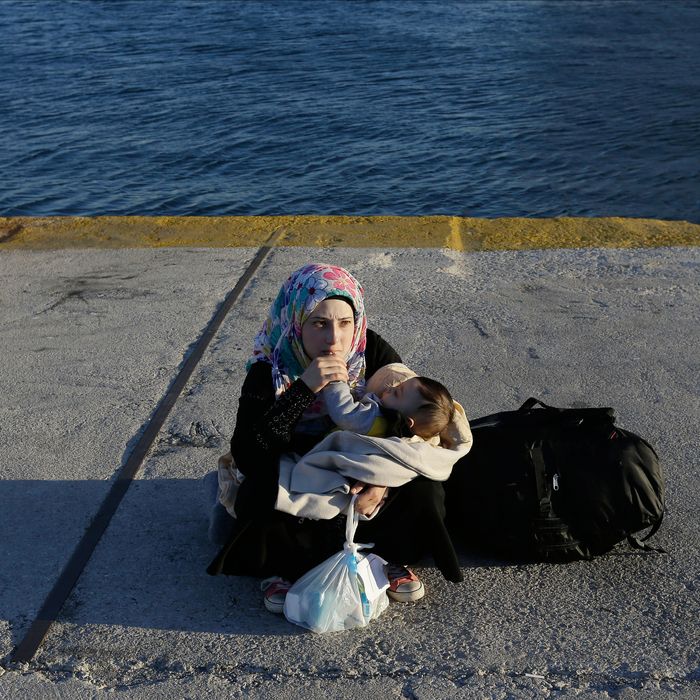 Photo: Thanassis Stavrakis/Corbis
Nearly every day, more dinghies reach the shores of Greece and Italy's islands, hundreds of life-vested migrants and refugees scrambling onto the beaches. Now Europe predicts that the relentless tide of people fleeing the Middle East and North Africa will not slow this year — or the next. Experts predict that at least 3 million more will arrive by the end of 2016.
More than 750,000 people have journeyed by boat to Europe this year, and more than 3,000 have died in the attempt. One child died, and another 6-year-old boy was still missing, after a boat capsized Thursday off the Greek island of Kos. Fourteen people were saved. In the Mediterranean, Spanish authorities rescued more than 500 migrants Thursday, who had gone off-course after leaving Libya.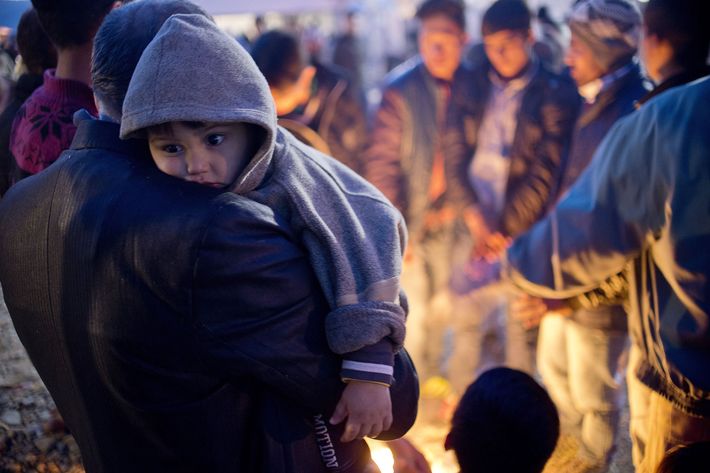 The coming winter has not deterred thousands from risking the sea voyage or the long march by land through Europe. According to the U.N., more than 215,000 arrived by boat in October alone, almost the total number that arrived in all of 2014. But freezing temperatures are intensifying the humanitarian crisis, particularly in the Balkans. European officials have already had several cases of hypothermia; they are warning people not to make the journey north on foot. Authorities are scrambling to house and find beds for as many as 100,000 people in Greece and the Balkans, telling migrants and refugees that if they can stay put, they'll be flown safely and resettled in another EU state. However, that's only for those eligible for asylum under EU rules — and many, if they bed down at these shelters, could end of being sent back to their home countries. Migrants, then, will likely keep trekking north, hoping to evade officials for as long as possible. 
However, the streams of people heading to mainland Greece and onward did slow this week, as a Greek union ferry strike that began Monday left migrants and refugees stuck on the islands. The ferries will start operating again Friday morning, but the union is likely to strike again next week. The unions are protesting pension cuts and other cutbacks relating to the bailout (the other Greek crisis). Officials are putting pressure on the unions to make an exception for refugees during the next strike, but the parties haven't reached any agreement yet. 
The European Union's refugee-relocation plan, agreed upon in September, is also very, very slowly kicking into gear — but not fast enough to deal with the thousands of migrants and refugees still coming. Another 30 refugees left Greece for Luxembourg Wednesday — four Syrian and two Iraqi families — with a heavily publicized sendoff from Greek prime minister Alexis Tsipras. The EU plans to resettle about 160,000 migrants, all of whom have had their asylum status approved, from frontline states of Greece and Italy to other European Union countries. Only 116 have been sent to new homes so far under the program.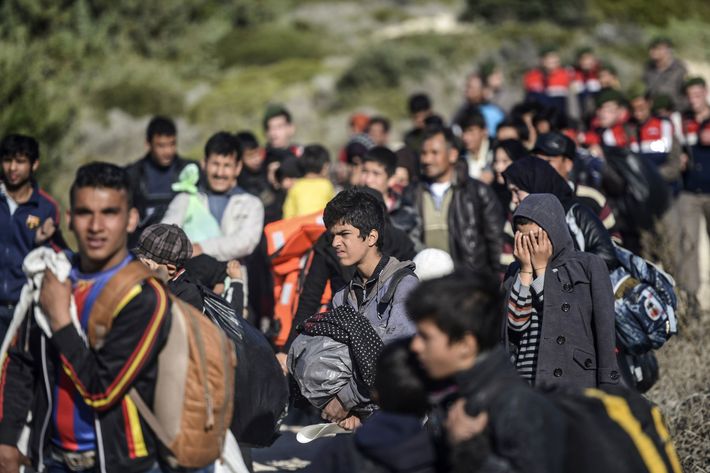 Still, most of the refugees and migrants want to reach Germany, and Germany only. The country expects up to 1 million arrivals total this year and has proposed building "transit zones" to speed up the application process for asylum-seekers. These transit zones, if established, will be placed along Germany's borders, where authorities will screen migrants and refugees as they enter the country. Officials will try to siphon out those who would not qualify for asylum status, including migrants from "safe" countries, including the Balkan states such as Albania and Bosnia and Herzegovina.