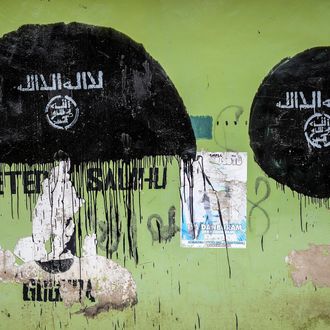 Writings by Boko Haram are seen on a wall after the Nigerian army seized some areas in the city of Yola in Nigeria on May 15.
Photo: Mohammed Elshamy/Anadolu Agency/Getty Images
A bomb blast rocked Yola, Nigeria, Tuesday evening, killing at least 32 people and injuring 80 others.
The explosion occurred around 8 p.m. in Tipper Garage, an area that contains a marketplace, a mosque, and an open-air restaurant, CNN reports. The bomb detonated just after evening prayer, killing dozens who were leaving the place of worship and shopping in the livestock market.
No one has claimed responsibility, but experts say the militant Islamist group Boko Haram is likely behind the attack. The terrorist group, which has pledged its allegiance to ISIS, previously attacked northern Nigeria in late October, killing dozens. In May, Nigerian president Muhammadu Buhari said the group would be "completely obliterated" by December, but since then Boko Haram has killed more than 1,000 people across the country.
Facebook activated its "Safety Check" after the bombing, according to ABC News — the social-media company got some push-back last week after it offered the service for those in Paris, but not for those affected by a deadly bombing in Beirut. The "Safety Check" was previously only used after natural disasters but has been expanded to cover recent terrorist attacks.