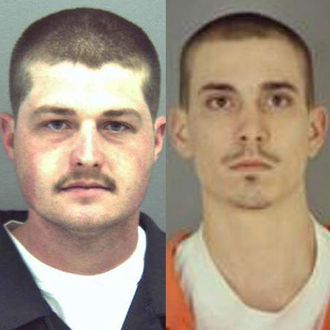 From left to right: Robert Doyle, Ronald Beasley Chaney, and Charles Daniel Halderman.
Yet another attempt to spark a "race war" was foiled on Sunday, when the FBI arrested two white supremacists who allegedly planned on bombing black churches and synagogues in Virginia.
Federal court documents obtained by CBS 6 detail Robert Doyle and Ronald Beasley Chaney's apparent plot: Along with several friends who believe in a white-supremacist version of the Ásatrú faith — a neopagan amalgam of Norse mythology and race "science" — Doyle and Chaney allegedly discussed bombing local black churches and synagogues, then robbing a local jeweler, an armored truck, and a gun store, according to the documents. The men would use the jewelry to purchase land, where they could "stockpile weapons and train for the coming race war."
That plan unraveled on October 25, when Doyle and Chaney tried to buy "an automatic weapon, explosives, and a pistol with a silencer" from an undercover FBI agent, according to local station WWBT.
Doyle and Chaney were arrested two weeks later, after attempting to collect the merchandise they ordered. A third suspect, Charles Daniel Halderman, was also arrested for conspiring to aid in the murder and subsequent robbery of a jewelry-store owner.
The threat of white-supremacist terrorism has received heightened attention in the wake of last summer's massacre at the Emmanuel AME Church in Charleston, South Carolina. According to a count by the New America Foundation, more people have been killed on American soil by white extremists than by Muslim jihadists in the 14 years since 9/11.