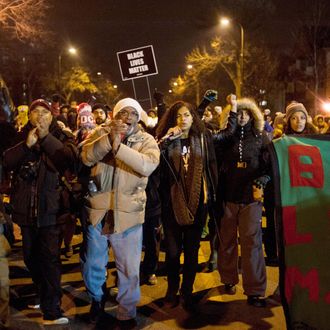 Mica Grimm, center, a member of Black Lives Matter, leads a march from a makeshift memorial for Jamar Clark in Minneapolis
Photo: Stephen Maturen/Getty Images
Black Lives Matter protesters in Minneapolis say that Monday night wasn't the first time a "group of white supremacists" showed up at their encampment, but it was the first time that they had ever opened fire.
Five protesters were shot outside a police station in the northern part of the city, where they had gathered to voice their outrage over the fatal police shooting of 24-year-old Jamar Clark. All five victims sustained non-life-threatening injuries, The Minneapolis Star-Tribune reports.
Protest organizer Miski Noor told the New York Times that groups of "shady" men began showing up at the encampment on Friday. Other protesters told the paper that the men would film the protests and refuse to answer any questions about their intentions.
Nineteen-year-old witness Jie Wronski-Riley told NBC News that three such men — who would later be described by protesters as "white supremacists" — started "yelling and being aggressive" late Monday night. About 25 protesters were "escorting" the three out of the area when a "conflict" broke out between the two groups. Most of the protesters quickly broke off, but four followed the three men up the street. At that point the men "turned around and without warning and started shooting at us," Riley told the network.
Police told NBC that it was far too early in their investigation to comment on whether the shooters were "white supremacists." However, they did describe the fugitive suspects as three white males.
The Times reports that during a telephone call to the precinct, one of their reporters overhead officers reviewing surveillance video and "describing a masked white man pulling out a firearm," in a manner that seemed to align with the accounts of the protesters.
But there is no such agreement between police and protester accounts of the officer-involved shooting that inspired activists to camp outside the precinct in the first place. According to police, Jamar Clark was a suspect in a domestic assault who was violently interfering with paramedics when an officer shot him. Several witnesses have claimed that Clark had already been handcuffed when he was killed.
In the wake of Monday's shooting, Clark's brother, Eddie Sutton, asked protesters to abandon their encampment.
"Thank you to the community for the incredible support you have shown for our family in this difficult time. We appreciate Black Lives Matter for holding it down and keeping the protests peaceful," Sutton said in a statement early Tuesday. "But in light of tonight's shootings, the family feels out of imminent concern for the safety of the occupiers, we must get the occupation of the 4th Precinct ended and onto the next step."