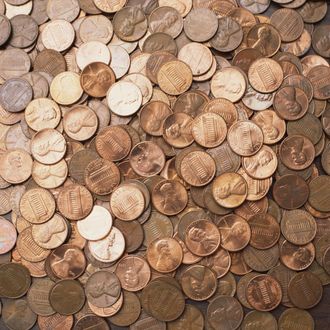 The commission didn't take it, so what is he going to do with it now?
Photo: Dennis Hallinan/Getty Images
Everyone floats the idea of paying an unreasonable fine in the smallest denomination possible, but that's all talk, right?
Not in Florida politics.
Yesterday, the mayor of Hialeah, Florida — just outside of Miami — attempted to pay a $4,000 ethics fine exclusively in pennies and nickels.
In July, the Miami-Dade Commission on Ethic and Public Trust discovered that Mayor Carlos Hernandez lied to citizens in two languages about his income from the interest rate on an $180,000 loan to a local jewelry salesman — who was later arrested for running a large pyramid scheme. The commission fined Hernandez $3,000 plus another $1,000 to recoup the costs of the investigation.
Mayor Hernandez made a show of ignoring the requirement to pay the fine by check when he brought 28 compound buckets full of change and a posse of TV crews to the ethics commission to watch him make it hail. The commission rejected the payment and called Hernandez's move "commercially unreasonable and contemptuous."

The commission doubled the mayor's fine because of the stunt and intends to take him to small claims court next month to force him to pay. Hernandez declined to comment, but in the past he — who, remember, tried to pay a fine with buckets of a denomination usually banished to couch cushions — has called the complaints against him a "political circus."