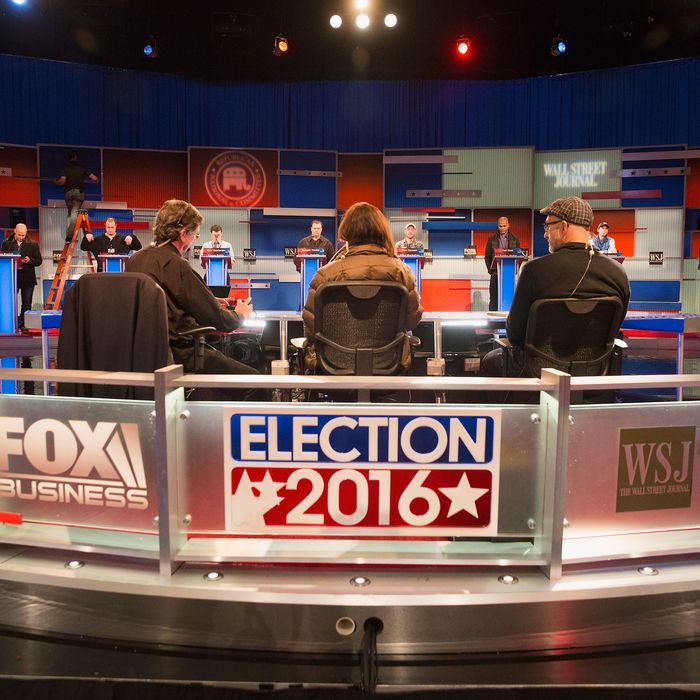 Workers give the debate stage a test drive.
Photo: Scott Olson/2015 Getty Images
Nobody was happy with CNBC's Republican debate, and now the candidates are getting a do-over — but not because they demanded it. The candidates' stand against the networks and the Republican National Committee fizzled out when a few of them refused to sign a list of debate reforms last week, but by chance, Tuesday night's Fox Business Network/Wall Street Journal debate will focus on the same topic: business and the economy. While there haven't been any formal changes, the controversy does add an interesting new dimension to the debate. In addition to watching which candidates go after each other, we'll get to see how a new set of moderators responds to the intense media-on-media scrutiny (and maybe pick up something about where the candidates stand on the issues). Here's a guide to get you up to speed, and be sure to tune in tonight for Daily Intelligencer's liveblog and complete debate coverage.
When and where is the debate being held?
The hour-long undercard debate will start at 7 p.m. ET, and the two-hour main event will start at 9 p.m. ET. Both will take place in the Milwaukee Theatre in Milwaukee, Wisconsin.
Fun fact: On October 14, 1912 President Theodore Roosevelt was shot in the chest in Milwaukee while campaigning for a third term. He insisted on continuing to the Milwaukee Auditorium (now the Milwaukee Theatre) as planned, and opened the speech by showing the audience that he had been shot. "It takes more than that to kill a Bull Moose!" he declared. After speaking for 80 minutes, he reluctantly headed to a hospital.
Expect to see at least one of the candidates awkwardly use this anecdote as a metaphor for their own grit and determination.
How can I watch the debate?
If you get Fox Business Network you can look up the local channel number here. Thanks to an agreement with several cable and satellite providers — including DIRECTV, Suddenlink, Mediacom, Frontier, Wide Open West, Cable One, and some National Cable Television Cooperative companies — the network will be unbundled on debate night. That means FBN will be available for all subscribers, even if they don't have the package that includes the network.
For cord-cutters, the debate will stream live on FoxBusiness.com with no login required. It will also be available on the Fox News mobile app. So you have a lot of options this time (unless you don't own a TV and are reading this on a library computer).
Who will be there?
The field is finally narrowing. Donald Trump, Ben Carson, Marco Rubio, Ted Cruz, Carly Fiorina, Jeb Bush, John Kasich, and Rand Paul will appear on the main debate stage. Chris Christie and Mike Huckabee didn't qualify (partly because deciding what counts as a "major, nationally recognized" poll is subjective), so they'll be in the "JV" debate with Bobby Jindal and Rick Santorum. Lindsey Graham and George Pataki are polling below one percent, and won't appear in either debate.
Here's where they'll be positioned:

What does the stage look like?
Red, white, and blue motif, no Air Force One jets:
Who's moderating?
FBN managing editor of business news Neil Cavuto, FBN global markets editor Maria Bartiromo, and Wall Street Journal editor-in-chief Gerard Baker will moderate the main debate. FBN anchors Sandra Smith and Trish Regan, and the Journal's Washington bureau chief Gerald Seib will handle the undercard debate.
What's changed since the GOP's attempted mutiny over the CNBC debate?
Not much, it seems. While the candidates were pushing for opening and closing statements at all of the debates, FBN will only allow them to make short closing statements. However, there are some format changes that the candidates should be happy with. They'll get more time — 90 seconds for their initial response and 30 seconds for rebuttals — and a light and a buzzer will warn them that they need to wrap up their answer. (That may or may not be less stressful than an increasingly testy series of "thank-yous" from the moderators.)
On paper, the focus of the two debates sounds similar. Tuesday's debate will focus on "jobs, taxes, and the general health of the economy, as well as domestic and international policy issues." That's basically what the last debate was supposed to cover, but many complained that CNBC's moderators didn't get into these topics in depth (to be fair, in some cases they tried, but the candidates refused to answer the question).
The moderators of Tuesday night's debate suggested that they're aiming for a more substantive discussion, and made some subtle jabs at CNBC. As Cavuto explains in the promo below, "our debate will be about business, and it will be clear, and it won't be condescending, and it won't be gotcha." Ouch.
Other promos were far more direct:
So does that mean less fighting between the candidates?
The moderators claim that's not what they're shooting for. "You want to draw out the differences, but I don't think you need to draw (them) out taking somebody's head off and having a fight," Bartiromo told the AP. "That does make good television but it's not really helping the viewer."
She also said the moderators won't hesitate to bring up relevant issues that don't involve business, such as the controversy over Ben Carson's life story. The candidates have been scoring a lot of points (and in some cases fundraising dollars) by accusing the media of treating them unfairly, so it's possible they'll attempt to gang up on the moderators again.
How are the candidates preparing?
Donald Trump spent the debate eve tweeting some weak attacks against Marco Rubio:
Rubio is preparing by rallying his supporters over unfair debate questions. The link below goes to a page on MarcoRubio.com that asks people to register if they agree with this point: "We need two big changes in our debates — MORE ISSUES and FEWER PERSONAL ATTACKS. We have too many big problems to solve to concentrate on silly attacks from the liberal media."
Jeb Bush spent the day trying to win an endorsement from his former rival Scott Walker:
Meanwhile, Rick Santorum was busy trying to fight off laryngitis, and comparing Michael Jordan to a presidential candidate averaging less than 2.5 percent in the polls.