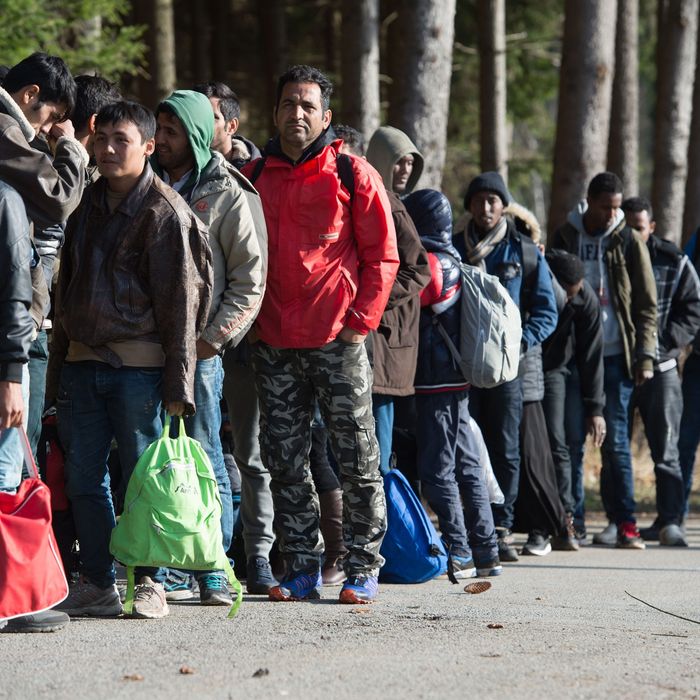 Refugees cross the border between Austria and Germany on November 18.
Photo: Lukas Barth/Anadolu Agency/Getty Images
While many elected officials in the U.S. have begged the federal government to prevent 10,000 Syrian refugees from relocating here after the attacks in Paris — rhetoric President Obama called "offensive" — officials in Europe have been giving equally mixed signals about the thousands of people who still keep arriving every week. 
More than 800,000 migrants have arrived in Europe already this year. Nearly 4,000 have died or gone missing before they landed.
Some leaders have stated emphatically that the attacks have changed nothing and that refugees are still welcome. Others have tried to see if they are allowed to hide the welcome mat without too many people noticing. In France, the country most devastated by the attacks, President François Hollande said on Wednesday, "Some have wanted to link the influx of refugees to Friday's acts of terror. [However,] 30,000 refugees will be welcomed in the next two years."
"I know your worries," he added. "We also have to verify people who are coming onto the European territory and into France to make sure there are zero risks for our country. So we will be executing necessary verification before accepting any refugees onto our soil."
German chancellor Angela Merkel, the leader who has forcefully pushed her European neighbors to do more for Syrian refugees while making sure to welcome many into her own country, told reporters on Monday that she did not plan on changing Germany's open-door policy. "We owe that not only to the victims but also to security in our countries and to the refugees, a large number of whom are fleeing terrorism," she said.
On Tuesday, refugees began arriving in the U.K. as part of the country's plan to resettle 1,000 people by the end of the year. More than 100 refugees flew into Glasgow — mostly young children and their mothers. The Scottish minister for Europe and international development greeted the new arrivals, telling them, according to The Guardian, "I just want to welcome these people to Scotland, and assure them that despite the weather, the welcome they receive will be very warm. I want them to think of Scotland as their home."
Overall, however, Europe is still being very slow when it comes to dealing with the migrant crisis — and things probably won't get any better now that one of the attackers was found with a fake Syrian passport. The European Union just missed a few deadlines for finding money and coordinators to deal with refugee relocation. Fewer than 1,000 refugees have been relocated from Italy and Greece so far; The Guardian notes that it would take 166 years at the current rate to rehouse all of the refugees the EU promised it would. A U.N. rights agency spokesperson told reporters on Tuesday, according to AFP, that trying to prevent refugees from being relocated was "very, very stupid … It's really pretty disgusting how extreme anti-immigrant politicians and media commentators have jumped on this attack to push their existing agendas. That is really pretty obscene actually, given what happened in Paris."
Far-right parties in several European countries have held anti-migrant rallies in the days after last Friday's attacks. There have also been many reports of hate crimes against asylum-seekers in Europe in recent weeks. 
Leaders from Greece and Turkey met this week to discuss the best way to respond to the hundreds of thousands of migrants likely to keep landing on their shores. One thing they agreed on: They think most of Europe has abandoned them with a big problem, which they think is unfair. "Europe should not place the burden on the backs of Greece and Turkey," Turkish prime minister Ahmet Davutoglu said on Wednesday. "Turkey and Greece are victims of this problem just as the refugees are." On many other issues that did not involve criticizing EU leaders, they were unable to find much consensus — although the countries' coast guards are now supposed to work in tandem more in the future. Turkey is also trying to secure its border with Syria and stop the people unsafely smuggling migrants into Europe — but it is very hard. One police official told The Wall Street Journal, "there are too many little roads and paths to check." 
As the political battles continue evermore — and problems remain unresolved — boats keep arriving in Greece and Turkey, or sinking on the way. On Tuesday, nine people died when a boat sank. A day later, another boat capsized off the western coast of Africa, leaving at least one person dead. The Turkish coast guard was searching for ten missing migrants after yet another boat sank. The deaths are expected to climb once winter starts. As a U.N. refugee agency spokesperson told the New York Times, "There is no major evidence that the crisis is disappearing with the change of season."