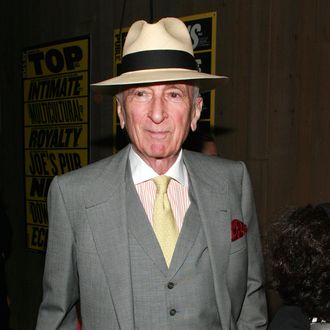 Photo: Sylvain Gaboury/Patrick McMullan
Gay Talese sat at a table covered with a red cloth in the basement office of his home on the Upper East Side,  where I had come to talk to him about what most people who don't come here to talk about with him— his enduring fandom of Alabama college football. Talese is one of the most revered nonfiction writers of his time — he wrote the famous magazine profile line against which all others are measured, "Frank Sinatra has a cold" — but he also attended the University of Alabama from 1949 to 1953 and reported from the state for the New York Times (he went back this year to Selma to cover the Bloody Sunday anniversary). But today's subject is the behemoth known as The Crimson Tide.

The previous Saturday the college team has defeated LSU, 30–16, and would in four days defeat Mississippi State, 31–6. Charleston Southern is up November 21. The Crimson Tide seems well on its way toward being one of the four teams slotted to play in the second annual playoff for College Football's National Championship. What stands in their way from staying there is the so-called "Iron Bowl" against its in-state rival Auburn on Thanksgiving weekend. It's a game with a history that goes back to 1893, one that's divided families, ignited inconceivable passions, given college football its most memorable moments, and pitted people against one another for the entirety of their lives. And Talese was there for it and still lives for it.
Because he is Talese, he dressed for the part of Talese — wearing a 30-year-old three-piece suit with a white fedora as he read out loud from a small piece he'd written while on assignment to interview Vivian Malone, the first black person to graduate from the University of Alabama, in May 1965.
Talese graduated from the school more than a decade before. But now he wasn't reading about Malone. No, he was looking over prose he'd written about the first brush with another quintessential New Yorker from the 1960s — who, too, had done his time in this far-away state as the university's quarterback from 1962 to 1964. As Talese had done with his own craft, this young man was about to change everything.
"The first time I saw Joe Namath was after a waitress in this dining room of this Tuscaloosa hotel, a red haired waitress who was young in a tight blue uniform and left nothing to the imagination, to my imagination or hers," the 83-year-old Talese recited, "this waitress who spotted him coming in the door and she said to another, 'Psst, here he comes.'"
Talese pulled this piece of Namath lore from a collection of memories he had had kept on Alabama. His notes from a French class. His student identification card. Clippings from the sports columns — christened "Sports Gay-zing" — that he wrote for the school paper. His diploma.

"When I first heard of Auburn I was a freshman," says Talese, who the previous night had dinner with fellow Alabama alumnus Winston Groom, the author of Forrest Gump, at the Polo Bar. "I had never heard of Auburn before that. And I later thought about the rivalry and why is there so much rivalry between these two state universities, and I thought it had to do with class. For some reason Auburn was looked upon by Alabama as sort of a redneck place. My freshman year both schools are among the major exponents of racism within the so-called academic world. And both teams were white when I first got there in 1949.
"But even then I remember Alabama would look upon the students and the football team and the whole administration of Auburn as sort of lower-class whites," he continues. "There was a rivalry in the football sense, but it was really a class cultural confrontation in another sense … People in Alabama couldn't look down on anybody, but they could look down on Auburn."
Even by his own retelling, Talese knew little about Alabama, either the state or the university, before he arrived on campus in fall 1949. Despite writing for a local weekly in his hometown of Ocean City, his high-school English teachers thought poorly of him — and his marks showed it. He'd applied to a dozen or so schools, including Rutgers, receiving no offers. His own principal personally pleaded with his parents, Italian immigrants, to stop Talese from pursuing college. It was, the man said, simply a waste of everyone's time.
But the young man's plight caught the attention of one man who would change his life forever. This was a town doctor and Alabama alum who belonged to the local Rotary Club with Talese's father, Joseph. Without Gay's knowledge, the man made sure he received admission into the school. Receiving his acceptance letter, Talese says, for him felt like hearing the Nobel call from Stockholm.
Several months after, Talese stood on the platform of Philadelphia's 30th Street Station with his parents and sister, ready to board the train to Tuscaloosa alone. Later, he'd write, he felt what his father must have felt as he prepared to leave Italy for the States. A new life was waiting for him, and he couldn't wait.
"I could take a breath and inhale and start a new life," Talese says, as the talk strays invariably from football. "Which I did really. I found, really found warmth and friendship from various kinds of people. I remember one guy was from a place like Boaz, Alabama, and he was kind of a farm boy really, but he was so interesting to me because I had never met a farm boy. Before I said that Alabama was elite — well, there were some boys that weren't elite. And one of them was this guy.
"I met a lot of GIs," he continues. "When I went as a freshman, in the freshman dormitories, these guys were like 23 years old. They looked like 50-year-olds. They were sitting around playing cards and drinking and knowing people that had been to Europe and Asia, and here they were in Tuscaloosa in my dormitory. It was a wonderful change of place and heart and opportunity for me."   
His life had changed, and Alabama football would help change it. As a junior, the school paper, The Crimson White, made him its sports editor and columnist, serving as a "spotter" for out-of-town broadcasters during big games. This was seven years before Paul "Bear" Bryant, who commanded the sidelines with a rumpled face and a houndstooth fedora, took charge of the program, leading it to six national championships during a remarkable 24-year run. But here Talese did his best to show the humanity and fragility of the team's players and even its head coach, Harold "Red" Drew, the team's moderately successful but beleaguered head coach. In his writing, Talese displayed an empathy that the world would later see when he wrote about the forlorn Floyd Patterson, the lonely DiMaggio.
Of course, he bristles at what the college game's become: as the Times recently pointed out, a big business. (Still,  he asks: "What the hell was that doing on A-1?") Alabama head coach Nick Saban earns $7 million a year. His players earn none. A little more than 100,000 people pay their way to watch home games at Bryant-Denny Stadium, yet none of that cash finds its way to the young men who will forever give up their youth for those Saturdays in hopes they might extend their playing days to NFL Sundays. But he feels the same way that most of us who love college football feel — indignation toward its inherent injustice of the sport and a tie to the sport that will never be loosened.
"It's hard to understand why one can care to any degree about what a group of 20- to 21-year-old college football players do on a Saturday afternoon or evening," he says. "Why, with all that I have in personal responsibility to my work and my family and my general health, does my temperature rise or doesn't rise on the temperature of a football game? That is more than a half-century removed from my active participation as the sports editor in my college newspaper, in my particular special status as the spotter at big-time football in Birmingham. I don't know. It's a link to the time of my own discovery of myself, I think.
"But, nevertheless, Alabama was a turning point in my life," he continues, only to suddenly dart off from sports and Auburn and a chance for a national championship. "It was where I first fell in love. She was my Zelda Fitzgerald."
She was beautiful and blonde and charming, Talese says. A freshman when he was a junior, and it was his introduction — true introduction — to the idea of love and romance. He brought her to Ocean City. He traveled with her through Alabama. But when she came to New York in 1954 where Talese had begun work at the Times, she told him it was over.
"I tried to convince her," Talese says. "I went down to Alabama and tried to change her mind, and it was all over. It was really all over. And she had already picked out the guy she would marry, and it wasn't me. I had no future. I was a copy boy and going into the fucking Army for two years. I was an ROTC student, so I had to do that. I had no future and was going in the Army for two years. She was a woman that didn't have to wait and didn't wait. She found much better than me on the campus of Alabama after I vacated it. So not only did I experience vicariously the fate on the football field, but at the same time and the same place I had this Alabama defeat with this beautiful girl. I don't think I have ever been the same. I was really in love. Maybe the first and last time I was in love. That was the end of one part of me and the beginning of another. I never saw her again."
Though he came close. This was when reporting on Selma for the Times in 1965. In the midst of reporting on one of the most pivotal points of the civil-rights movement, Talese went out of his way to call her. She was living in Guntersville, where her father owned a paper at the time, and when she picked up he could hear the sound of children in the background. At one point, every man, looking for his past, for that girl, makes a call quite similar, only to hear the sound of a husband or little ones, of someone that's moved on, even when he himself has done the same thing. Talese told her that he was in Alabama for a story — be it the Story. It was the biggest piece of his career during his last year at the paper.
"Maybe you want to come down," he told her.
"Oh, I can't," she replied.
"This was '65 and she broke up with me in '54, and I was married and I sill thought I could win her back," he says. "I don't know what I would have done if I had. I had a wife and I had a one-year-old daughter. [I'm] in the middle of the biggest story and you would think I would be concentrating 100 percent on the story, but no, I was calling this woman from the Hotel Albert in Selma, Alabama in the middle of the afternoon.  There were people protesting outside and I'm trying to resurrect a college romance in the middle of the biggest story I was on.  Again, it was no go.  No game. Nothing. But it shows you something about Alabama doesn't it?"