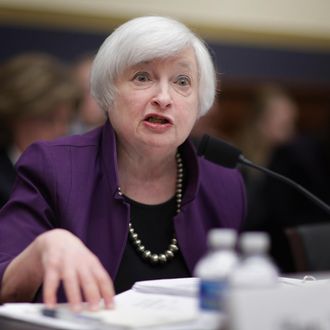 Janet Yellen will next hear an elected official relay the monetary advice they received by putting their ear next to a seashell.
Photo: Chip Somodevilla/Getty Images
God wants the Federal Reserve to delay raising interest rates until next year, Representative Brad Sherman revealed on Wednesday. The California Democrat relayed this information to Federal Reserve chair Janet Yellen at a congressional hearing on Wednesday, after she noted that there was a possibility that a rate hike might happen in December. 
"As I argued then back in the summer," he began, jokingly, "God's plan is not for things to rise in the autumn. As a matter of fact that's why we call it fall. Nor is it God's plan for things to rise in the winter, through the snow. God's plan is that things rise in the spring. And so if you want to be good with the Almighty, you may want to delay until May." 
Yellen has received lots of unsolicited advice on monetary policy this week; Ralph Nader wrote an open letter imploring her to ask her husband to explain how interest rates work. 
According to dozens of previous reports, God's plan is a wide-ranging political platform that also called for Scott Walker's presidential campaign, Sarah Palin's vice-presidential bid, Paul Ryan's House Speaker bid, Christine Quinn's mayoral loss, and the Iraq War. 
Sherman later told the Huffington Post, "I do not believe the almighty has a position on monetary policy. But if she did, she would agree with me" that interest rates should not be raised next month.