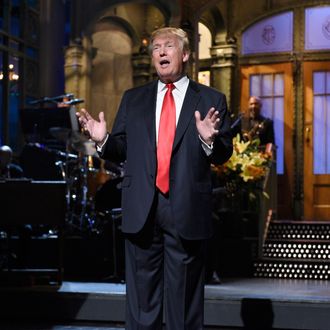 SATURDAY NIGHT LIVE – "Donald Trump" Episode 1687 – Pictured: Donald Trump during the monologue on November 7, 2015 – (Photo by: Dana Edelson/NBC)
Photo: Dana Edelson/NBC
GOP candidates got their due from NBC Monday, after the network agreed to give them the same amount of airtime as Donald Trump during his hosting gig on Saturday Night Live.
The campaigns of John Kasich, Mike Huckabee, Lindsey Graham, and Jim Gilmore will each receive 12 minutes and 5 seconds of free airtime, because that's how long the Donald was on air during the November 7 show, Variety reports.
The spots will be aired on 18 NBC affiliates in Iowa, New Hampshire, and South Carolina on November 27 and 28, as well as during Saturday Night Live on November 28. Former New York governor George Pataki has announced that his wishes for equal ad time will be granted, as well, though it hasn't been confirmed by NBC. According to the New York Post, Pataki plans to use the time to bash Trump.
Other candidates' advertising strategies haven't been announced, but Gilmore will probably use the time to explain to viewers that he exists.