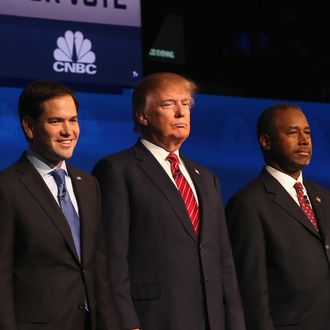 Photo: Justin Sullivan/Getty Images
ISIS-linked terrorists' Friday attack on Paris constituted the most violent night the city has seen since World War II. The attacks have already brought foreign-policy issues to the fore of United States presidential race, with national security questions dominating last night's Democratic debate. Meanwhile, the Republican candidates shared their own (frequenty extreme) takeaways from the tragedy:
1. The United States is in a war to save Western civilization

"This is a clash of civilizations," Marco Rubio told ABC's This Week, emphasizing that the enemy is not any one terrorist group but a worldview that cannot co-exist with the West.
"We are at war with radical Islam, with an interpretation of Islam by a significant number of people around the world, who they believe now justifies them in killing those who don't agree with their ideology," he said.
Rubio dismissed concerns that such framing might offend some Muslims, and reinforce the terrorists' own narrative about the nature of the conflict. "That would be like saying we weren't at war with Nazis, because we were afraid to offend some Germans who may have been members of the Nazi Party but weren't violent themselves," he said.
Rubio's main rival for the title of "establishment favorite" voiced similar sentiments on CNN's State of the Union: "This is a fight for western civilization," former Florida governor Jeb Bush told the network. "We need to be all-in on it."
2. The Paris attacks illustrate the perils of gun control

"When you look at Paris, you know, the toughest gun laws in the world, nobody had guns except for the bad guys, nobody," GOP frontrunner Donald Trump told supporters at a campaign rally in Beaumont, Texas. "Nobody had guns, and they were just shooting them one by one."
According to The Washington Post, Trump suggested that lives would have been saved if more Parisians carried concealed firearms: "And I'll tell you what, you can say what you want, but if they had guns, if our people had guns, if they were allowed to carry, it would have been a much, much different situation."
3. The United States shouldn't take in many Syrian refugees, if any
Ben Carson said that he would love for the United States to take in a large number of Syrian refugees – if he were a leader of ISIS.
"If we're going to be bringing 200,000 people over here from that region — if I were one of the leaders of the global jihadist movement and I didn't infiltrate that group of people with my people, that would be almost malpractice," Carson told reporters at the Florida GOP's Sunshine Summit. Though Obama administration has only proposed re-settling 10,000 refugees, Carson didn't sound like he was open to taking in any of those displaced by the country's long civil war. "To bring them here when we have tens of millions of our own people who are suffering economically, doesn't make any sense," he said.
Former Arkansas governor Mike Huckabee argued that the Paris attacks had validated his opposition to accepting the refugees, as "even the far-left and politically correct government of France has closed its borders."
Rand Paul, Bobby Jindal, Carly Fiorina and Rick Santorum have all expressed similar sentiments.
4. The United States should only take in Syrian refugees who have accepted Jesus Christ as their personal savior
While Texas Senator Ted Cruz told Fox News that President Obama's plan for re-settling Syria's Muslim refugees was "nothing less than lunacy," he argued that when it comes to "Christians who are being targeted for genocide or persecution, Christians who are being beheaded or crucified, we should be providing safe haven to them."
Bush echoed Cruz's view on CNN, saying, "We should focus our efforts, as it relates to the refugees, with the Christians that are being slaughtered."
5. The United States should be less worried about killing civilians in its airstrikes
In his official statement on the attacks, Cruz argued that the enemy "will not be appeased by outreach or declarations of tolerance. It will not be deterred by targeted airstrikes with zero tolerance for civilian casualties, when the terrorists have such utter disregard for innocent life."
6. We need American boots on the ground in Syria
"Boots on the ground would be important, because throughout that whole Middle Eastern region we have been calling for a coalition of the people who have a vested interest," Ben Carson said in Florida. "We have not really seen much of a coalition form. But that's because there's not leadership."
7. The Paris attacks show that I am wiser than Marco Rubio
At the same Flordia summit, Kentucky Senator Rand Paul said that "one of the lessons we should learn from the tragedy in Paris is that we have to be very careful, and very cautious — extraordinarily cautious — about who comes to visit, who immigrates here and who studies here."
Paul went on to clarify that he had already known about the need for such caution – unlike a certain Florida senator. "Two, three years ago, I introduced a bill, or an amendment, to the immigration bill that would have provided for more scrutiny of people coming into our country: refugees, immigrants, students," Paul said. "I introduced this to Rubio and [Chuck] Schumer's immigration bill and then Rubio and Schumer and all of the authors voted against any conservative amendments. And I think that was a mistake, not only for the bill, but also for our national security."
8. In order to defeat ISIS, the United States needs to tear up its nuclear agreement with Iran
In his statement on the attacks, Huckabee called for the United States to revoke its nuclear agreement with Iran, arguing that, "Radical Islamists, whether Sunni or Shia, are a clear and present danger to civilization."
9. Obama is "just so bad"
Virtually all the GOP candidates criticized the president for underestimating the threat posed by ISIS. But no one expressed this point of party consensus more succinctly than its presidential frontrunner: