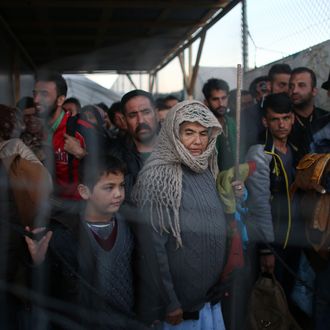 Photo: Carl Court/Getty Images
While the majority, if not all, of the men who killed 130 people in Paris on Friday were European nationals, several GOP governors were quick to declare the attacks a reason to bar Syrian refugees from the United States. Over the last few days, Michigan governor Rick Snyder, Alabama governor Robert Bentley, Arkansas governor Asa Hutchinson, Texas governor Greg Abbott, Louisiana governor Bobby Jindal, Mississippi governor Phil Bryant, Ohio governor John Kasich, Indiana governor Mike Pence, Illinois governor Bruce Rauner, Wisconsin governor Scott Walker, and Massachusetts governor Charlie Baker said they would refuse to accept any of the 10,000 Syrians the United States has pledged to resettle this year.
"Michigan is a welcoming state and we are proud of our rich history of immigration. But our first priority is protecting the safety of our residents," said Snyder. (On Monday, Snyder said he wouldn't interfere with the arrival of 20 or so refugees who have already been sent to Michigan, which happens to have one of the U.S.'s largest populations of Middle Eastern immigrants.) Meanwhile:
No refugees have been resettled in Alabama, and in his statement Sunday, Gov. Bentley said things would continue that way.

"I will not stand complicit to a policy that places the citizens of Alabama in harm's way," Bentley said. "I will not place Alabamians at even the slightest, possible risk of an attack on our people. Please continue to join me in praying for those who have suffered loss and for those who will never allow freedom to fade at the hands of terrorists."

In a letter to President Obama today, Abbott said: "Given the tragic attacks in Paris and the threats we have already seen, Texas cannot participate in any program that will result in Syrian refugees – any one of whom could be connected to terrorism – being resettled in Texas."

"Effective today, I am directing the Texas Health & Human Services Commission's Refugee Resettlement Program to not participate in the resettlement of any Syrian refugees in the State of Texas. And I urge you, as President, to halt your plans to allow Syrians to be resettled anywhere in the United States," Abbott wrote in the letter.
"I'm not interested in accepting refugees from Syria," Baker told reporters on Monday. "I would need to know a lot more than I know now before I would agree to do anything."
On Monday afternoon, a Democrat joined in. A spokesperson for Maggie Hassan told the Daily Beast that the New Hampshire governor "believes that the federal government should halt acceptance of refugees from Syria until intelligence and defense officials can assure that the process for vetting all refugees, including those from Syria, is as strong as possible to ensure the safety of the American people."
The governors were not the only Republicans to attempt to tap into their constituents' xenophobic impulses. Presidential candidates Ted Cruz, Jeb Bush, Marco Rubio, and Donald Trump all responded to the Paris attacks by saying that the U.S. should stop accepting Syrians — though Cruz and Bush both suggested there should be an exception for Christian Syrians. Several congresspeople followed suit.
President Obama became visibly angry when discussing the issue during a press conference at the G20 summit in Turkey. "Many of these refugees are the victims of terrorism themselves. That's what they're fleeing," he said. "Slamming the door in their faces would be a betrayal of our values." He continued: 
"When I hear folks say that well maybe we should just admit the Christians but not the Muslims, when I hear political leaders suggesting that there would be a religious test for which a person who is fleeing from a war-torn country is admitted, when some of those folks themselves come from families who benefited from protection when they were fleeing political persecution, that's shameful," Obama said. "That's not American. That's not who we are."
Obama also rejected criticisms of his fight against ISIS, saying, "We have the right strategy and we're going to see it through … What I do not do is take actions either because it is going to work politically or it is going to somehow, in the abstract, make America look tough or make me look tough."
This post has been updated throughout.