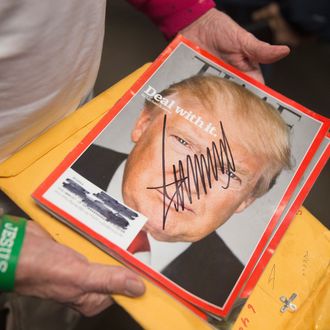 If Trump Card LLC has their way, the candidate's supporters will soon be burning their Trump books, memorabilia, and trucker hats in disgust.
Photo: Scott Olson/Getty Images
The Wall Street Journal is reporting that Liz Mair, a "well-connected" former online communications director for the Republican National Committee, is trying to line up secret donors behind a "guerrilla campaign" to "defeat and destroy" Donald Trump's front-running presidential candidacy. The Journal adds that other establishment Republicans now seem to be ramping up both the scale and bluntness of their attacks on Trump as well, including new Super PAC campaigns, but Mair's group, Trump Card LLC, might end up being the most extreme. It apparently plans to produce ads and web videos "that attract media attention based on their 'outrageousness and boundary-breaking or bizarre nature'" including such tactics as comparing Trump to his arch-nemesis Rosie O'Donnell, hiring a Trump impersonator to emphasize the candidate's jerkitude, and highlighting how Trump's positions and business tactics run counter to Republican ideology. On top of all that, the intention of the campaign is to attack Trump so brutally that his supporters not only abandon him, but abstain from voting in the primaries altogether.
In response, Mair has now earned a "wacko" distinction from the Donald himself: