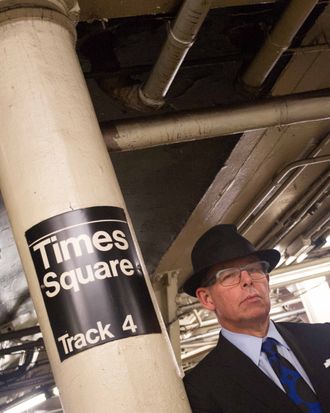 Michael Bierut may be from Cleveland and live in Westchester, but he is as New York as they come. A partner at the Pentagram design house since 1990, he and his team have created wayfinding maps for Manhattan pedestrians, the graphics and signage for the Morgan Library & Museum, the much-praised shuffled-tiles remake of Saks Fifth Avenue's shopping bag, and dozens of other bits of our visual environment. It's hard to go more than a couple of days in Manhattan without encountering something Bierut has made. Even his customary wardrobe — pick-stitched lapels, Gene Meyer ties, occasional fedora — marks him as not exactly a small-town guy.
Bierut's new monograph, his first, is called How To, and it's just out from Harper Design. Shaped in the form of three dozen exercises, it lays out each project's brief, walks through the creation of a solution, and then shows and tells how it was refined. Taken individually, they're little windows into creative thought; as a whole, they are not a bad introduction to what contemporary graphic design is, or should be: communication and problem-solving that make life work better, not just prettying up things with better fonts.
It's a book full of white space and clean Helvetica type (custom-tweaked, with "one modification I've secretly wanted for years: All the square dots are round"). That is no surprise, given that Bierut's mentor was Massimo Vignelli, whose Italian minimalist pen gave us our subway signage and the logotype for Bloomingdale's. So when I asked Bierut if he'd walk through a slice of New York City and try some how-to on the fly — pointing out good work and less-good work — I was somewhat surprised at the location he chose: Times Square. I said yes, of course. If nothing else, these few blocks deliver an awful lot of graphic design per square foot.
We start at the top of the bow tie, next to the TKTS booth.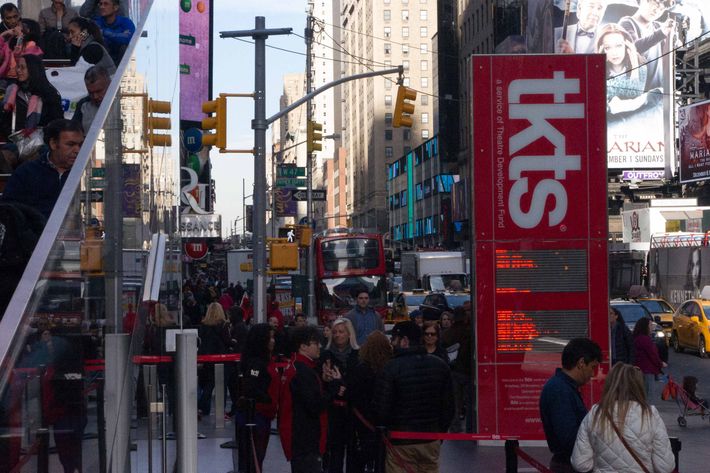 "My first visit to New York was in the mid-'70s," says Bierut, "and the romantic view of New York that I had wasn't, like, Fred Astaire movies. It was much more about the beginning of North by Northwest, or Jack Lemmon in The Prisoner of Second Avenue — that period. And I remember seeing the TKTS booth — the original version, done by Mayers & Schiff, so cheap, so temporary-looking — as this great graphic triumph at the time." It lasted until 2006, when it was replaced with the current structure. "It's a great solution. It acknowledges that Times Square is the show, provides bleacher seats for it. It makes reference to theater. And they retain that great mashed-up Helvetica 'TKTS.' It anticipated that Tumblr, Grindr, who-needs-vowels thing by decades. It's a very New York thing — who has time for all those letters?" Then he glances upward. "Lucky Coca-Cola!" he says, noting that the glowing animated sign just above the booth nearly matches. "They get to pay off in the same red — Coca-Cola owns red, so maybe you can even confuse the two."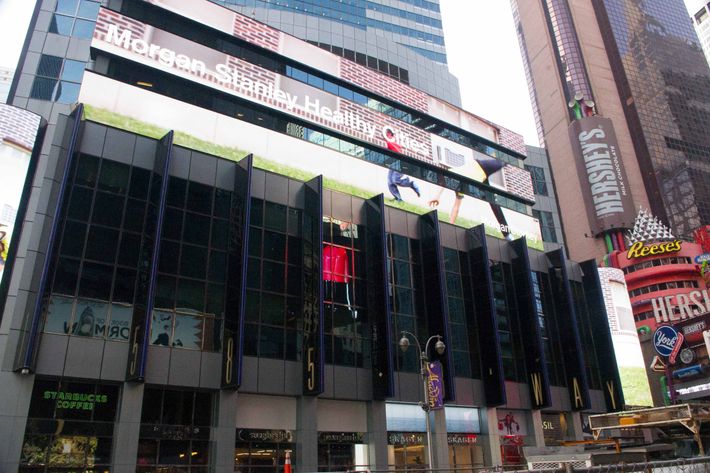 We turn the corner, headed uptown, and approach 1585 Broadway, whose address appears on protruding fins worked into the building's façade. "I did the brochure for this building back in the late '80s," Bierut says. "The building's by Gwathmey Siegel, and the typography is Poulin + Morris, and of course everything around here is dictated by the district-signage requirements. I'm not sure if the Ginza or Picadilly require the same things, but the developers are required to put all these signs on the building." I remark that the relatively clean-lined structure looks a little dull when surrounded by glowing ads. "The thing is, though — you pick Gwathmey Siegel as architects, and they weren't fated to be working in Times Square, building a building that's an armature for signs."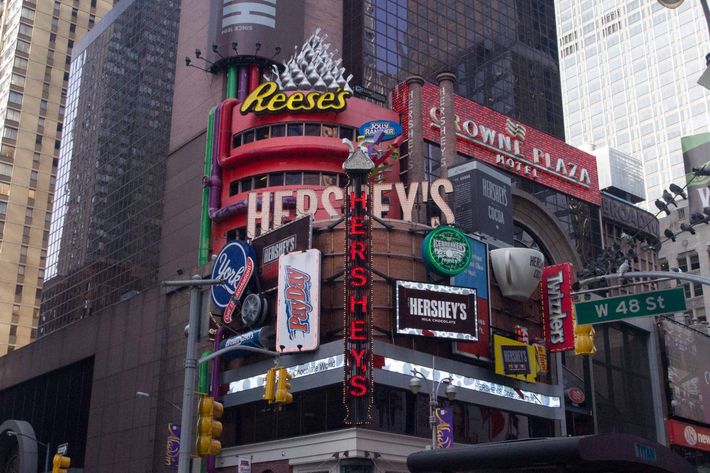 Whereas that perfectly describes the Hershey's and M&M stores that face off on the next corner. "I remember when the Hershey's store went in," Bierut says, "it was at a moment when a lot of consumer products were starting to despair of the power of conventional advertising — print or 30-second commercials — and getting intrigued by the point of creating immersive experiences. So, they said, what if we could create an immersive experience, all about the Hershey brand, and on top of that get people to actually pay for the experience of it, by buying product there?" Essentially, the store itself became an ad, and about the busiest one you've ever seen. "No place else in the United States could you come before a zoning board and say, 'Here's our idea: flashing signs, rotating signs, animated signs, three-dimensional coffee cups.'" I ask Bierut whether he thinks it'll age well. "It looks, y'know, very much of its time. You can see that there was some sort of idea where you're meant to imagine a 19th-century factory buried under all those signs, with the chimneys and the brickwork — like they found this old building and did an adaptive reuse. It's a sort of Planet Hollywood–style theming, which is probably less convincing and appealing to people than it was at the time. But boy, oh boy, you see a lot of people walking around with Hershey bags, and M&M bags. My tendency would be to build a single brown chocolate waterfall, one monolithic thing. Actually, that sounds a little disgusting, I guess."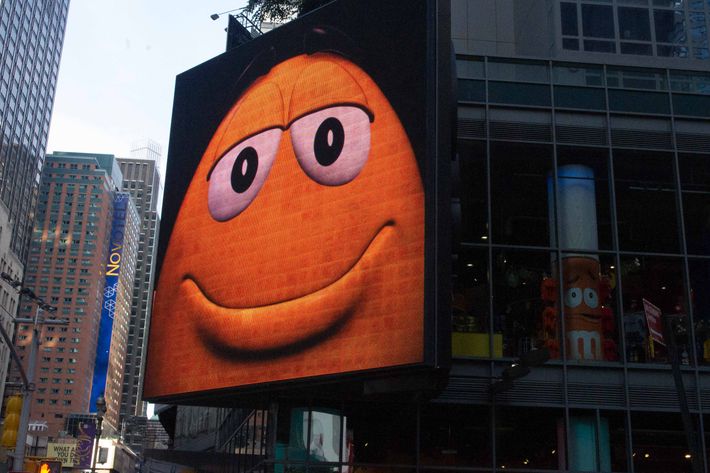 Bierut looks across the street. "It does direct battle with M&M here. Bizarrely enough — I like M&Ms, but I had no idea that they were so compelling a consumer brand that people would willingly associate with them to the degree that they seem to. So this, I mean, they also have the advantage of dealing with not a whole family of subbrands, but just one simple brand." The design is far cleaner than Hershey's, I remark, as giant M&M images fill the immense LED screen. "Actually, when you think about it," Bierut muses, "they're round, they have a single letter on them, and they're in the primary colors. They sort of are as Bauhaus a candy as you can get." He looks back at the Hershey's façade. "So as a starting point for an architectural experience, it's more promising than having to reconcile York Peppermint Patty, Payday, Twizzlers, Ice Breakers, Hershey's Cocoa, and Reese's cups. Back at corporate headquarters, there's probably someone complaining that 'My Jolly Ranchers sign is partly obscured by the Ice Breakers sign, and that's why my sales are down this quarter.' I wouldn't want to be at those conference tables."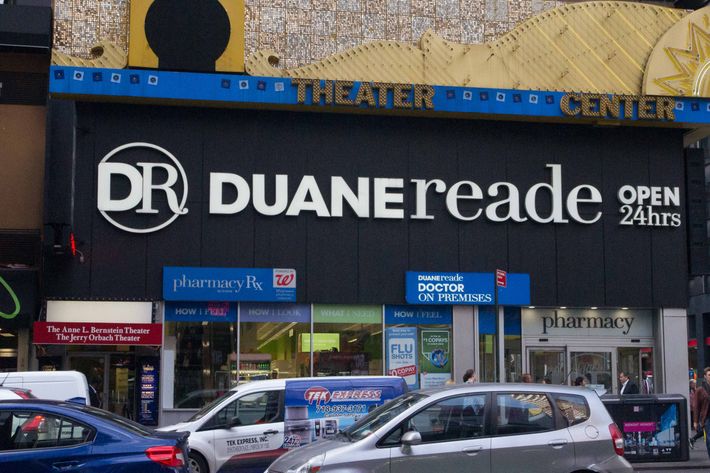 We pass a Duane Reade, with the company's 2008 rebranding on view. "That's an old trick, you know — take one word and set it in a sans-serif typeface, and take the other word and set it in a serif typeface. I'll always try that if I have two words. It looks nice and clean. I'm less convinced by the 'DR'-in-a-circle thing. It looks a little like Radio Shack's 'R' in a circle." It occurs to me—for the first time—that maybe it's intended to imply doctor. "Oh, well, shit on a stick!" exclaims Bierut. "You operate on a much more subtle level than I do! The name is undermined a little bit by the reading of 'Doctor,' though. And who's Duane, who's Reade? Streets that don't cross."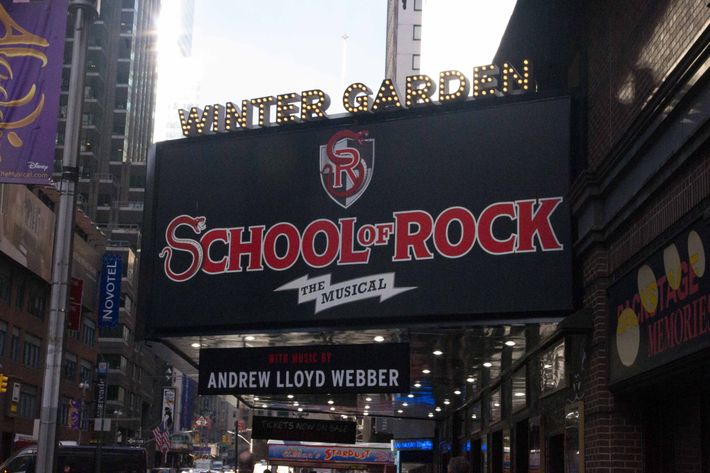 The Winter Garden theater, where School of Rock is about to open, looms up on our right. "The theaters are really redeemed by the quality of the advertising on the marquees," Bierut says, "which I think is largely really fantastic. You know, you have a companies like SpotCo and Serino/Coyne, who have really upped their games. The branding that SpotCo did for Chicago way back when, they followed through with it really beautifully." That campaign is in the same family as — or, depending on whom you ask, derivative of — the work Bierut's fellow Pentagram partner Paula Scher did for the Public Theater, starting in the early '90s.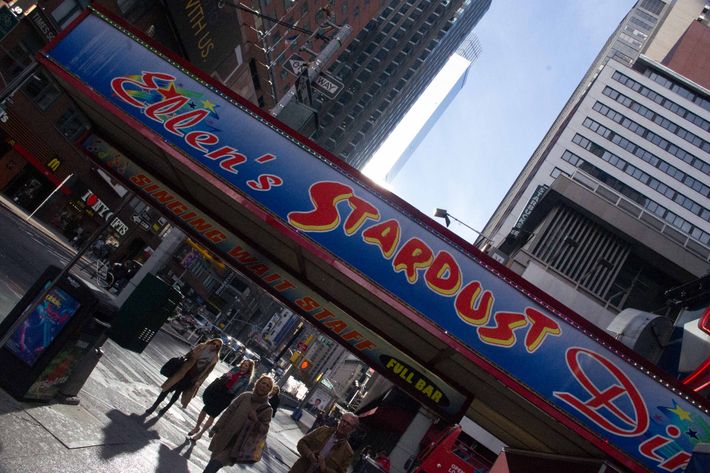 Less good: the awning for Ellen's Stardust Diner, the theme restaurant with singing waitstaff. "With each passing day, it gets closer to being authentic to the actual '50s," Bierut says, laughing. "This is a cheap sign, done really badly. But I was in New Zealand, and they have whole small charming towns with main streets filled with cheap signs that look like that, nailed to buildings. One thing I'll say about America is that we actually do cheap signs pretty well. And New York has been the capital of urban signs since the dawn of the city. All around town, especially down by City Hall, the financial district — the newspaper buildings had signs on every square inch. You just want a way to do them better."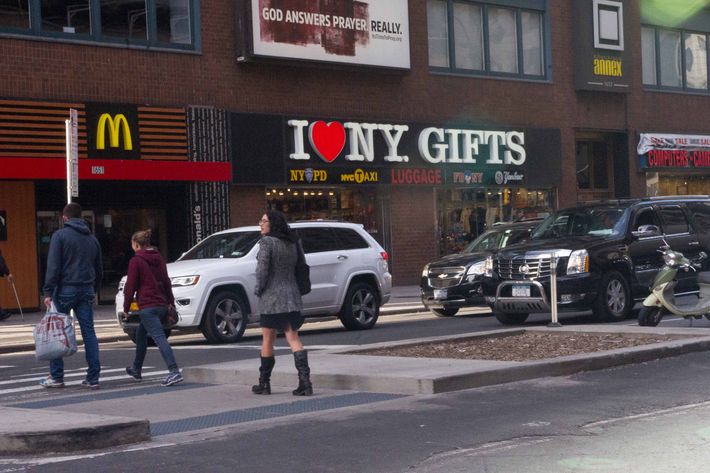 "Across the street," Bierut continues, "we have a manifestation of one of the most successful bits of branding of all time. Sketched, supposedly, on an envelope, images of which can be found online. In a taxi!" He's talking about I❤NY, Milton Glaser's 1977 tourism logo for New York State. "People underestimate what a difficult sell that was — it seems completely inevitable now, but he was subcontracted to an ad agency, Wells Rich Greene, and I can really imagine the ad-agency guys saying, 'Is that it? Can you show us one that has the word LOVE written out?'" Bierut also admires the tidiness of Glaser's solution to a design problem. "He's using this typeface called ITC American Typewriter, which I think he did partly because it has really big serifs, because it's based on monospaced typewriter lettering. That means, when you're doing the logo in its square form, the I is almost as wide as the N," and it stacks into a neat square.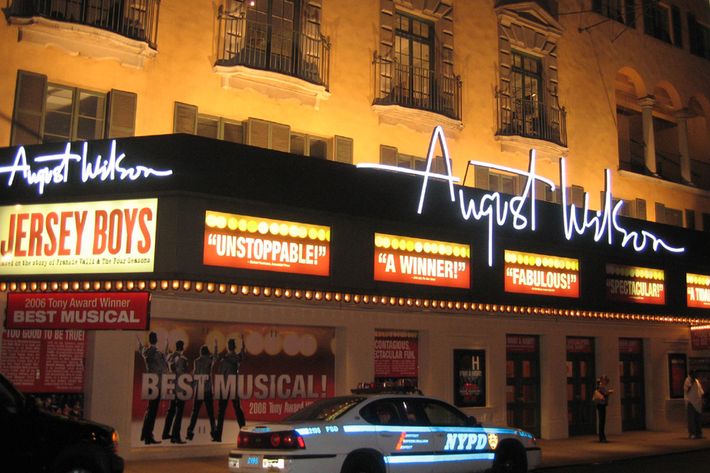 Another theater comes into view—the former Virginia, now the August Wilson. In fact, when it changed names in 2005, Bierut was one of the designers who worked on the new sign. "They'd had the idea of getting Wilson's signature, and we had to figure out what looked good. And when you look at actual signatures, they're not all the same, which is what makes them authentic, but they're all similar, which is what makes them useful as endorsements. If you look at that 'SON' thing, or even the 'GUST' thing, it's a very jaunty, lively signature, but not necessarily readable. So we had to tweak it here and there from the existing models, just to kinda get something that was readable enough, without going like Disney, which is supposedly based on his signature but is so stylized that it looks like the Ford logo." Often, I suggest, the Broadway theaters have been oddly altered: 1950s marquees on 1920s buildings, like that. Does he have the urge, working on a project like this, to rip it all off and go back to the original? "I'd definitely look at the 1915 version of that. But mostly you're reminded how bizarre theaters are — you see the floor plans, tucked in where they are, and they're just these big, cavernous spaces, with this crazy relationship to the city around them."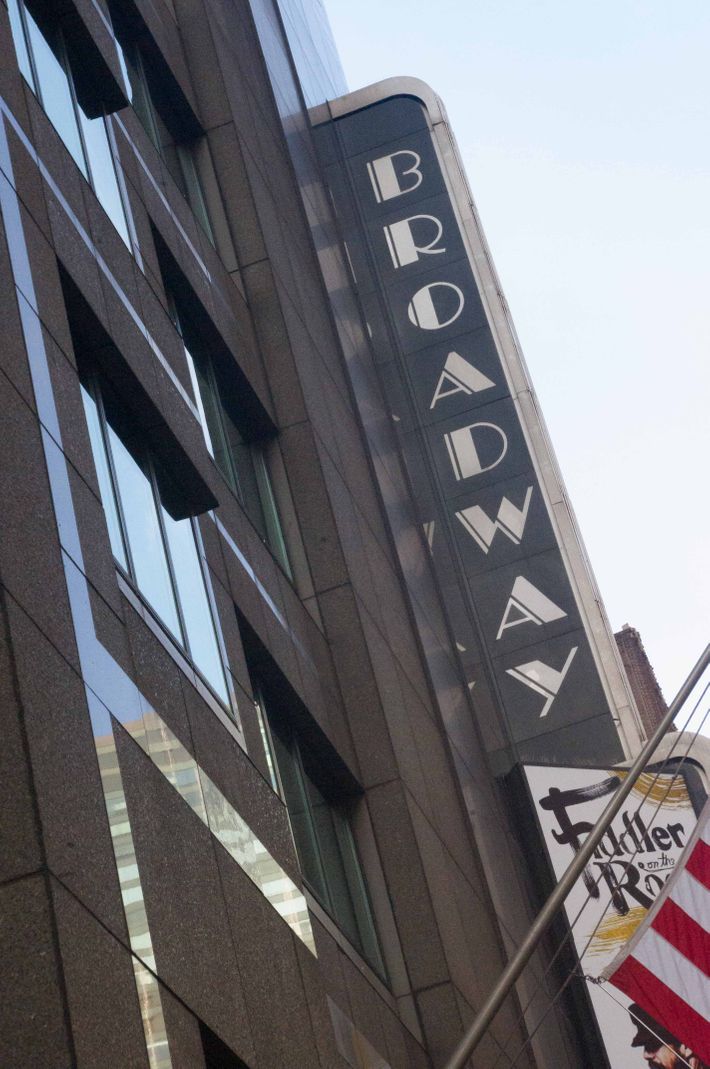 The Broadway Theater is one block up. Not so good, I remark. "Someone tried to add a little Art Deco theater language." Yeah, but it screams 1980 rather than 1930, I say. "The thing about New York is that it sort of doesn't care so much whether it's succeeding — that it's nice, that it's okay. So much around here is the Wild West. That one's based on an Art Deco form that didn't really exist, on a typeface that isn't really convincing. But Lindy's is doing the same thing over there! See?" It's true: right down the street.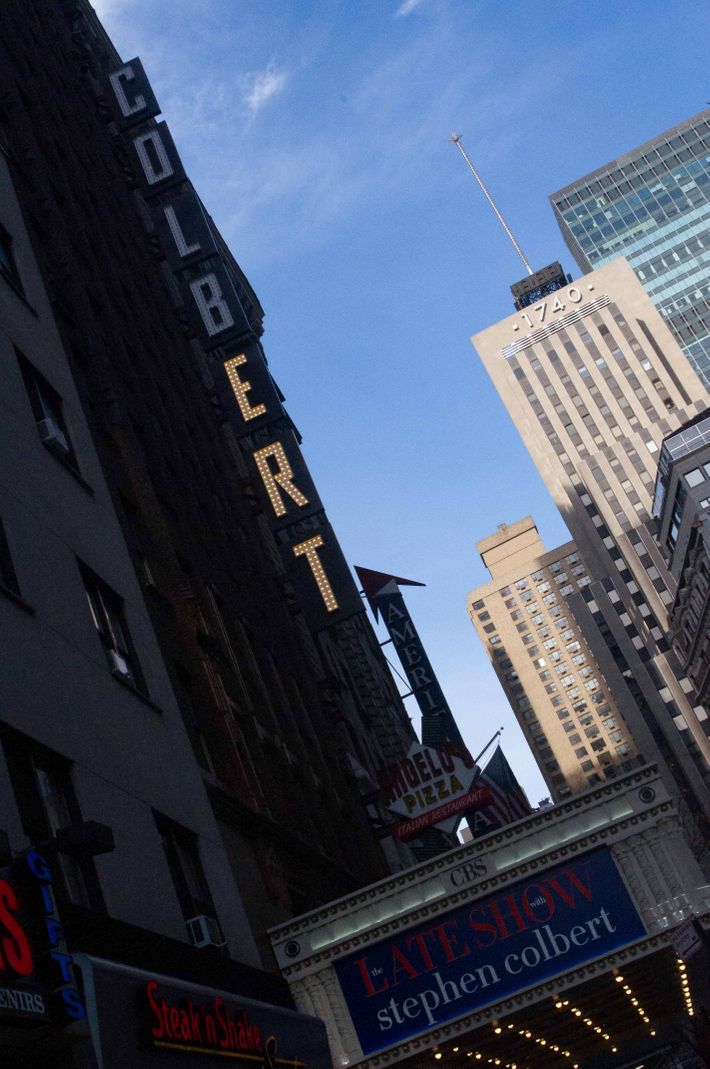 The Ed Sullivan Theater looks a lot more coherent. "I do like the way they took the Late Show in a more sophisticated way. Letterman had that kind of fraternity typography." For Colbert, the signs on the marquee use a delicate serif typeface. "They may have reasoned that Lou Dorfsman" — the great mid-century design master at CBS — "commissioned that version." Bierut points out, though, that it's not exactly the same. "The CBS one is called CBS Didot. But look — the S doesn't match." It's true: The thick stroke of the S in the "CBS" at the top of the awning is bulkier than the one in the word "Show."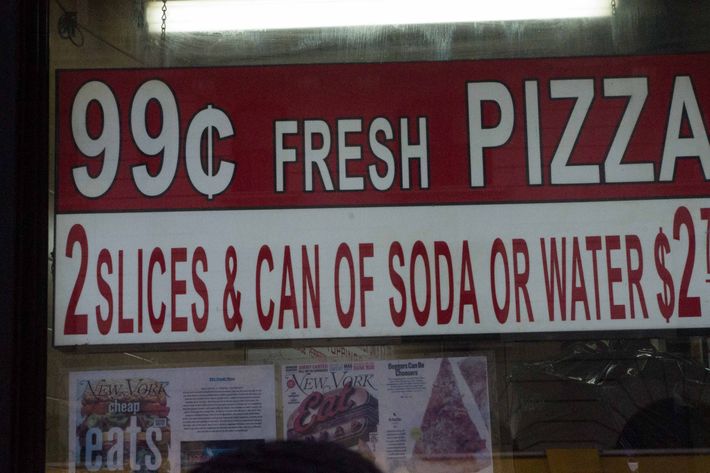 Then there's this. "Two slices, can of soda or water. That one there has been horizontally scaled to make it taller. You're not supposed to do that."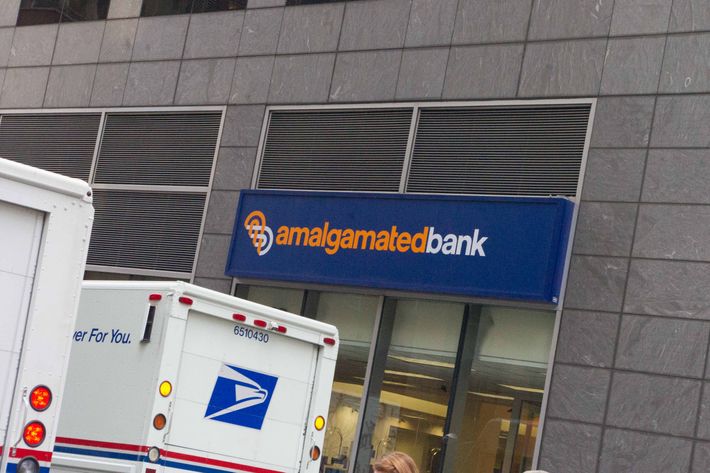 I peer up the street at the Amalgamated Bank, and say to Bierut, "Isn't that one of yours?" He chuckles. "Well-spotted! Originally the bank for the garment workers' union, so the logo is woven, and that also illustrates what amalgamation means. And you get an 'AB' in there somewhere — you don't have to see it to enjoy it, but it's there." I ask him about design Easter eggs, like the hidden arrow in the FedEx logo. Does he plant those deliberately? "I think it's really nice. I can't tell you how often, reviewing something in the office, it really looks great, and I'll say, 'I really like this, but I can't figure out what it means.' Sometimes there's a kind of bluntness you can get away with. Target: It's a target. Apple is an apple — though with Apple it's more complex, because you can say, tree of knowledge, apple for the teacher. Supposedly, says Walter Isaacson, it was just because Steve Jobs was eating a lot of apples. Conversely, you sometimes had some meaning that evaporates along the way, and it doesn't need training wheels anymore. Like the Citi logo — it was formed when Travelers was purchasing Citicorp. The red arc over the top is supposed to be the Travelers umbrella. But that relationship is gone — Travelers isn't affiliated with Citi anymore, so the logo just comes to mean its own thing."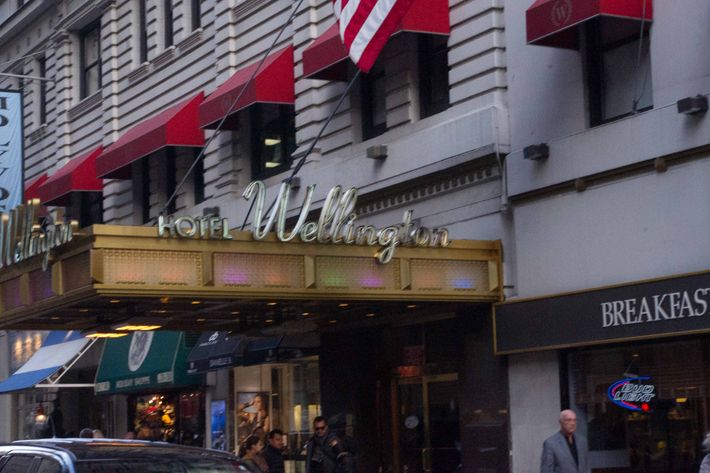 The entry of the old Hotel Wellington, I offer, looks great. "My guess is that, at the time, someone would have said it's a piece of crap, but I think now it seems confident," says Bierut. "It's also very well-made. Boxed-out neon — it looks expensive, built to last, and it has lasted. And then also it's got just the right relationship between the word 'HOTEL' and the way the G comes down, and the W is overscale."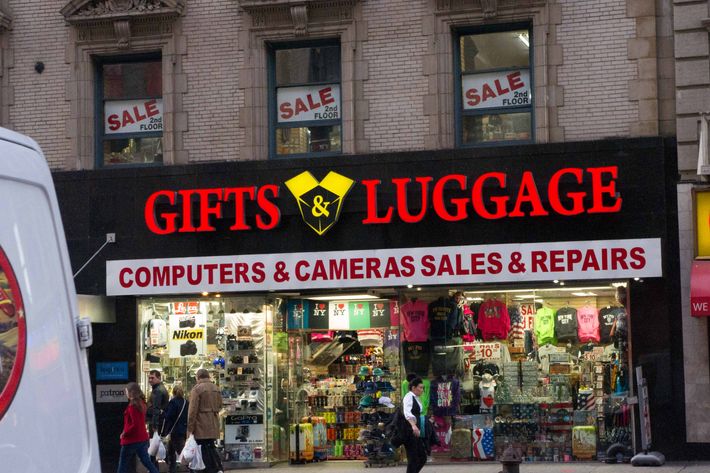 What's this about? "An and, in a box. Weird. A gift … comes in … a box? And you open the box and there's a gift? Talk about Easter eggs."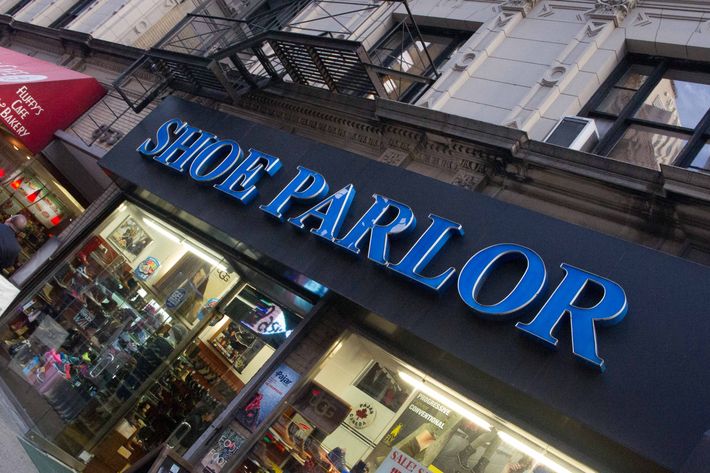 And this? "I always like places where it's a shoe parlor and the name is Shoe Parlor. I remember the first time I went to Roosevelt Island — they had a dry cleaner and its name was Dry Cleaner, and the grocery store was called Grocery Store. It was sort of like, 'Dear comrade, here you are.'"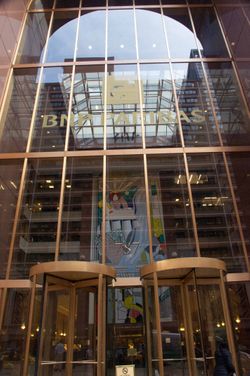 A look upward, and Bierut is face-to-face with the work of his mentor. "This is the old Equitable building, by Edward Larrabee Barnes, with signage by Vignelli. He tried to get with the postmodern thing, adding that chamfered serif typography, beautifully done — see the 787?  Those letters [in the stonework] up top have been redone or moved or something — I think they said 'THE EQUITABLE,' and now it's 'AXA EQUITABLE.' That's the problem with these corporate monuments — they change."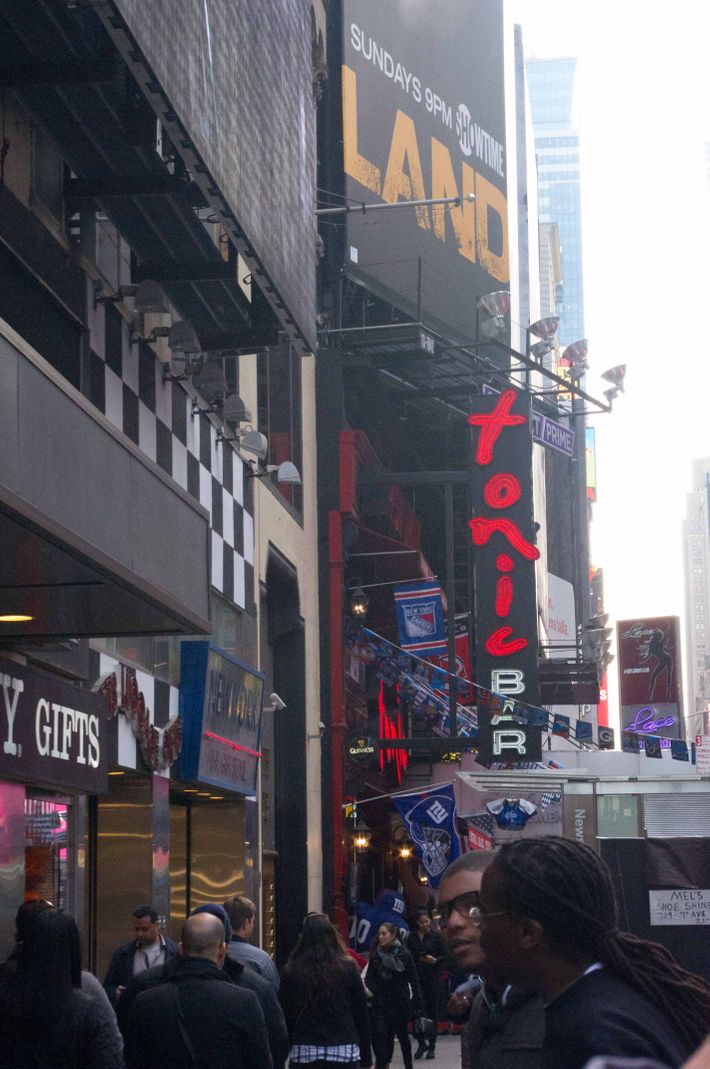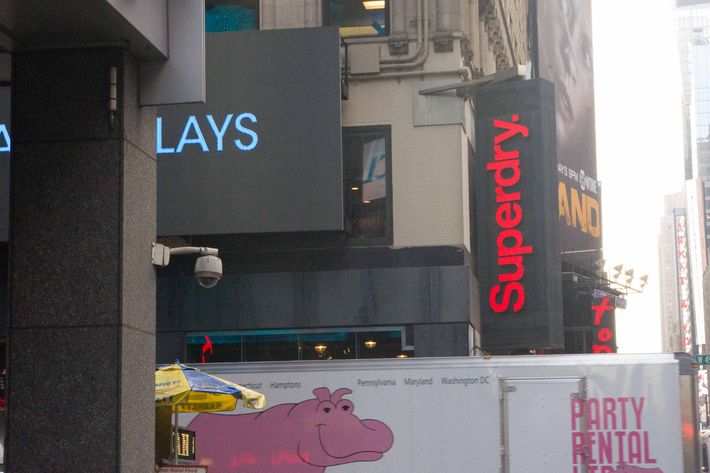 Our tour winds down as we pass beneath two bright red logos, for a sports bar called Tonic and the British clothing label Superdry. Both have vertical blade signs, with a key difference. "This is a constant argument with graphic designers. People who don't want their letters turned sideways — they don't want to twist their necks. They want their letters stacked, like at Tonic. We'll always try to upend them. I'd like to say that stacking letters like Tonic does is horrible, horrible design, but if you see the Bauhaus, in Dessau, it's exactly like this. The trouble with Tonic is that the skinny i doesn't help. That's what I was saying Milton dealt with, in I❤NY."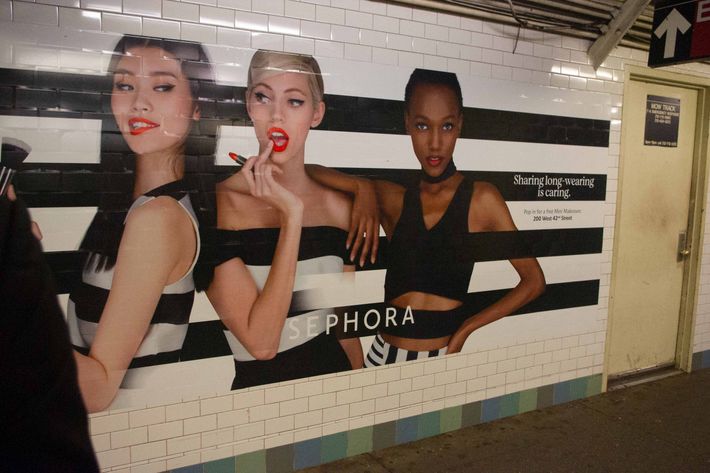 We're done, and make our way to the subway. But even as we part company, Bierut can't resist one last approving nod, at the Sephora ads lining the corridor. "They own black-and-white stripes. Like Burberry, which owns that beige plaid." And with that, he heads back to work.