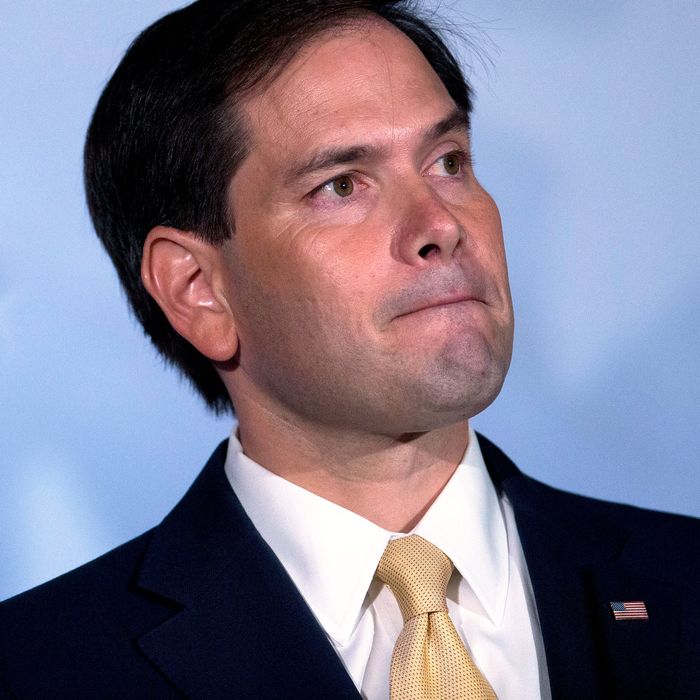 Rubio had a lot of debt, but his favorite was always the one he owed to America.
Photo: Andrew Harrer/Bloomberg via Getty Images
When asked about his numerous money woes at the last Republican debate, Marco Rubio dismissed them as "discredited attacks from Democrats and my political opponents." He then pivoted to discussing his humble upbringing and solidarity with middle-class Americans, which was enough to shake off moderator Becky Quick.
Yet, the controversy surrounding Rubio's financial background — including his misuse of a Republican Party credit card, problems with his homes, and the liquidation of his retirement account — has only intensified in the past week. Donald Trump, who's yet to settle on the perfect Rubio insult, tried calling his rival "a disaster with his credit cards," and journalists from across the political spectrum noted that the criticism of Rubio's finances is far from "discredited."
The pressure grew so intense that Rubio promised to release records from his time in Florida's House of Representatives "in the next few weeks." A Rubio campaign aide claimed, "our plan has always been to release these," but that's dubious since journalists have been trying to obtain the files for a decade. Here's a guide to Rubio's questionable financial dealings, and why the issue continues to haunt him.
How did Rubio misuse a GOP credit card?
The main focus of the current controversy is Rubio's mixing of personal and business expenses when he was speaker of the Florida House of Representatives. Between 2005 and 2008 Rubio had a Republican Party of Florida American Express card. Under IRS rules, donations to political parties, which are tax exempt, can only go toward influencing elections. According to former party spokesperson Katie Gordon, the card was "a corporate card and is meant to be used for business expenses." But the Tampa Bay Times reported in 2010 that much of the $100,000 Rubio put on the card counted as personal expenses, including lavish dinners, repairs to his family minivan, and purchases from a wine store near his house. There was even a $6,773 charge for a Rubio family reunion at a Georgia resort.
When the allegations first surfaced, Rubio said he reviewed the bill every month and paid for the expenses he deemed personal. "I was as diligent as possible to ensure the party did not pay for items that were unrelated to party business," he said. The Times reported that during his time as speaker, Rubio made $13,900 in payments to American Express to reimburse the party for his personal expenses. (His relatives sent checks that covered most of the reunion expenses, but the party wound up paying $714.) However, the paper found no evidence that the payments were made monthly, and there was one six-month period where Rubio made no payments.
There were various other issues with Rubio's political spending. Prior to becoming speaker, Rubio and his wife controlled two political committees that collected $600,000 altogether. The Times found that they failed to disclose $34,000 in expenses, paid family members for expenses that were incorrectly labeled, and spent little on contributions to other candidates. Later it was discovered that as speaker, Rubio double-billed the Republican Party of Florida and state taxpayers for eight flights, totaling about $2,400. He said it was a "mistake" and reimbursed the party.
In 2012, the Florida Commission on Ethics looked at Rubio's use of his Florida GOP AMEX and cleared him of any wrongdoing. One investigator said he still found the "negligence" Rubio exhibited "disturbing."
What's the issue with Rubio's house?
Rubio owns two homes, and he's had problems with both. In December 2005, Rubio and his wife bought a home for $550,000 in West Miami. About a month later, the Rubios qualified for a $135,000 home-equity loan from U.S. Century Bank, which was owned by Rubio's supporters, because an appraisal valued the home at $735,000 — far above the purchase price.
The home-equity loan initially did not appear on Rubio's financial-disclosure forms, but he quickly updated them when the Miami Herald asked about the omission in 2008.
A few months earlier, Rubio and his friend David Rivera, who was a fellow Florida legislator at the time, paid $135,000 for a Tallahassee house they intended to live in while the Florida legislature was in session. That home nearly went into foreclosure during Rubio's 2010 Senate race, when they failed to pay the mortgage for five months. Rivera came up with $9,525 to settle the issue, which they said was caused by a dispute with the mortgage company.
Rivera went on to serve as a U.S. representative from 2011 to 2013, but his relationship with Rubio soured in recent years. Rivera was recently fined $58,000 in a Florida ethics investigation that does not involve Rubio. They put the house up for sale in the spring, and it sold in July for $117,000, which is $18,000 less than they paid for it.
What happened to Rubio's retirement account?
He liquidated most of his retirement savings last year, though financial experts say that's usually a very bad idea. According to the AP, his financial-disclosure statement shows that he sold six retirement funds in September 2014 for $68,000. The New York Times reports the move likely cost Rubio about $24,000 in taxes and penalties, and at the time he had between $100,000 and $250,000 in a checking account, between $50,000 and $100,000 in a money-market account, and he'd signed a seven-figure book deal.
Is there anything else concerning about Rubio's finances?
Lots. According to financial disclosures, shortly after he was elected to the Florida Legislature in 2000, he had $150,000 in student-loan debt, $30,000 in other debt, and a net worth of zero. The Times recently detailed Rubio's questionable financial decisions since then, which include leasing a $50,000 Audi Q7, saving relatively little, and using the $800,000 advance from his first book to buy what the paper called "$80,000 for a luxury speedboat" (later his campaign informed the media that it's actually a modest fishing boat).
The Rubios' financial situation has improved in recent years, thanks largely to proceeds from Rubio's two books. He's said he paid off his student loans shortly after becoming a senator with money he earned from An American Son.
What records is Rubio releasing?
Earlier this week, the Tampa Bay Times noted that while they obtained statements from Rubio's Florida GOP AMEX for 2006 and 2007, over the years he's repeatedly refused to provide statements from 2005 and 2006. In 2010 he said, "Those credit card statements are an internal party matter. I'm not going to release them." Now he says they'll be made public "in the next few weeks."
How has Rubio responded?
He's acknowledged that he made financial mistakes, ranging from sloppy bookkeeping to accidentally using the wrong credit card, but he's been painting questions about his financial judgement as a political smear as far back as 2010.
Wednesday on Good Morning America, Rubio reiterated that he paid every expense he deemed personal on his GOP AMEX card, and said, "Now I recognize in hindsight I would do it different to avoid confusion."
The senator also said he liquidated his retirement account to make sure his family had "cash on hand for all kinds of things that come up" while he's on the campaign trail. The rest of his response demonstrates his knack for turning questions about his poor money management into inspirational anecdotes about the American dream:
Well, obviously it's not day-to-day living expenses. It's things like, for example, if your refrigerator breaks, we live in south Florida, if our air-conditioning unit goes down, we have a ten-year-old house now. So, I'm out in New Hampshire, and I get a phone call, "Your air-conditioning is broken." That's a crisis in south Florida. So, we wanted to make sure we had access to that. I send my kids to private Christian schools. That's a significant amount of money every year. I see it as an investment in their future. So that's what that was. But ultimately, I have two debts, the mortgage on my home, and the fact that, America, I owe so much to this country, because of everything it's made possible for me and my family.
Why is any of this relevant?
Over the years Rubio has made contradictory statements when challenged about his finances, and his opponents have suggested that someone who struggles to manage their own budget shouldn't have control over the U.S. economy. "He has a very bad record of finances, with his houses, he certainly lives above his means, there is no question about that," Trump said this week.
But Salon's Simon Maloy argues that portraying Rubio as bad with his finances just gives him an opportunity to note that he's not wealthy, and understands the struggles of everyday Americans. "The damning part of all this is that he abused resources made available to him as Speaker," says Maloy. "I'm not especially bothered that Rubio can't balance his checkbook, but I do care that he's a corruptible sneak."
So far, Rubio has successfully pushed the former narrative, but with more information forthcoming, his opponents may be able to put a more nefarious spin on his money troubles.