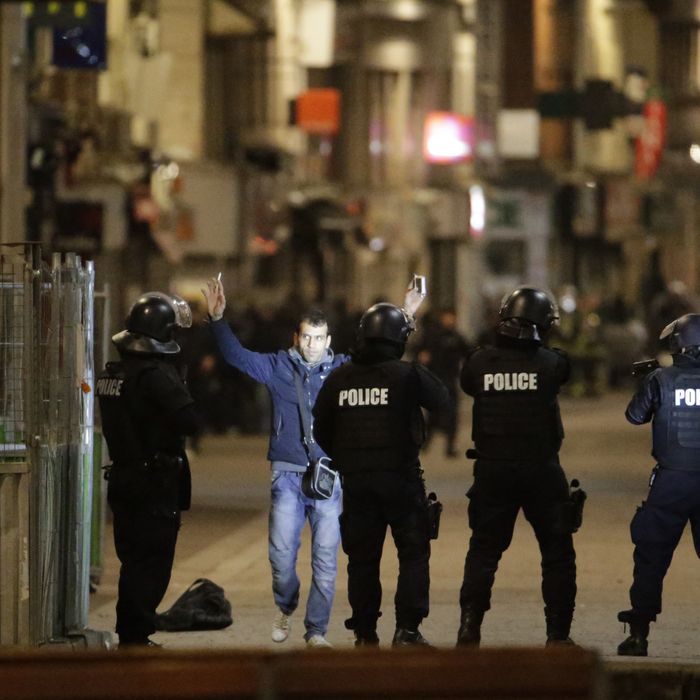 The police operation in Saint-Denis on November 18, 2015.
Photo: Kenzo Tribouillard/AFP/Getty Images
A police raid on an apartment in the northern Paris suburb of Saint-Denis led to an hours-long standoff early Wednesday morning in which "terrorists fired 5,000 rounds," according to Paris prosecutor François Molins. At least two suspected terrorists were killed, including a woman who detonated an explosive vest, and seven people were arrested. 
Abdelhamid Abaaoud, the 27-year-old suspected planner of the Paris attacks — and the target of the raid — was killed, according to the Paris prosecutor's office. "It was the body we had discovered in the building, riddled with bullets," the prosecutor's office said in a statement, according to the Guardian. 
The woman who died was Abaaoud's 28-year-old cousin, Hasna Aitboulahcen.
The militants holed up in the apartment were reportedly planning an attack on La Défense, a business district in Paris. Later on Wednesday, Molins said that the group had been "ready to act."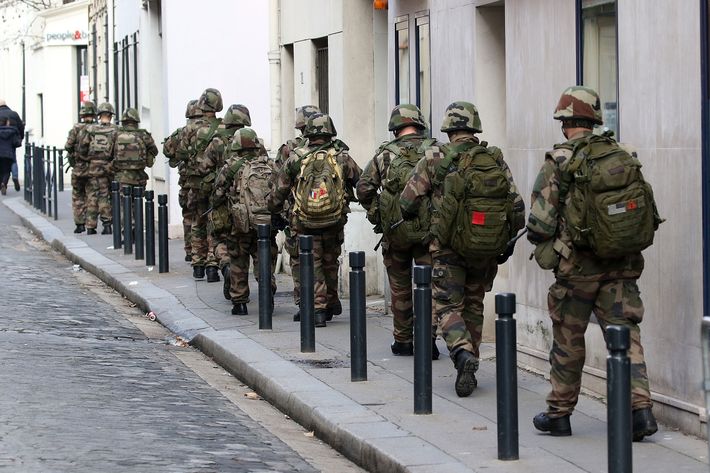 The operation began at 4:25 a.m. local time, when police laid siege to the apartment about a mile away from Stade de France, one of the sites of Friday's terror attack. The six terror suspects returned fire, lightly wounding five police officers and killing Diesel, a 7-year-old Belgian Malinois police dog. 
The raid was reportedly spurred by an investigation of phone records and additional surveillance. On Tuesday, French authorities found a cell phone in a trash can outside the Bataclan, according to Le Monde. It contained a map of the concert venue, and a text message, sent at 9:42 p.m., that read, "Let's go, we're starting."
French and American intelligence officials said on Tuesday they believed Abaaoud was with other militants in Syria. But somehow, a well-known ISIS operative was able to make his way into the capital of France.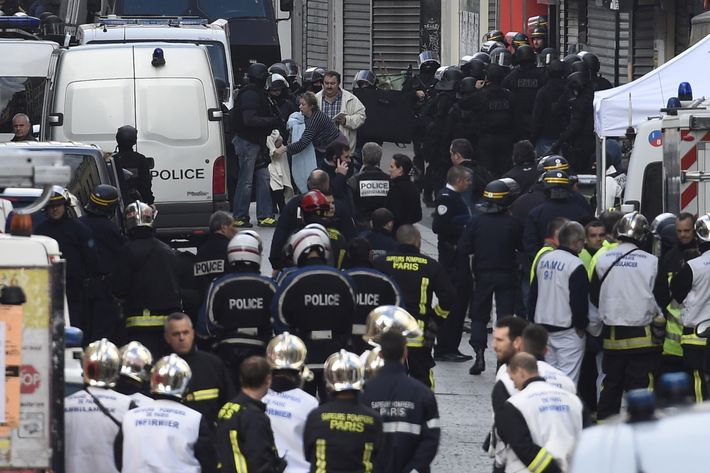 The operation began on Rue de la République, near the center of town. Police shut down the surrounding neighborhood, pointing guns at onlookers and telling them to move along. As reinforcements poured into the area, residents were instructed to stay indoors and away from windows. Other residents who were too close to the raid were told to follow police to safety in their pajamas — or underwear. The mayor of Saint Denis, Didier Paillard, told a local radio station, according to the New York Times, that he was surprised that the terrorists had been hiding in his city of around 118,000 people. "We were not prepared for this discovery. This is a city that has 130 different nationalities, including people who come from war zones. We are a population that needs serenity."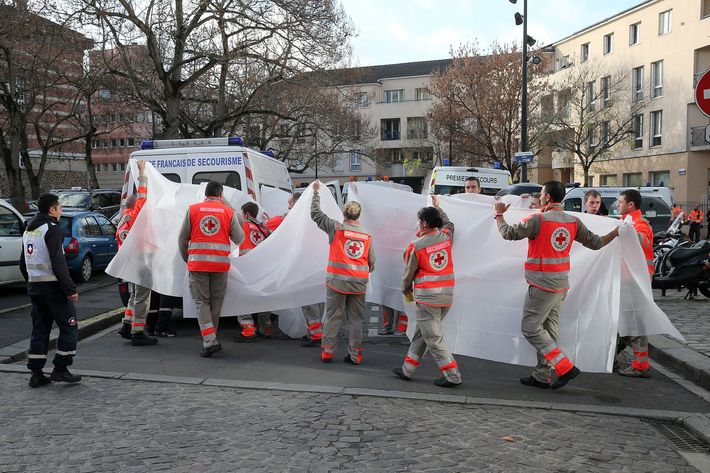 Heavy gunfire was heard in the neighborhood as the suspects inside the apartment traded volleys with police. The apartment reportedly had a reinforced door that made it difficult for police to enter — especially because they were being fired upon the entire time. Aitboulahcen had a brief conversation with police before she appeared to blow herself up, according to the Associated Press. "Where is your boyfriend?" a police officer asked her. She responded, "He's not my boyfriend!" On a recording of the raid, a loud explosion is heard. Gunshots percolated through the entire brief exchange. 
One witness told Le Parisien what happened after the woman blew herself up: "The windows shattered. Lots of objects from the apartment were thrown into the street, pieces of human flesh as well. They are still there. You can see a bit of the head, of skin, of ribs." A shop owner in the neighborhood told the Washington Post, "There was blood all over the place, people were injured. It seemed like real war."
It took a long time to identify the dead; Aitboulahcen's exploded body was strewn all over the scene — her spine landed on a police car — and Abaaoud's body was punctured with many bullet holes and suffered damage from an apparent grenade explosion.
The other suspect was reportedly killed after injuries caused by a grenade and police sniper. 
Residents said the first round of gunfire lasted about 20 minutes. There was intermittent gunfire for the next few hours, followed by a series of explosions around 7:30 a.m. Reporters said it sounded like grenade blasts.
Military reinforcements were deployed to secure the perimeter.
Around 10:30 a.m., police confirmed that the raid was over. The building, which investigators were eager to search for evidence, is near collapse. Around 110 police officers took part in the raid; Interior Minister Bernard Cazeneuve noted that they endured "gunfire for many hours, in conditions that they never encountered up until now."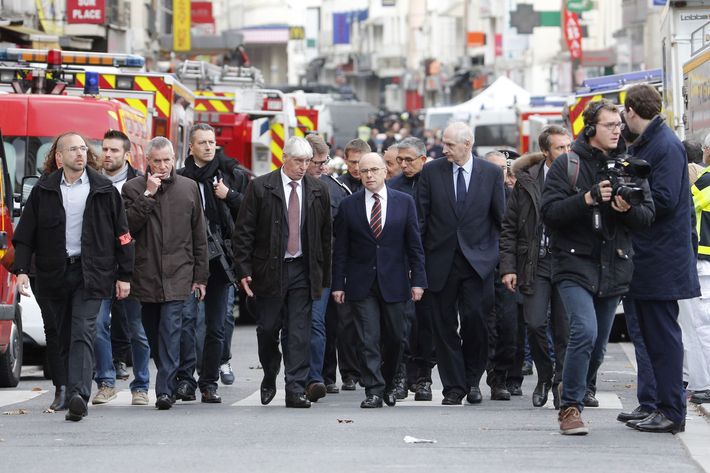 A man arrested on Wednesday told AFP that he lent the apartment to the terrorists as a favor to his friend. "I said that there was no mattress, they told me, 'It's not a problem,' they just wanted water and to pray," he said as he was being handcuffed.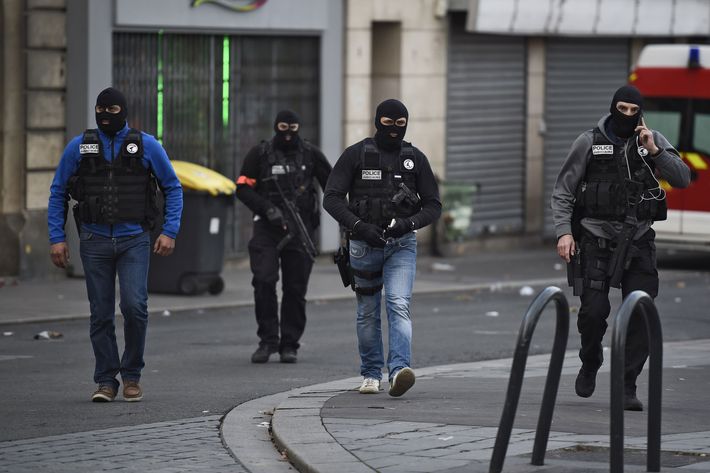 In the days after the attacks, it was reported that seven of the perpetrators were killed and an eighth had likely made his way to Belgium. On Tuesday, video footage revealed there may have been a ninth attacker, and French police confirmed that they are searching for two suspects, as well as many others who may have been involved in planning the violence that took the lives of 129 people — who have now all been identified. Hundreds more were sent to nearby hospitals for treatment, where they were greeted by medical personnel who had just gone through a mass-shooting emergency drill on Friday morning, according to Bloomberg.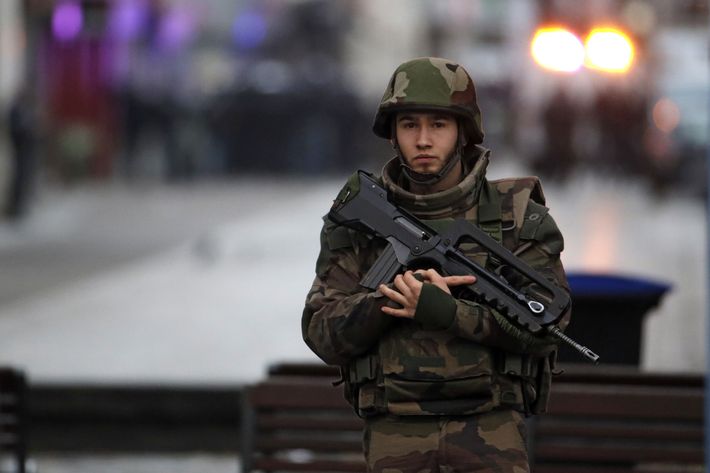 At least 33 Islamic State militants have died in Raqqa after the multiple rounds of air strikes conducted by France since Sunday. In France, authorities have conducted at least 414 raids over the past three nights — 25 additional arrests were made Tuesday night. French authorities sent a bulletin around Europe warning police to keep an eye out for a Citroën Xsara that fugitive Salah Abdeslam may be using to evade capture. 
Later on Wednesday, a teacher at a Jewish school in Marseille was stabbed by three people. One of the attackers was wearing an Islamic State T-shirt. "The three people insulted, threatened and then stabbed their victim in the arm and leg," a local prosecutor told Reuters. "They were interrupted by the arrival of a car and fled." The victim's injuries are reportedly not severe.
In Germany, Chancellor Angela Merkel discussed the decision to cancel a soccer game in Hannover, where there had been a "concrete threat" of a bomb attack on Tuesday. Merkel was scheduled to attend the game; no explosives were found at the stadium after an evacuation and lengthy search. "I was just as sad as the millions of fans that the match was cancelled. But the security officials took a responsible decision," she told reporters on Wednesday, according to Reuters. "These are difficult decisions, perhaps the most difficult given the conflicting priorities of freedom and security. But yesterday it was right to decide based on security."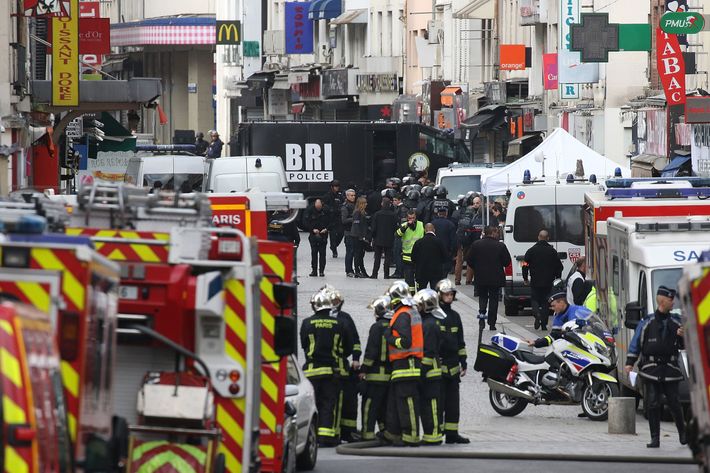 Other parts of Europe started to ramp up security on Wednesday. The terror alert in Sweden has jumped up to a level four after authorities received "concrete information" that was apparently alarming enough to put everyone in the country on alert. At the Vatican, the police presence is far more noticeable. Pope Francis's security detail has doubled. 
There was a brief bomb scare at Terminal 3 in the Copenhagen international airport; according to the Associated Press, "an overheard conversation about a bomb" and a suspicious bag led to a quick evacuation. All public transport heading toward the airport was briefly stopped. The terminal has opened back up, but delays are expected. 
In the U.S., the federal government just announced that it is offering a reward of up to $5 million for any information about Abu-Muhammad al-Shimali, who the State Department believes has helped ISIS converts travel from Australia and Europe to Syria. 
Paris is also looking ahead to next month's U.N. climate talks, which will bring many world leaders — and undoubtedly mountains of security — to the city. The diplomatic negotiations about the environment are still on — but many of the more jubilant or defiant events associated with the meetings are being canceled. On Wednesday, French foreign minister Laurent Fabius announced that two big marches planned for December have been canceled. "This is a tough decision that will no doubt disappoint some who were planning to participate," he said, "but in the current situation, the demand for security requires it."
The story is developing and will be updated as more information becomes available.