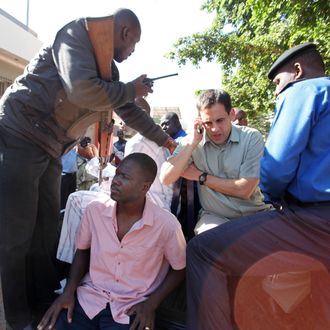 Malian security forces prepare to transport hostages freed from the Radisson Blu hotel in Bamako.
Photo: HABIBOU KOUYATE/AFP/Getty Images
A hostage situation in Mali is reportedly now over, after Malian, French, and U.S. special forces successfully freed dozens of hostages who had been held captive after gunmen stormed a luxury Radisson Blu hotel in Bamako, the capital of Mali. 
Although the hostage situation is over, security forces are reportedly still trying to get the remaining gunmen — two were reportedly killed — out of the hotel. 
U.N. officials reported that as many as 27 people may have been killed in the siege, though the official death toll is unconfirmed. At least six people were hurt. U.N. secretary-general Ban Ki-moon released a statement saying he condemns the "horrific terrorist attacks at the Radisson Hotel in Bamako, which killed an unknown number of civilians and injured many more."
Around 80 hostages were freed already. According to the Washington Post, they were reportedly let go if they were "able to recite a Muslim profession of faith." Others were freed by Malian security forces — and some were forced to flee the building with no clothes on. 
French citizens were among those taken hostage, per the New York Times; the hotel is popular with foreign visitors and diplomats. Chinese and Turkish visitors were also in the hotel. At least six U.S. citizens were rescued in the raid so far, according to U.S. African Command. The Post reports that many of the people staying at the hotel were attending a mining conference. A small contingent of U.N. peace envoys were also at the Radisson.
Al Mourabitoun, a militant Islamic group with ties to al Qaeda, has reportedly claimed responsibility for the attack, reports Al  Jazeera, though that has not yet been verified by authorities. The Times reports that Al Qaeda supporters have been cheering the attack on social media. Since 2012 — when a military coup overthrew elected officials — al Qaeda–linked attacks have terrorized northern Mali. French troops based in Bamako have been trying to help Mali fight the militants for the past two years, but extremist violence continues to happen. In August, a hotel hostage situation in Sevare left 12 people dead. 
This is a breaking-news story and we will continue to update this post.