Loosely organized hacker collective Anonymous "declared total war" on ISIS last week but has thus far failed to make much of a dent in the terrorist group's considerable social media presence. Another group of hackers has been more successful, though, and now a former ISIS propaganda site is just a Viagra ad and a request to chill out with this whole jihadist thing. "Too much ISIS," the page concludes.
The group behind the attack is apparently a hacking collective called GhostSec (not to be confused with the more legitimate Ghost Security Group), who replaced an alleged ISIS recruitment site on the dark web with a good weed reference and a banner ad for an online pharmacy.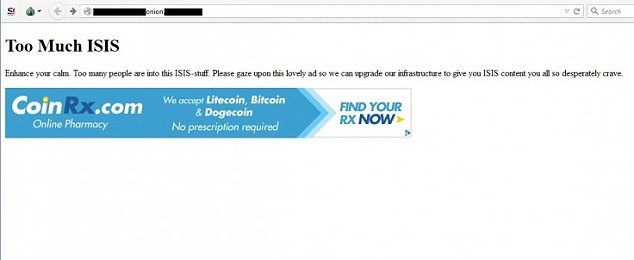 "Too Much ISIS. Enhance your calm," the site now reads, a callback to Twitter's infamous weed-themed "error 420" message.
"Too many people are into this ISIS-stuff. Please gaze upon this lovely ad so we can upgrade our infrastructure to give you ISIS content you all so desperately crave."
An earlier version of this post confused Ghost Sec, an Anonymous-linked group behind this hack, and Ghost Security Group, a hacker collective unaffiliated with Anonymous.