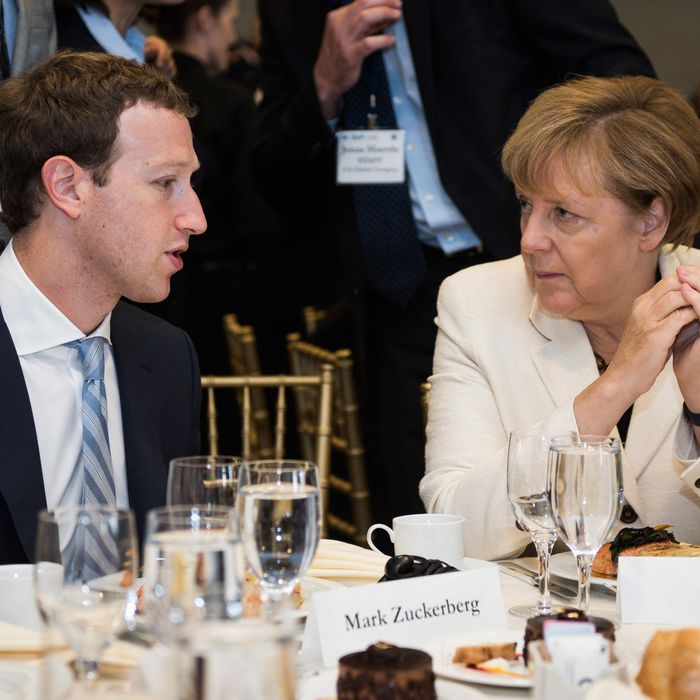 Photo: Steffen Kugler/dpa/Corbis
In mid-October, a German lawyer named Chan-Jo Jun filed a criminal complaint with the public prosecutor in Hamburg. Jun practiced IT law in the old Bavarian city of Wurzburg, and he typically handled issues like software license compliance. "Boring stuff basically," he says. Jun's new complaint, though, was unlike any that he or any other German lawyer had ever filed.
Jun had recently logged onto Facebook and reported more than sixty anti-refugee postings as hate speech. The comments ranged from slurs like Dreck (dirt) and Schwein (pig) to violent threats and images to outright Holocaust nostalgia ("There's plenty of space for them in my oven," one user wrote). "Incitement to hatred" is a crime in Germany, but Jun wasn't particularly interested in punishing the men and women who had shared their ugly thoughts online. Rather, Jun asked the prosecutor to investigate Facebook's managing director for Northern, Central, and Eastern Europe, a man named Martin Ott.
The anti-refugee sentiment that Jun wanted to extinguish has exploded after ISIS's attack on Paris, not just in Europe but in the United States as well. Xenophobia has concentrated especially on social media, where like-minded people from violent radicals to mainstream nationalists can coordinate, share, and exchange ideas. Most people in the U.S., with its relatively weak state and strong free speech traditions, seem willing to give companies like Facebook a pass. Hate is, in this case, the cost of doing business. But Germany has seen the worst excesses of both populist nationalism and state repression, and is ill-inclined to shrug its shoulders at either hate speech or privacy violations. Instead, it's taking an aggressive approach, weighing speech and privacy rights against the horrible legacy of the 20th century as it tries to force Facebook to take responsibility for the ugliness on its servers.
In Germany, service providers like Facebook are liable for illegal content that they do not remove expeditiously after they've been notified of its existence. The law typically comes up around pirated movies or music, but Jun did not see why it should not extend as well to hate speech. "I'm not interested in seeing people in jail who make stupid or criminal comments," Jun says. Rather, he argued to the German prosecutor, Ott was personally liable, since he oversaw the company's community operations in Germany. Before filing his complaint, Jun had even printed the offensive comments and sent them by certified mail to Ott's private home in Hamburg, in order to establish intent. ("I assume his wife opened it," he says.) He expected Facebook would simply remove the material in order to fend off an investigation, but a few days later most of it remained. "I had my case for the prosecutor," Jun says.
Germany has prosecuted several people for hateful Facebook postings, but Jun wanted to force the social network to take direct responsibility by bringing pressure to bear on its individual employees. "Facebook thought I was just an annoying lawyer who's trying to be important," he says, but his zeal was rewarded this month when the Hamburg prosecutor announced it had opened an official investigation. Now Ott, if charged and convicted, could serve time in prison.
Ott's imprisonment would be anathema in the United States, where Facebook users tend to see the social network as a haven of free speech. "In an ideal world, we would all feel empowered to express everything we want, freely and safely," Mark Zuckerberg wrote in March. But freedom and safety conflict as often as they complement each other, and democratic countries must weigh trade-offs that private companies like Facebook can easily elide. Germany was more welcoming of refugees this summer than just about any other other nation, but the country also experienced a surge in right-wing violence. In August, neo-Nazis converged on a shelter in Heidenau, intimidating the refugees and hurling bottles and firecrackers at police. Germany civil society had worked hard since the Nazi era to stigmatize far-right viewpoints in political debate, so it shocked people to see images of violent demonstrations. "Many Germans are used to someone dealing with this problem for them," says Johannes Baldauf, the director of No-Nazi.net, "but most civil society doesn't understand how social media is working."
Since Facebook launched in Germany in 2010, the country has hassled the social network with lawsuits and regulations. But the main concern has generally been privacy, not hate speech — another legacy of the Nazi and East German surveillance states. Facebook is, by far, the largest social network in the country, but the German government has insisted on legal limits on data tracking and the right of its citizens to sign up under a pseudonym. "Germany is very modern when it comes to treating privacy rights as human rights," says Markus Beckedahl, the editor of NetzPolitik.org.
The preoccupation with personal privacy, though, also led many Germans to overlook how the country's long-dormant far-right was using Facebook to mobilize. The anti-Islam movement Pegida, for example, gathered more Facebook followers in little over a year than any German political party. "In these instances, you could see a direct link between how they organized on Facebook and how they took to the streets," says Fabian Reinbold, a journalist who covers technology for Der Spiegel. A few days after the Heidenau attack, Germany's justice minister Heiko Maas insisted that the company "abide by German laws." Then, at a U.N. luncheon in September, a live microphone caught Chancellor Angela Merkel asking Zuckerberg what Facebook was doing to curtail hate speech. "We need to do some work," he conceded.
Facebook tries to comply with government requests to restrict illegal content. In the first half of 2015, it restricted 188 pieces of content in Germany for Holocaust denial or "incitement of hatred." Facebook also tries to enforce its own community standards, which prohibit violent threats, as well as attacks on people based on their race, ethnicity, national origin, religion, gender identity, sexual orientation, and disabilities or diseases. "The community standards are fine," says Baldauf. "Our problem is how they really bring those community standards into reality." Baldauf estimates that only 5 percent of the comments that he has reported to Facebook as potential hate speech have been removed, and that removal often seems to be arbitrary.
Facebook hasn't helped itself by revealing very little about how its system for flagging and removing offensive content actually works. The company claims that it receives over a million reports from around the world every day and has also said that all German reports are reviewed by a native speaker. Otherwise it has shared few details. In August, Reinbold joined other German journalists at Facebook's headquarters in Ireland to discuss hate speech and walked away unimpressed. "One finds in Dublin no evidence for Facebook's assertion that its system for dealing with hate works well," he wrote.
Facebook recognizes that if it wants to continue doing brisk business in Germany, it will need to acknowledge that the country has different moderation and speech needs. Representatives announced in November a partnership German NGOs and government agencies, including the Voluntary Self-Monitoring of Multimedia Service Providers (FSM), which already helps Google and YouTube comply with German law. "We're going to act as a counsel for Facebook, tell them what our experience[s] show in the last years [about] how to handle those reports and to make their internal process for Germany more effective," says FSM's Managing Director Otto Vollmers.
Befitting its status as a tech company, it also has a semi-technological solution: Facebook has said it wants to "introduce" to Germany what it it calls "counter speech." The idea is simple enough: Facebook wants to make sure that people who seek out extremist material on its service are also presented with more positive and contrary viewpoints as well. "When we're talking about counter-speech, we're talking about targeting individuals on the basis of their likes, on their patterns of online usage," says Erin Saltman, a senior researcher at the Institute for Strategic Dialogue. Google already gives some NGOs vouchers to purchase ad words, and activists like Baldauf think it could be a valuable tool in fighting extremism online.
But counter speech also requires Germans to let up on their resistance to some of the data-profiling that enrages them when done by advertisers. Facebook might at least be encouraged to see Germans treating the social network as a reflection of their society rather than just some tool on the Internet. "The way Germans use Facebook has changed a lot in recent years," says Reinbold. "We mostly used it for posting pictures of your private life and not as a form of public debate."
It's hard not to feel at least a little sympathy for Facebook. For years Germany demanded that the social network butt out of its citizens' business and now it is demanding that it police them better. And Facebook is understandably wary of taking down content on government requests. "We fight to protect our community from unnecessary or overreaching government intervention," Zuckerberg said earlier this year.
One imagines the company would happily help European governments root out hate speech if it meant European governments would be less protective of their citizens' data — although one imagines also that Ott would rather not be a sacrificial lamb. Facebook has said Jun's complaint "lacks merit," but it also appears to be taking him more seriously before. Since his complaint became public, Jun says Facebook has become more responsive to his reports. Of the first 109 reports he filed, 80 have now been removed.