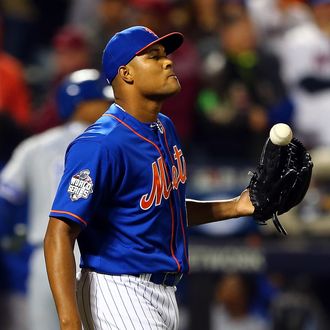 After every World Series game, brothers and resident New York Mets nuts Benjamin Wallace-Wells and David Wallace-Wells will be chewing over what happened — in this case, another blown save handing the Royals the World Series title in Game 5.
David Wallace-Wells: "You have to give the Royals credit," said every Mets player, coach, and broadcaster after last's night meltdown, the third time the team has blown a lead in the eighth inning or later this series. But do you? Or can you just blame Terry Collins?
Ben Wallace-Wells: I think you can. Afterward, Collins, looking obviously miserable, said of his decision to let Harvey stay in the game in the ninth, "I let my heart get in the way of my gut." A good question to ask — I hope Sandy Alderson asks it — is why his brain did not factor in that decision.
But because it was Harvey, and not Syndergaard or deGrom, it felt a little more complicated than that. The relationship between the Mets and their fans — a relationship whose dynamics are litigated, unhelpfully, through the bullhorn therapy of WFAN — has been defined since midsummer by the saga of Matt Harvey's innings limit, which is to say the saga of whether the team's star would be willing to take a small risk to his personal health for the good of the team. Part of the shock of seeing Wilmer Flores crying on the field when he thought he had been traded was the simple revelation that any Mets player would not see the Milwaukee Brewers as a more desirable location; that the Mets, for the first time in many years, were a team whose players wanted to be there. The poignancy of the Harvey drama was that it elevated the question of whether the team's star saw them that way, too.
Harvey was so masterful last night. He probably has the team's third best fastball at this point, but he has matured as a pitcher magnificently. The line after Game 1 was that Harvey had been too nervous to use their fastballs, dancing away from his best stuff. But last night (as C.J. Nitkowski pointed out midway through the game on Twitter) Harvey was leaning nearly as heavily on his off-speed pitches as he had in Game 1 — his command was just so much sharper. That sequence in the fourth and fifth innings, in which he struck out six batters in a row, relied heavily on his change-up and breaking pitches, each of them tucking just another the Royals' bats, and might have been the most in control I've ever seen him. The old cliché that a pitcher looks to have the ball on a string is overused; last night it seemed to fit.
As in so many of the decisive innings this series, the Royals hit exactly one ball hard in the ninth last night. In defending the decision, Collins said, "I love my players. And I trust 'em. And so I said, 'Go get 'em." And given all of the psychological background, all the talk-radio melodrama, I find it hard to fault Collins there. Of course Matt Harvey was the hill the 2015 Mets would die on.
DWW: As a Mets masochist and Francesa connoisseur, I'm really looking forward to today on WFAN — especially if Jay Kang calls in as promised. The bit of commentary last night that took the cake for me was Nelson Figueroa, on SNY, complaining not that Collins had blundered by leaving Harvey in to pitch the ninth, or that he had blundered by letting him pitch out of the stretch after giving up a leadoff walk, but that he had blundered by inserting self-doubt in Harvey's mind by momentarily deciding to pull him (you know, right before letting himself get bullied into submission). Figueroa was himself a major-league pitcher, though when he said he was pissed a manager would undermine a pitcher in that way before a ninth inning I wondered from just how much personal experience he could possibly be speaking, given that he'd pitched only a single complete game in a 13-year career spent mostly bouncing up and down from the minors.
But, to me, it wasn't just Harvey — or, more particularly, Collins's decision to have him start the ninth. One likes the sound of a manager who trusts his players (though another question is whether it creeps one out to hear a manager effusing about loving his players as much as Collins does), but that is how you end up with Yoenis Céspedes still batting, after fouling a ball off his kneecap, despite not being able to even extend his leg for the final pitch of a critical bases-loaded at-bat. (I loved the way Fox cut away to Ken Rosenthal for an injury later in the game: "The injury is to his left kneecap," he said, after we'd spent about ten minutes watching the extreme slow-mo reply over and over — thanks, Ken). Anything Céspedes hit on the ground there would have resulted in a double play — he couldn't even hop into the dugout without grimacing. 
More striking — to me, anyway — was just how completely unprepared the Mets seemed to be, as a team, for the moment. Meaning, like, every moment — any moment! Fundamentally speaking, they botched everything. All series, they simply embarrassed themselves with fuck-ups in the field and on the base-paths that rookie leaguers would be ashamed of. They led in the eighth inning in all but Game 2; they could just as easily have won the series last night as lost it, if they'd managed to close things out. And I'd feel awful for Lucas Duda today if his throw home last night wasn't merely one of a half-dozen mind-boggling mistakes in this critical game alone — I mean, really I've lost count of how many times Daniel Murphy failed to make routine plays at second base (I'm guessing his fielding percentage for the series is about 50 percent). As Keith Hernandez semi-hysterically pointed out on SNY after the game — agitated that all of the blame for the game-tying run was going to a first-baseman, to whom he feels a tribal loyalty, and outraged that the announcers at Fox had taken so myopically heroic a view of Hosmer's sprint home — the original sin of that play was David Wright cutting in front of Wilmer Flores to field the ball in the first place. Wright made a reflexive show of "looking the runner back" to third, but it was only Hosmer's own stupidity that held him back even for a moment. "Looking the runner back" works because of a threat you could throw over to double him off third base. But the man such a throw would have gone to was, well, David Wright. Since Wright had abandoned the bag, there was no one he could've thrown the ball to and therefore no reason for Hosmer to stay put at all. Really, he should have been halfway down the line by the time Wright threw the ball (in a loping lob that could not have beaten anyone on the Royals other than Salvador Pérez; is it possible his arm is worse than Granderson's now?). And there was no upside to Wright making a stab at the ball, since he literally stepped directly in front of Wilmer to make the play.
Was that an insanely intricate breakdown of one play? Sorry! I mean, it did happen to be the play that cost the Mets the game, but its singularity is not the important or interesting part to me. These things were happening basically every inning, which is one big (under-discussed) reason the Mets' (otherwise over-discussed) failure to get strikeouts through most of the series was so problematic: They simply could not be trusted in the field. Some of that was talent — an infield made up entirely of below-average third basemen, as you memorably put it. But ultimately I think a complete failure to execute routine plays falls on prep, by which I mean coaching, by which I mean Terry Collins. I mean, can we draft Keith into the dugout to run the team next year?
BWW: In the split second that Lucas Duda wound up to throw home I had two thoughts enter my head. The first was Wait, Lucas Duda throws right-handed? He hits left, of course, and with the Mets' defense so goof-prone this week it didn't seem insane to think that he had somehow decided to throw with the wrong arm. The second was Oh my God, this is all going to come down to Lucas Duda's right arm. Of all of the limbs in Flushing …
DWW: "Luke's got a strong arm," Collins said after the game. I thought: Does he? Honestly, I have no clue.
BWW: We've spent this series mostly talking about one half of the game — the Mets' pitching, the Royals at the plate — but in retrospect it seems like the decisive action probably took place on the other. This year the worst regular hitter in the major leagues was Chris Owings, the Arizona middle infielder, who produced an OPS of .587. Every single other hitter in the majors who qualified for the batting title (which is to say 141 out of 142 regulars) had an OPS over .600. During this World Series only two Mets surpassed the benchmark, Curtis Granderson and Michael Conforto. Each of the other Mets regulars had a World Series OPS below .600, from top of the lineup stalwarts David Wright (.573), Lucas Duda (.581), and Daniel Murphy (.470) all the way down through Travis d'Arnaud (.333), the obviously injured Yoenis Céspedes (.293), and the beloved Wilmer Flores (.259). Set aside Granderson and Conforto (respectively, the Mets' MVP this year and their likely MVP next year) and no other hitter in the Mets' lineup hit even as well in this World Series as the worst regular in the major leagues. 
OPS is an imperfect stat, but it's not a bad catchall. The Kansas City pitching was good but not great. In the past two games, their season on the line, the Mets managed ten base hits in 21 innings. In Game 2, against the only pitcher of reputation they faced, the team had two singles (both of them somewhat accidental rebounds, as you pointed out, off of Lucas Duda's bat and into the holes left by the shift). The biggest reason the Mets lost probably wasn't Collins's gut, or even the Mets' infield defense, as atrocious as that was. It was that the team didn't hit.
DWW: And where do you think the offense — and the organization — goes from here?
BWW: You asked where the Mets go from here. The pitching should be young and excellent again next year, and deep enough to endure the inevitable blown-out elbow. The question is about the composition of the hitting and defense. In the clubhouse, reflections on this season seemed pretty sanguine. "We definitely shocked the rest of the world this year making it this far," d'Arnaud said. "It's gonna be awesome next year." What brand of awesome, exactly? The WFAN argument might be (you'll have to tell me — I'm out of radio range these days) that the Mets simply choked. The stathead argument is that the World Series is an incredibly small sample, subject to random variation, and that the offense is likely to look more like the pretty good lineup of the summer and early fall than the collection of Chris Owingses that followed. Even so, it will look different. (Cue that teary Bart Giamatti essay about baseball and autumn and change and getting old.) The cleanup hitter Céspedes is a free agent, unlikely to be retained; so is Murphy, who hits third. "I most certainly think that this'll be a group of guys that I continue to text with and stay in contact with," the second baseman said. "I made lifelong friends this year." That doesn't sound like a man who will be back.
DWW: No, though I don't think I'm going to miss him; professional hitter or not, he can be such an idiot out there! And I've been hoping the Dilson Herrera era would just fucking start already since at least this year's trade deadline.
BWW: I have one last question for you, one that we haven't really discussed. Though we're both from the west Bronx, I'm in exile at the moment, deep in Red Sox country. What did the World Series feel like in New York?
DWW: Well, as you know, I've got the world's most neurotic relationship to fandom — I do follow the Mets, though shyly, but am much more invested in a team, Michigan State basketball, whose importance to me seems mostly to reflect how unlikely it is that I, a lifelong New Yorker, will ever encounter another fan. So I didn't watch these games in bars stuffed with the 7 Line Army, and found myself embarrassed, both as a Mets fan and as a New Yorker, when Fox would cut away from the NLCS to a raucous McFadden's after some breakthrough hit or other. So I'm probably not the best guy to ask. But in general I'd say it basically allowed the city to play its favorite role, the underdog overlord. You know, everyone here feels deprived, and everyone elsewhere thinks we're the most entitled pricks in the world. And probably we are, if we're bitter and angry about losing in the World Series. 
Then again, that's sports — every year, in every league, every fan of every team but one goes home miserable. So why do we do it? The canned intellectual's answer for 20 years or so — more or less since Bill Buford's pre-cable-television soccer-hooligan memoir Among the Thugs — is that it's a way to indulge some tribal passions we've thankfully banished from the rest of our lives. (As Franklin Foer showed in his great How Soccer Explains the World, when those passions leak out they can be really ugly, as when the fans of Red Star Belgrade supplied the muscle for Slobodan Milošević's death squads.) But for me sports work very differently, almost as a real-world-abeyance device. I hate the tribe. I watch sports to be alone. And it's 108 days until pitchers and catchers.
What will the Mets look like then? Most of the commentary this postseason has been animated by long-term optimism — this staff took this team this far in their first year together (really, first month together), just imagine what it can do when they add Zack Wheeler and a bit of experience. The fact that the Royals made the World Series last year has sort of underlined the point — this is the Mets' premature year, and next year, presumably, they'll start to roll. The other way to look at it, though, is that the pitchers aren't actually likely to get any better; in fact, given aging curves, they are likely to get worse, even if next year the Mets probably won't be leaning on Jon Niese and Bartolo Colón for 40 percent of games. And everything you say about the offense is true: Almost certainly we lose Céspedes and Murphy; Granderson will have a very hard time approaching the performance level of this late-career career year; no matter what happens, we're going to lack a proper shortstop (in the end, maybe we should have traded Zack Wheeler, or Matt Harvey, for Troy Tulowitzki); and David Wright may very well be a yearlong black hole at third. That's asking a lot of Travis d'Arnaud and Lucas Duda, neither of whom inspired much confidence this off-season, and Michael Conforto, who very much did. But that's a lot to hang on a guy who'll be essentially a rookie, to say nothing of which month, exactly, we're expecting Matt Harvey's elbow to blow up again.
Which brings us back to the innings dispute, which does seem to really be the story of the season, in a way. And it's a pretty startling mark of the military undercurrent of most sports fandom that the villains in that dispute were Scott Boras, who was trying, however hamfistedly, to protect the health and career of the team's best pitcher, and Harvey himself, who as of last night has pitched more elbow-straining innings in the season after Tommy John surgery than any other pitcher in history, and for that effort was paid, by my back-of-the-envelope-via-Fangraphs calculation, roughly $24 million less than he was worth to the team. Just think what New York will expect from him when he's making what he's worth. The tragedy for Mets fans is that contract will probably belong to the Yankees.
BWW: Yeah. I just wish this had been us.