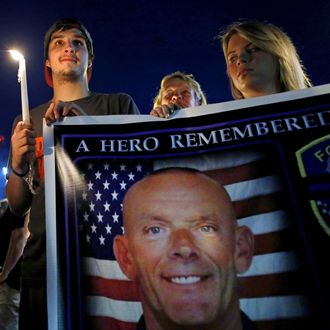 03 Sep 2015, Illinois, USA — Mourners attend a candlelight vigil for slain Fox Lake Police Lieutenant Charles Joseph Gliniewicz in Fox Lake, Illinois, United States, September 2, 2015. Gliniewicz was also known as G.I. Joe. Authorities in northern Illinois expanded their search for three suspects in the fatal shooting of a 30-year police officer as local schools were closed on Wednesday and vigils for the officer were planned. REUTERS/Jim Young — Image by © JIM YOUNG/Reuters/Corbis
Photo: Jim Young/Reuters/Corbis
When Fox Lake police lieutenant Charles Joseph Gliniewicz was found dead from a gunshot wound back in September, he was mourned nationwide as a hero who'd forfeited his life in service of his community. But a subsequent investigation revealed that he had in fact deliberately shot himself. Before committing suicide, Gliniewicz stole thousands of dollars from his department's youth program, and contemplated the murder of an administrator who knew what the officer was doing.
On Thursday, the Associated Press obtained court documents that show what Gliniewicz ruined his career and life to pay for — student loans, movie tickets, Dunkin' Donuts runs, and a lot of internet porn.
Gliniewicz used much of his embezzled money to pay off debts, spending $15,234 on a student-loan payment and $8,495 in monthly payments to an entity called "Cass Loans," according to the documents. But the other purchases listed in the documents are decidedly discretionary:
• $8,822 on 453 restaurant visits

• $7,216 on health clubs, athletic event registrations, and hormonal supplements

• $5,683 on a trip to Hawaii

• $2,623 for adult entertainment and dating websites

• $2,455 on 238 coffee runs to outlets such as Dunkin Donuts and Starbucks

• $2,215 on 98 movie theater visits

• $777 loan to son Donald Gliniewicz
Meanwhile, Gliniewicz's surviving wife and children are scrounging to get by despite frozen bank accounts. Melodie Gliniewicz told CBS Chicago that she's suing to regain control of her assets. But for now, Gliniewicz says that she's unable to keep up with her family's mortgage payments and medical bills.